Ruby Rose "Batwoman" Casting Controversy
This submission is currently being researched & evaluated!
You can help confirm this entry by contributing facts, media, and other evidence of notability and mutation.
Overview
Ruby Rose "Batwoman" Casting Controversy refers to the fan reaction to actor Ruby Rose being cast as the DC Comics superhero Batwoman in the CW's live-action adapting of the character. Online, some disagreed with the casting decision for various reasons. Some believed that Rose did not have the acting prowess to play the role and was only cast because she is a lesbian, while others did not think she identified as lesbian and, therefore, should not play a lesbian role, like Batwoman. Following the backlash, Rose quit Twitter.
Background
On August 7th, 2018, Deadline reported that the CW television network announced that actor Ruby Rose had been cast as Batwoman.[1] That day, Rose posted on Instagram [2] an image of herself and an image Batwoman. She wrote, "The Bat is out of the bag and I am beyond thrilled and honored. I'm also an emotional wreck.. because this is a childhood dream. This is something I would have died to have seen on TV when I was a young member of the LGBT community who never felt represented on tv and felt alone and different." Within five days, the post (shown below) received more than 400,000 likes.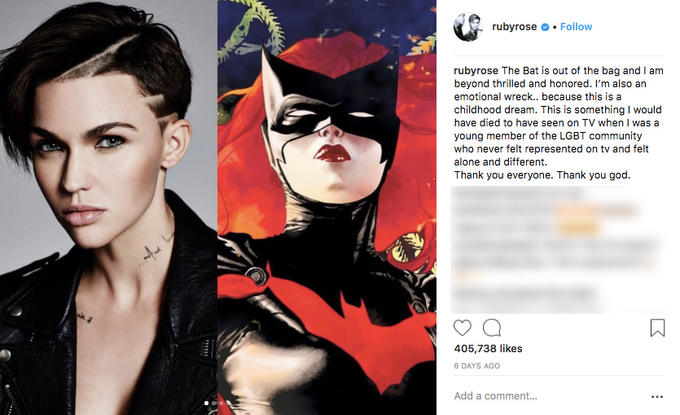 Development
Online Reaction
Over the weekend, various people online began posting on Twitter that the role should be recast for various reasons, pointing to Rose's sexual identity, cultural heritage and acting abilities as reasons for their disappointment. On August 7th, Twitter[3] user @gretagerwg tweeted, "idek which one is more unbearable to live with like is it the fact that ruby rose can still get roles on tv with her non existent acting skills or i will have to live with all the straight girls going like "omg ruby rose makes me feel so gay 😍😍😍" on this hellsite like its 2012." The post (shown below, left) received more than 870 retweets and 2,900 likes in five days.
Twitter user @harleivy tweeted,[4] "no tea no shade but is ruby rose the only lesbian actress hollywood knows or do they just don't want to take any chances by hiring an unknown lesbian actress and giving her a chance to rise in her career?" The tweet (shown below, center) received more than 860 retweets and 3,900 likes in five days.
Additionally, Twitter user @ tweeted,[5] "Not only does ruby rose not identify as a lesbian but she's not Jewish either. So…they basically lied about it wanting an actor that represented the diversity to stay true to who batwoman is and instead just picked a "hot" white person that isn't too gay to offend the straights." The post (shown below, right) received more than 250 retweets and 890 likes in five days.



Rose Leaves Twitter
On August 12th, Rose responded to criticisms in a series of now-deleted tweets. In her response, she discusses her sexuality, identifying herself as a lesbian, and thanked her supporters.[6] She wrote:
Where on earth did 'Ruby is not a lesbian therefore she can't be batwoman' come from -- has to be the funniest most ridiculous thing I've ever read. I came out at 12? And have for the past 5 years had to deal with 'she's too gay' how do y'all flip it like that? I didn't change. I wish we would all support each other and our journeys

When women and when minorities join forces we are unstoppable… when we tear each other down it's much more hurtful than from any group. But hey/ love a challenge I just wish women and the LGBT community supported each other more, My wish was we were all a little kinder and more supportive of each other…Sending everyone my love and gratitude, it's been a rollercoaster of a year, this month especially.
Following the post, she deactivated her Twitter account.
Media Coverage
Several media outlets covered the controversy, including EW,[7] Inverse,[8] Deadline, Uproxx,[9] The Daily Dot [10] and more.
Search Interest
External References