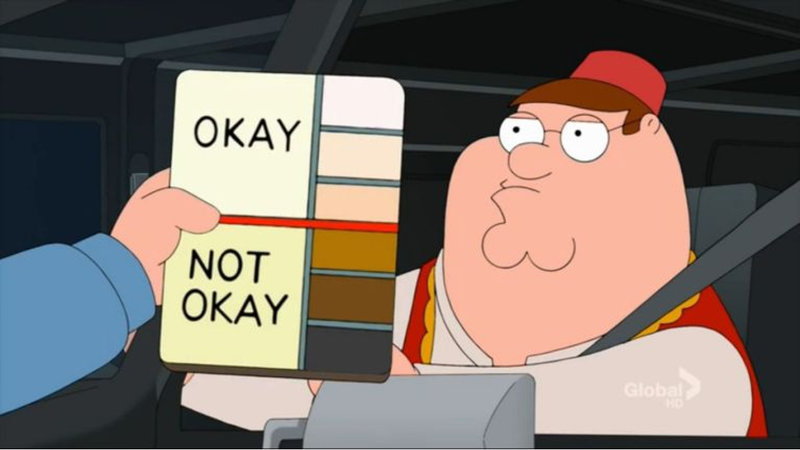 Family Guy Skin Color Chart
This submission is currently being researched & evaluated!
You can help confirm this entry by contributing facts, media, and other evidence of notability and mutation.
About
Family Guy Skin Color Chart or Family Guy Race Card refers to a series of memes using an exploitable screenshot from Family Guy showing a toll booth worker holding a "skin tone chart" up to Peter Griffin, who is wearing a fez hat, to determine if he's white enough to pass through to the United States. The episode aired in March 2013 and the scene became the subject of memes as early as 2014, typically with users photoshopping the words on the skin tone card to change the context. The meme is often used as a reaction image on sites like Twitter to criticize perceived forms of racism.
Origin
On March 17th, 2013, season 11 episode 15 of Family Guy aired on television. In the episode, Peter Griffin befriends a Muslim man named Mahmoud only to discover that he's a terrorist who is planning an attack. At one point, Mahmoud holds Peter at gunpoint and has him drive a bomb-filled van across a bridge. As he passes through a toll booth and the toll booth worker holds up a "skin color chart" to Peter's face, the lighter skin shades are labeled "OKAY" and the darker skin tones are labeled "NOT OKAY" (shown below).
Although it is unclear who first used the screenshot as a meme, one of the earliest available uses was posted to Memedroid[1] by antHernandez94 on April 23rd, 2014, garnering over 2,000 votes in nine years (shown below).

Spread
The meme continued to spread over the following years. On October 25th, 2014, a Redditor[2] commented a link to a version of the meme referencing Ebola (shown below, left), which was used for the thumbnail of the YouTube[3] video "Ebola (La La)" on October 30th, garnering over 55 million views in nine years. On October 4th, 2017, Redditor frenzy3 posted a meme to /r/dankmemes[4] placing the color chart, the white tones labeled "mentally ill" and darker tones "terrorist," over an image of the 2017 Las Vegas strip shooter, garnering over 4,900 upvotes in six years (shown below, right).


The meme's template has been uploaded to Imgflip[5][6] at least twice since 2017, resulting in numerous examples of the meme (popular example shown below).

On July 18th, 2020, Twitter[7] user @ericalenee13 posted a version of the meme, garnering over 2,000 likes in three years. It was reposted by Tumblr[8] user mysharona1987 on July 25th, garnering over 4,400 notes. On September 25th, 2022, Redditor Lennsa posted a version of the meme to /r/memes[9] about web browsers, garnering over 4,000 upvotes in six months (shown below, left). On January 18th, 2023, a Redditor posted a now-deleted version of the meme to /r/dankmemes[10] referencing Velma, garnering over 1,000 upvotes in two months (shown below, right).


Various Examples





Template

Search Interest
External References