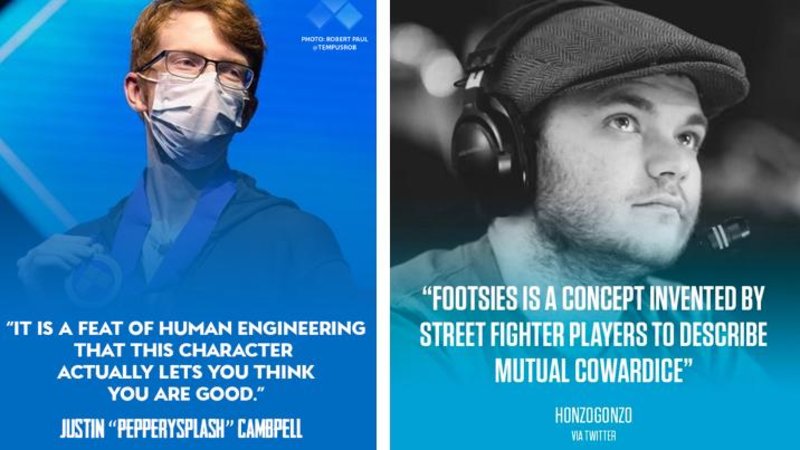 Fighting Game Player Quote Cards
This submission is currently being researched & evaluated!
You can help confirm this entry by contributing facts, media, and other evidence of notability and mutation.
About
Fighting Game Player Quote Cards refer to a series of image macros pairing photographs of fighting game players with humorous quotes they've said in the past. The series is reminiscent of similar memes in the NBA and sports fandoms, such as "I Wasn't Really Familiar With Your Game."
Origin
On September 14th, 2023, the official Twitter account[1] for EVO posted an image macro of fighting game player Justin Wong featuring a quote from him about parries. In response, user @TheSupernoon[2] quote-tweeted it, writing, "we need to start making these photo quotes with FG players. high level meme content right here." The tweet gained over 530 retweets and 5,000 retweets in less than 24 hours (shown below).

Spread
Variations of the tweet featuring other fighting game players began appearing almost immediately on Twitter. For example, on September 14th, 2023, user @OhPugChamp[3] made a version with Rayray Hidalgo, gaining over 1,000 retweets and 5,700 likes in less than 24 hours (shown below, left). Early the next morning, user @Xlysses[4] posted a version featuring Coney, gaining over 1,400 retweets and 9,000 likes (shown below, right).


The same day, user @MooXeon[5] posted a version featuring Low Tier God, gaining over 1,200 retweets and 5,000 likes in less than one day (shown below, left). Also, user @kleekaro[6] posted a tweet from HookGangGod,[6] gaining over 130 retweets and 730 likes (shown below, right).


Various Examples






Search Interest
Unavailable
External References
Recent Videos
There are no videos currently available.