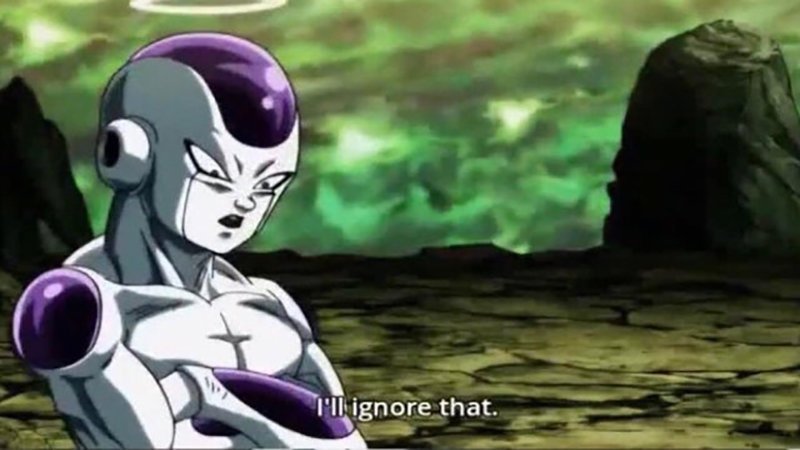 Frieza's "I'll Ignore That"
This submission is currently being researched & evaluated!
You can help confirm this entry by contributing facts, media, and other evidence of notability and mutation.
About
Frieza's "I'll Ignore That" is a memorable quote uttered by animated character Frieza to Catopesra from the 2017 anime TV show Dragon Ball Super. The quote is used alongside a still from the scene as an object labeling macro and exploitable with Frieza being labeled as different people or things and a caption or image appearing on the right side of the panel to which Frieza ignores. It is also sometimes used as a simple reaction image.
Origin
The scene used in the meme comes from Dragon Ball Super, specifically episode 114 titled "Bloodcurdling! The Explosive Birth of a New Super Warrior!" that aired in Japan on November 5th, 2017, and June 8th, 2019, in the U.S. In the episode, the Tournament of Power is underway and several fighters are engaged in combat. At one point, Frieza is confronted by Catopesra (also known as Katopesla) who attempts to provoke Frieza into attacking him. Catopesra then uses his suit to change modes into the "Whirlwind Speed Mode," stating that he can "move 300 times as fast." He taunts Frieza by saying, "I can easily see through your attacks! Now follow me!" as he suddenly disappears. Frieza watches, unimpressed, and says "I'll ignore that." while turning away from Catopesra (shown below).
Spread
The first instance of the scene being used as a meme appears on Reddit's r/Kappa sub. Posted by Redditor[1] TheLowestOfTiers on November 10th, 2017, the meme (seen below) depicts Frieza ignoring an image of Dragon Ball GT. The upload received 270 upvotes and 67 comments.

On Twitter, the still is also frequently used as a reaction image to various tweets in replies or beneath captions. One such example was posted by Twitter[2] user kingslayer25 (shown below) on February 4th, 2018, under the caption "That Eli & Odell commercial." The tweet received 13 likes and five retweets.
That Eli & Odell commercial pic.twitter.com/TzlTsB65fP

— Corie 🇯🇲 (@kingslayer25) February 5, 2018
Another variant using a top-text caption was uploaded to Deviant Art[3] by user OmniSuperSaiyan on February 13th, 2018, as a reaction image to "When a thot calls you bae."
The two-panel format was further spread on Twitter[4] after the ESL Counter-Strike account tweeted a version of it on September 9th, 2019, regarding roster changes. The tweet (seen below) received 585 likes and 31 retweets.
🏆 The perks of winning the Major huh?

👀🤫 What roster changes do you expect will happen and for what teams in the coming weeks? pic.twitter.com/ApjsOleYjr

— ESL Counter-Strike (@ESLCS) September 9, 2019
In 2020, the format began spreading on Reddit to a number of different subs. One example was posted on March 10th, 2020, by Redditor[5] masterharsh to the r/dankmemes sub. The meme (shown below) was upvoted over 40,000 times.

Various Examples



Templates


Search Interest
External References