I'm Going On An Adventure!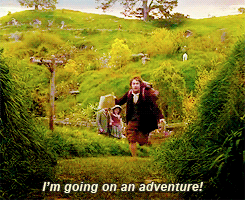 About
"I'm Going On An Adventure" is a memorable quote from Peter Jackson's 2012 epic fantasy adventure film The Hobbit: An Unexpected Journey[1], the first prequel to his Lord of the Rings trilogy. Online, it can be found as a hashtag or commentary when describing taking on an activity that the poster has not done before.
Origin
The line was uttered by the protagonist Bilbo Baggins (played by Martin Freeman) early on in the film after deciding to join Gandalf (played by Ian McKellen) and a group of dwarves on their quest to reclaim Erabor from Smaug. Known for keeping to himself, Baggins says the line to a farmer who inquires about his haste as he runs through Hobbiton. The scene was first revealed in a trailer made available online in September 2012.[2]
Spread
A Facebook fan page[3] for the quote was created on December 7th, 2012, but was quickly abandoned. On December 16th, the MemeGenerator[4] page "Biblo" debuted with a still image from the scene in which Baggins utters the line. On January 5th, 2013, a second "I'm Going on an Adventure" Facebook fan page[5] launched, showcasing a variety of Lord of the Rings-themed image macros throughout the rest of the month. On March 16th, an animated GIF of Baggin's running scene from the trailer was added to the We Know GIFs[6] database. Additional image macros and GIFs with the phrase have been shared on Meme Center[7], Gifrific[8], Kill The Hydra,[9] DIYLOL,[10] deviantART[11] and Tumblr.[12]
Notable Examples






Search Interest
External References
Recent Videos
There are no videos currently available.