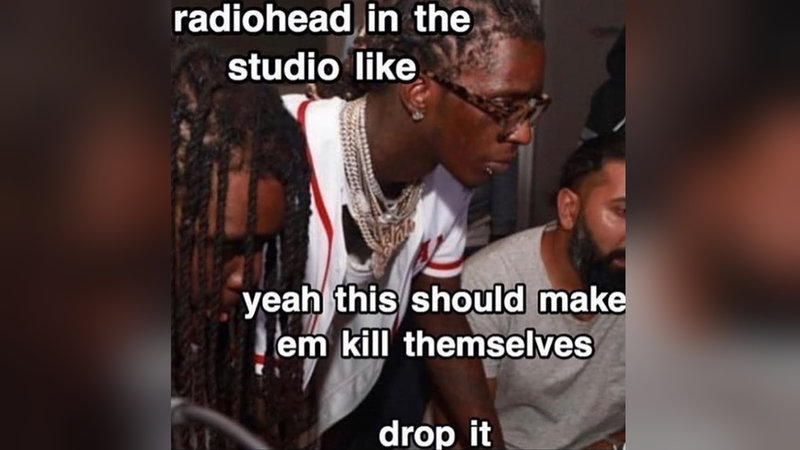 In the Studio Like, "Drop It"
About
In the Studio Be Like, "Drop It" refers to a series of snowclone memes which imagine various musicians commenting on their not yet released works, highlighting their major drawbacks as something positive, and confirming that it's ready to be released.
Origin
On July 20th, 2018, recording enginner Angad "Bainz" Bains posted[1] a photograph of himself and producer and rapper Young Thug working in the recording studio to Instagram (shown below). The post received over 2,100 likes in two years. On September 4th, 2019, One37pm[2] featured the photograph in its article "Inside Young Thug's No. 1 Album: How James Harden and Future Helped Finish It."

The image did not see use as a meme format until prior to January 20th, an unknown user posted a meme based on it captioned "Radiohead in the studio like / yeah this should make em kill themselves / drop it" (shown below) that received viral spread online. On January 20th, an unknown Redditor[3] reposted the meme to /r/radiohead where it received 59 upvotes in six months. A next-day repost to /r/radioheadcirclejerk[4] received over 1,300 upvotes.

Spread
Prior to February 6th, 2020, an unknown user posted the earliest derivative version of the meme recaptioned "earl sweatshirt in the studio like / yeah this should make em embarrassed in front of the hoes / drop it" (shown below). On February 20th, Redditor[5] cheelybajuice reposted the image to /r/earlsweatshirt subreddit, where it gained over 1,300 upvotes in six months.

Prior to September 2020, the format saw limited spread online with separate viral examples being posted on Twitter, Facebook and other platforms. For example, an April 5th, 2020, post in Facebook[6] group Bladee is just young thug for even whiter losers received over 330 reactions and 90 shares in five months (shown below, left). A May 20th, 2020, post by Twitter[7] user @9ntonioXX received over 50 retweets and 450 likes in four months (shown below, right).


The format found viral spread after on September 2nd, 2020, Tumblr[8] user sandmandaddy reposted a Coldplay meme based on the format, with the post (shown below) gaining over 20,200 likes and reblogs in one week. A same-day Facebook[9] repost by meme page Shitposting 2006 received over 2,800 reactions and 850 shares.

Following the viral spread of the meme, the format gained significant presence online on Twitter, Reddit, Facebook and other platgorms, with the snowclone developing to include more than just musicians.
Various Examples






Search Interest
Not available.
External References
Recent Videos
There are no videos currently available.