It's Always Morally Correct
This submission is currently being researched & evaluated!
You can help confirm this entry by contributing facts, media, and other evidence of notability and mutation.
About
It's Always Morally Correct, also known as It's Never Racist, is a series of image macros that state one can always do a certain action since it's never racist or morally incorrect. The memes are based on the cover artwork of the 1982 album Livin' in the New Wave by American musician André Cymone, which depicts Cymone in a VR environment emanating a ray of energy from his hands.
Origin
In 1982, American bassist André Cymone released his debut album Livin' in the New Wave.[1] The cover art of the album depicts André Cymone in a VR environment seemingly generating a ray of energy between his hands (front and back album cover art shown below).


On April 3rd, 2018, Twitter[2] user @NewSovietPoster posted an image macro based on an image combining the front and the backside cover art, captioning it, "You can always do an Italian accent, it's never racist," placing the second part of the sentence inside the ray of light. The tweet (shown below) received over 1,500 retweets and 8,900 likes in four years.

Spread
In the following year, the image received spread online through reposts on social media.[3] On July 31st, 2019, gimmick Twitter account Reactions (@reactjpgs)[4] archived the image.
On February 10th, 2019, Instagram[5] meme page decolonial.meme.queens posted the first derivative of the meme, with the post gaining over 7,400 likes in three years (shown below, left). In December 2019, the first recaption of the meme reading, "you can always make fun of white people," went viral (shown below, right). On December 12th, 2019, Instagram[6] page yungcumswamp made the earliest found repost of the image.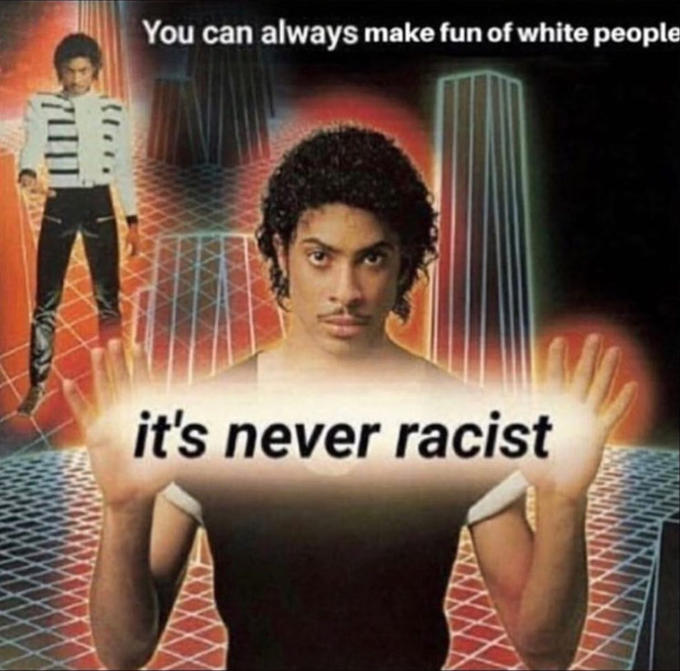 On October 2nd, 2020, Facebook[7] meme page Educational Memes posted the first version of the meme recaptioned "it's always morally correct" (authorship unconfirmed). The post gained over 3,700 reactions and 4,000 shares in one year (shown below, left). In the following weeks, the image was widely circulated online.[8][9] On October 22nd, 2020, Twitter[10] user @Matrewski posted a recaptioned version arguing in favor of pirating Nintendo products (shown below, right). In 2020 and 2021, at least three other similar recaptions advising to pirate Nintendo video games were circulated on social media.[11][12][13]


The format saw a surge in usage in August 2021, with several memes based on it going viral on Twitter.[14][15] On September 25th, 2021, following the announcement of Chris Pratt being cast as Mario in the upcoming Super Mario film, Twitter user @jessfromonline added the disclaimer "*unless you're Chris Pratt" to the original meme, with the post gaining over 7,900 retweets and 85,100 likes in five months (shown below).

The format, particularly the "It's always morally correct" version of it, maintained major prevalence on Twitter in late 2021 and early 2022.
Various Examples






Templates



Search Interest
External References
Recent Videos
There are no videos currently available.