Warning: This page contains material that may be considered not safe for work.
This submission is currently being researched & evaluated!
You can help confirm this entry by contributing facts, media, and other evidence of notability and mutation.
About
It's SO Over is a catchphrase used in parodies of a viral tweet by Twitter user @heartereum, who posted pictures of AI-generated softcore pornography with the caption "It's SO over" in January 2023, seemingly implying that AI would soon make the pornography industry obsolete. The tweet caused much discussion on the app, but many mocked the implied premise that AI would replace humans in pornography. Parodies of the tweet read "It's SO Over" and show a comically disfigured character in their picture, a reference to how AI still has trouble generating accurately proportioned human beings.
Origin
On January 27th, 2023, Twitter user @heartereum[1] posted pictures of some AI-generated women in skimpy bikinis and lingerie with the caption "It's SO over." The tweet gained 1,700 retweets, 5,200 quote tweets and 15,000 likes in one week (shown below).

Spread
The tweet led to viral debates about whether AI had the capability to supplant manmade pornography, and some doubters mocked how the hands and teeth were disfigured on several women in the examples shown by @heartereum. This then led to parodies in which people tweeted "It's SO over" and added pictures of comically disfigured characters. For example, on January 29th, 2023, Twitter user @juniper[2] posted two images of bizarrely drawn women with the caption, gaining over 4,100 retweets and 53,000 likes in three days (shown below, left). On the 31st, @KenKlippenstein[3] posted an image of Mario with a disproportionate butt, gaining over 70 retweets and 1,900 likes in one day (shown below, right).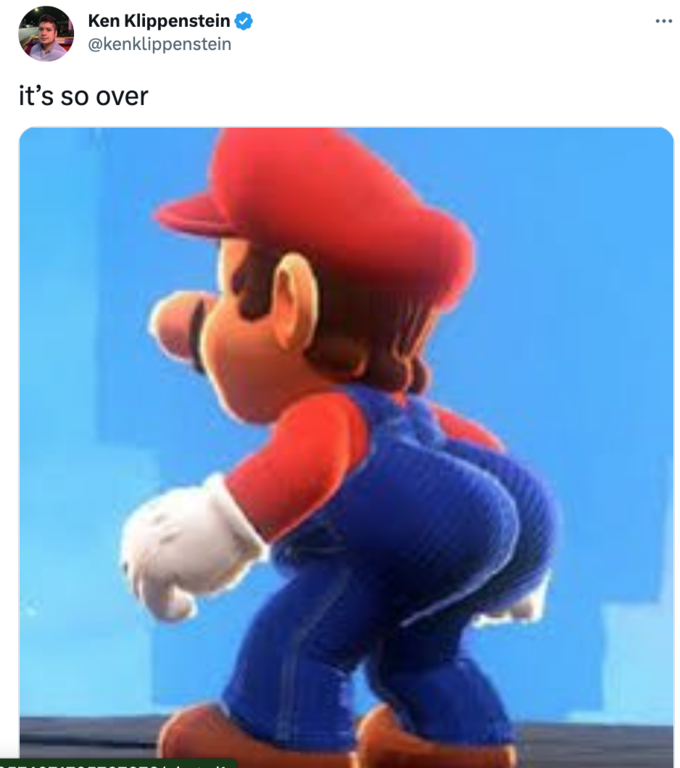 On January 30th, 2023, Twitter user @xavierisonline[4] took a different approach, joking how Googling "big boobs" already accomplishes what making AI-generated pornography models does, gaining over 150 retweets and 7,900 likes in two days (shown below, left). Also that day, user @USA_Comrade[5] made the joke by tweeting pictures of nude paintings from classical art, gaining three retweets and 39 likes in two days (shown below, right).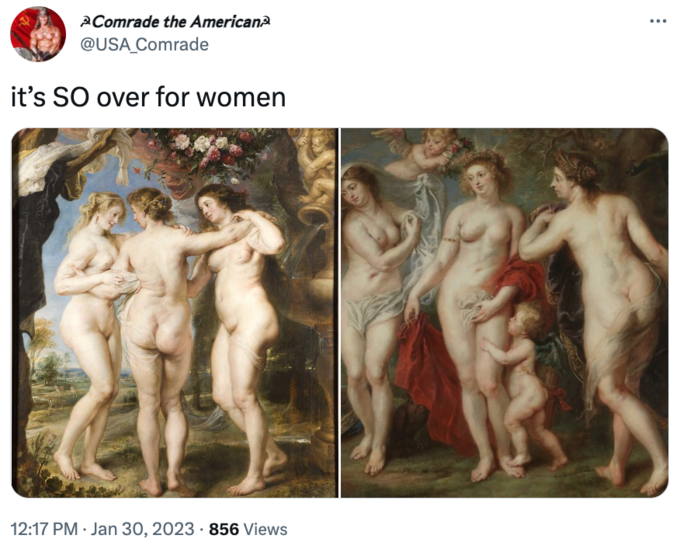 Various Examples






Search Interest
Unavailable.
External References
Recent Videos
There are no videos currently available.