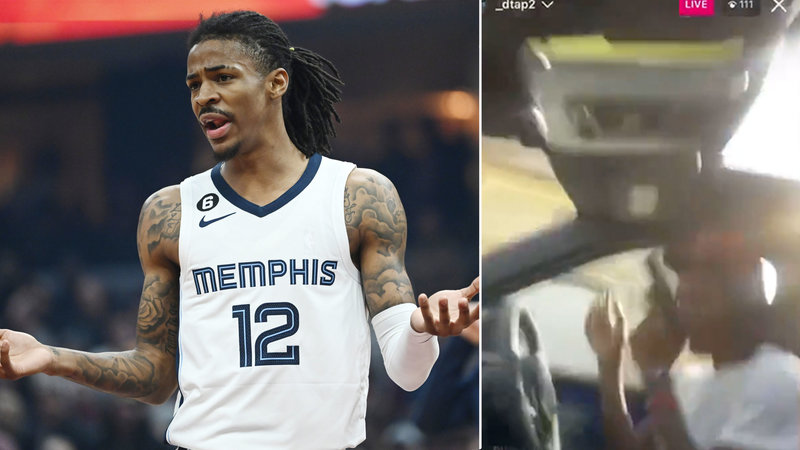 This submission is currently being researched & evaluated!
You can help confirm this entry by contributing facts, media, and other evidence of notability and mutation.
About
Ja Morant Gun On IG Live refers to the second time the NBA star Ja Morant was live on Instagram and showed a gun to the camera. Due to it being his second offense, and the disregard for safety he showed after the first one, in which he showed off a firearm while inside of a club, memes and reactions have been flooding in while he's been suspended from the Grizzlies organization.
Origin
The first incident in which Ja Morant showed off a gun took place on March 4th, 2023, with him being suspended from his team while an investigation was done to show whether he owned the gun in the video or not. Eventually, he was cleared to return to the team, but the video, which was posted after a loss, continued to spread online, with the YouTuber @Megapintcollections531[1] uploading a repost of it on March 4th, 2023 (shown below).
The most recent incident with a gun, again happening on Instagram Live, took place on May 13th, 2023, with Ja Morant again listening to NBA Youngboy and being shown holding a gun while in the car singing along to the song, prompting the same response as before with people quickly reposting it on other websites. On May 14th, 2023, the YouTube channel NBA Action[2] re-uploaded the footage, getting over 30,000 views in 15 hours (shown below).
Spread
Reactions to Ja Morant's repeated gun offense were quick to come, but it was both professional and amateur reactions that went viral talking about the situation. On May 14th, 2023, Shannon Sharpe spoke about Ja while live on the air, which was recorded and re-uploaded to TikTok by the TikToker Hoop_Minds[3], in which Sharpe strongly berated the action and Ja Morant's intentions in the league (shown below).
Later that day, the TikToker mo______[4] uploaded his own reaction to the Ja Morant repeat scandal, getting over 108,000 likes in 20 hours as he made several jokes about Ja and listening to (NBA) Youngboy, saying that his prior apology for the gun incident that occurred in March was obviously a lie and that Ja wasn't sorry (shown below).
Various Examples
Search Interest
External References