About
Kazuma Kiryu is the protagonist of several games of the Yakuza series. Following the popularization of the Yakuza franchise among the western audience in late 2010s, the character achieved significant popularity online, spawning multiple memes and appearing in fan art.
History
Kazuma Kiryu first appeared as the main protagonist of the 2006 video game Yakuza developed by SEGA for PlayStation 2 console. The story introduces Kiryu as a respected member of the Tojo clan bearing the nickname "the Dragon of Dojima" and preparing to start his own subsidiary group. At the start of the game, Kiryu takes on the blame for a crime he didn't commit. After spending 10 years in prison, he returns to his home town Kamurocho, where he searches for his childhood friend while opposing the Tojo clan, who are now hunting him (gameplay video shown below).[3][4]
Kiryu returned as the sole protagonist of Yakuza sequels Yakuza 2 (2006), Yakuza 3 (2009) and Yakuza 6: The Song of Life (2016), one of four protagonists of Yakuza 4 (2009), one of five protagonists of Yakuza 5 (2012) and one of two protagonists of prequel Yakuza 0 (2015). He is also a supporting character in Yakuza: Like a Dragon, zombie spinoff Yakuza: Dead Sols and other Yakuza spinoffs.
Through the series, Kiryu always remaining true to his own strict code of honor and sense of justice, which includes his unwillingness to kill anyone (summary video shown below). In his adventures, Kiryu is usually motivated by helping others, which leads him into confrontations with members of the yakuza and other criminal elements. In most game of the series, Kiryu wears his signature outdated grey suit with a red shirt with a popped collar.
Kazuma Kiryu is both a friend and a rival of character Goro Majima.
Following the popularization of the Yakuza series among Western audience in 2018 and 2019, Kiryu achieved major popularity as subject of memes and fan art.
Related Memes
Kazuma Kiryu Slams Table
Kazuma Kiryu Slams Table refers to a scene from the 2017 action-adventure video game Yakuza Kiwami 2 in which main protagonist Kazuma Kiryu slams a table with his fist and leaves. The scene gained significant popularity as a reaction on Instagram in mid-June 2019 following a viral tweet.
Dame Da Ne / Baka Mitai
Dame Da Ne refers to a lyric from "Baka Mitai," a pop ballad which can be sung in karaoke sections of the video games Yakuza 0 and Yakuza 5. The song has been paired with numerous humorous videos in remixes on YouTube, before also gaining popularity in First Order Motion Model Deepfakes in July 2020.
Dame Da Ne Guy / Damedaneposting
Dame Da Ne Guy or Damedaneposting refers to a series of Yakuza shitposts that involves intentionally misnaming Kazuma Kiryu "Dame Da Ne" or "Dame Da Ne Guy." The practice was popularized by Twitter user @Zari_Wari in May and June 2021 (examples shown below).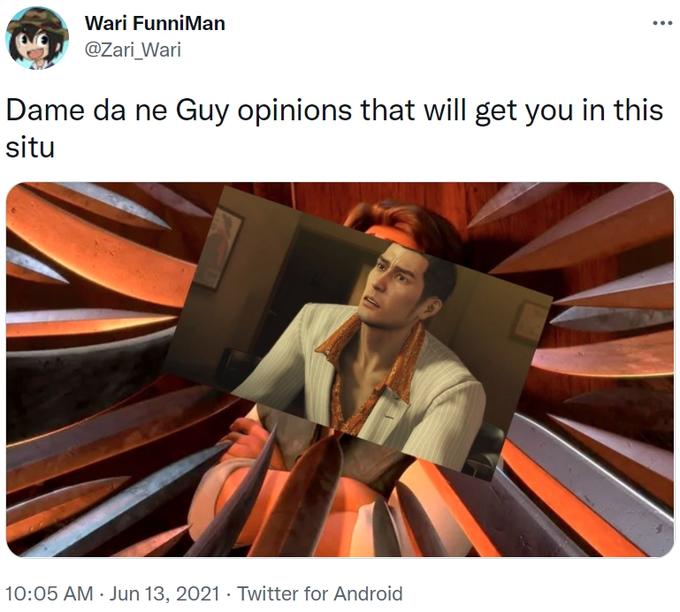 Kazuma Kiryu Has Never Killed Anyone
Kazuma Kiryu Has Never Killed Anyone is a catchphrase of the Yakuza fandom as a way to joke about the series' main protagonist, Kazuma Kiryu, and his steadfast "no-kill" policy during the games' main plots, despite dispatching generic enemies in very violent ways which would almost assuredly result in their death.
Kiryu Gaming
Kiryu Gaming is a version of Engineer Gaming meme in a sense that the phrase is mostly used as a random caption for any Kiryu-related memes. The phrase was spawned by a viral Roblox video showing player Bananowy321 wearing Kiryu Kazuma skin and wielding a bat and a knife while "Judgement – Shipnan-" from Yakuza 0 plays.[1][2] The videos and its extended version (shown below) were posted by YouTube user numberLad2 on March 15th, 2020.
Kiryu Is a Virgin
The topic of Kiryu's sexual experience has been a popular subject of discussions online. Despite demonstrating affection and having romantic interest in the games, Kiryu is never shown in a long-term relationship with any of the characters. The subject spawned memes speculating that Kiryu is a virgin, with memes often attributing this to him being "too pure."

Various Examples






Search Interest
External References