Warning: This page contains material that may be considered not safe for work.
This submission is currently being researched & evaluated!
You can help confirm this entry by contributing facts, media, and other evidence of notability and mutation.
About
"Konnichiwa, Dude!" is a quote and catchphrase commonly used on 4chan that originates from a comic panel made by Joshua Luna. The panel itself was subject of various memes, exploitables, edits, redraws and parodies over the course of several years.
Origin
The panel is from a comic strip titled "First Imprasians", which was posted for the first time on June 30th, 2016. Like other works that are part of Luna's AMERICANIZASIAN series, "First Imprasians" was drawn by Luna and shared concomitantly on his Twitter, Tumblr and Facebook profiles.[1][2][3] In the comic, Luna's self-insert character meets various people that give him contrasting opinions on his accent, looks, and identity, which makes him physically lower his head more and more in each subsequent panel (shown, below).

In the final panel, he encounters a White American young man who greets him with the Japanese word "Konnichiwa" (こんにちは) and asks him to be hooked up with some Asian girls, which he considers to be "docile and tight". By the final panel, Luna's self-insert lowers his head to the point he's basically bowing to him (shown, below).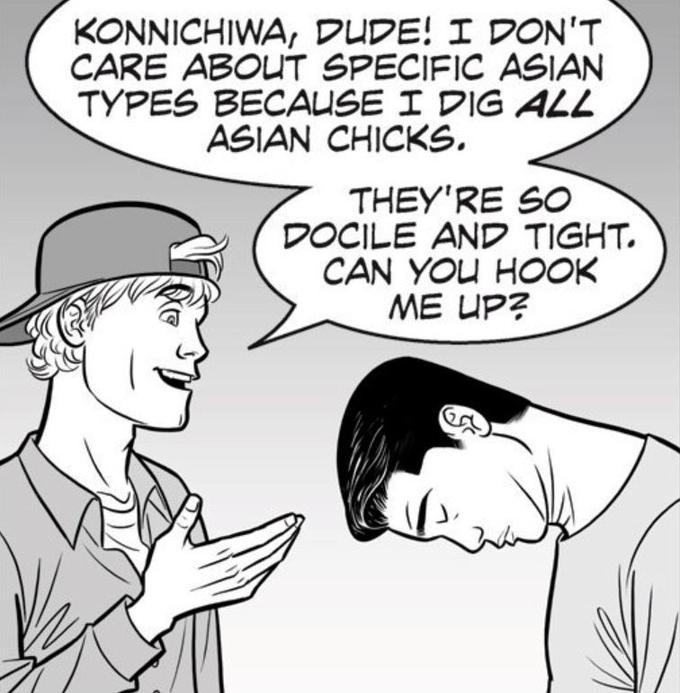 Konnichiwa, dude! I don't care about specific Asian types because I dig ALL Asian chicks. They're so docile and tight. Can you hook me up?
Spread
Although the comic was shared and met with a sympathetic reception on Facebook, 9GAG and on a Reddit post by ridukosennin on r/AsianMasculinity,[4][5][6][7] it gained most of its popularity when it was shared on various 4chan boards. 4chan's anonymous users directed their attention toward the final interaction in the comic, finding it funny and easy to use as an exploitable. On August 9th, 2020, an If You See This Image While Scrolling exploitable was posted on /int/ with the purpose of inviting other users to say "Konichiwa, dude!" (shown, below).[8] The catchphrase has been used across various boards in at least 4,030 posts ever since.[9][10][11]

IF YOU SEE THIS IMAGE WHILE SCROLLING – You have been visited by the FILIPINO RICECEL. DOCILE and TIGHT asian girls will hook up with you, but only if you post Konichiwa, dude!
The panel itself was the subject of various memes and edits. On June 23rd, 2020, an edit featuring GigaChad was posted in an /int/ thread (shown below, left).[12] On October 14th, 2020, an edit featuring The Coomer Man asking for WMAF porn was posted on /co/ (shown below, right).[13]


On December 13th, 2022, a Momlife Comic variant of the panel was posted on /pol/ (shown below, left).[14] On March 3rd, 2023, a Virgin vs. Chad variant was posted on /tv/ (shown below, right).[15]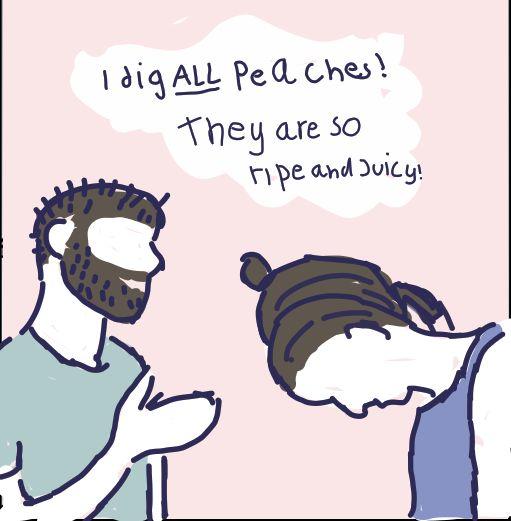 Various Examples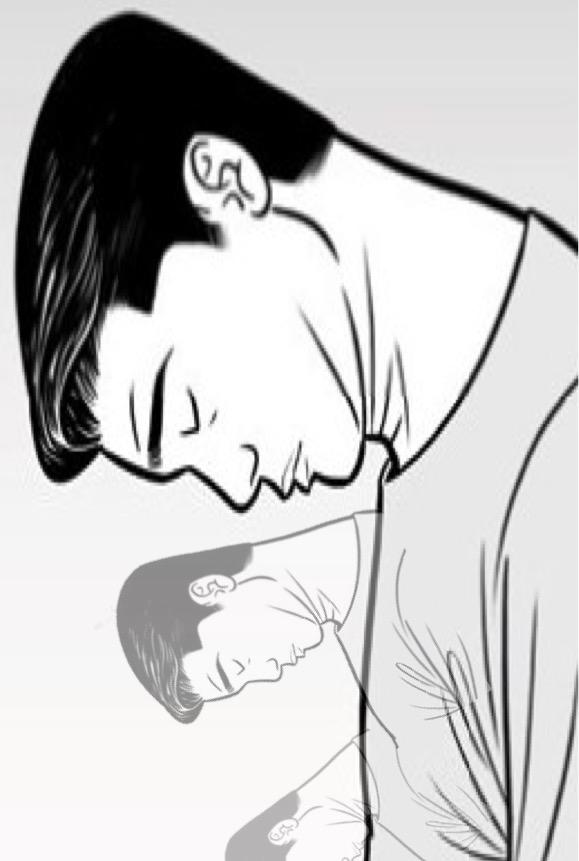 Search Interest
External References
Recent Videos
There are no videos currently available.