About
Matryoshka (Japanese: マトリョシカ) is a song created by Vocaloid producer Hachi, which featured the Vocaloid characters Hatsune Miku and Gumi. After the song was uploaded to the Japanese video-sharing site Nico Nico Douga (NND) during the Summer of 2010, it has managed to become a source of remix and vocal tribute, along with fan art and cosplay inspired by the visual art-style of the video.
Origin
Matryoshka was originally written and composed by Vocaloid producer Hachi[1] (ハチ), and was uploaded to Nico Nico Douga[5] on August 19, 2010, along with a reprint to Youtube (shown below) on the same day. The song featured a duet of the Vocaloid characters Hatsune Miku and Gumi while being set to an Alternative Rock sound. The name of the song refers to the Matryoshka[6] (Russian: матрёшка), which is a wooden nesting doll-set originating from Russia.
One of the most notable and talked-about aspects of the song are the lyrics, as they appear to be nonsensical. Much debate and many interpretations about their true meaning has been brought up since its release. According to a Vocaloid wikia[2] page for the song, many believe that the lyrics could portray hidden sadden or insanity, while other say it's about the stress of Gumi and Miku put on by their creators. There is also belief that the song has no true meaning, and that it is meant to be open for interpretations.
Spread
After the song was uploaded to NND, it immediately captured the attention of the Vocaloid community, generating over 1 Million views within its first 32 days, a feat that was reported on the fan-site Vocaloidism[8] on September 23, 2010. Soon, remixes mimicking the original video and musical covers began appearing on NND, and as of January 2013, more then 7,000 videos[7] can be found on the site. On the Japanese art community pixiv, fan illustrations intimating the art style of the video has shared, with over 10 thousand submissions[9] being found on the site.
Western Web
The song has also managed to grasped the attention with western Vocaloid fans as well, with the original Youtube upload (shown above) accumulating over 7 million views and over 2,000 comments in just three years. Reprints from NND can also be found on the video sharing site.[10] On DeviantART, multiple groups dedicated to Matryoshka has been formed, with the most popular being CrazyMatryoshka[3], with well over 1000 watchers, and as of January 2013, over 15 thousand fan submissions can be found under the term "matryoshka vocaloid."[11]
Notable Examples
Parodies
Musical Covers
| | |
| --- | --- |
| Band Cover[15] | Vocal Cover[16] |
| (Parody) Vocal Cover[17] | Piano Cover |
Fan Art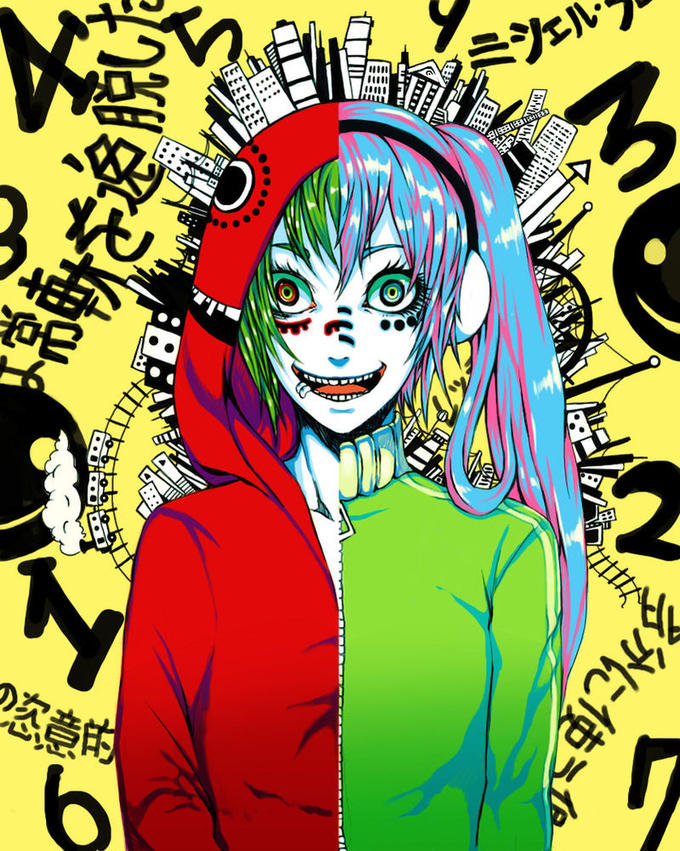 Search Interest
External References
Editor's Note: Registration is needed to browse the original videos listed in this section.
[2] Vocaloid Wikia – Matryoshka
[3] DeviantART – CrazyMatryoshka
[4] AnimeLyrics – Matryoshka
[5] nico nico video – 【Original Music PV】Matryoshka【Hatsune Miku, GUMI】 / Posted on August 19, 2010.
[6] Wikipedia – Matryoshka doll
[7] nico nico video – Search results for マトリョシカ
[8] Vocaloidism – Matryoshka Hits One Million Views!
[9] pixiv – Search results for マトリョシカ
[10] Youtube – Search results for マトリョシカ
[11] DeviantArt – Search results for matryoshka vocaloid
[12] niconico video – 【替え歌】ポケモシカ【BW】 / Posted on November 19, 2010
[13] niconico video – 【銀魂】パフェマヨリョシカ【歌ってみた】 / Posted on December 3, 2010
[14] niconico video – 【デュラララ!!】臨也と静雄でマトリョシカ 歌ってみた☆ / Posted on October 16, 2010
[15] niconico video – 【ろん】マトリョシカ -Band Arrange Ver.- 歌ってみた 【そらる】 / Posted on April 2, 2012
[16] niconico video – 【ゼブラ】マトリョシカ【はしやん】 / Posted on October 12, 2010
[17] niconico video – マトリョシカ歌ってみたver 96猫&vip店長 ※フリー / Posted on May 1, 2011
[18] niconico video – 【手描きサウス】サウスパークでマトリョシカ / Posted on December, 22, 2011