When I get home my wife always pretends to be dead
This submission is currently being researched & evaluated!
You can help confirm this entry by contributing facts, media, and other evidence of notability and mutation.

About
"When I get home my wife always pretends to be dead." (Japanese : 家に帰ると妻が必ず死んだふりをしています。, Ie ni Kaeru to Tsuma ga Kanarazu Shindafuri wo Shiteimasu.) is a question posted to the Japanese Yahoo! Answer in 2010.
This epic funny question caused a big wave on the Japanese web by one Vocaloid song, and also had spreaded to both the Chinese & Taiwanese web and the mainstream of Japanese pop culture.
Origin
This question was posted by Yahoo! user K.Kajunsky in July 17th, 2010.[1]

When I get home, my wife always pretends to be dead.
What makes it happen ?

When I got home, she was lying down on the entrance.
At the beginning, I was surprised. But it was continued everyday, I got used to it, and became ignoring her with saying "Hey, wake up".

Then, blood was coming out of her mouth in next day.
One week after, she was wearing blood-soaked shirt.

I don't know if she is lately running out of ideas or getting crazy.
But, one day, an arrow was piercing her head. The other day, she was putting a plastic bag on her head (it was apparently waving with her breath).
She was wearing a military dress and had an honorable death in battle with holding a gun yesterday.

Of course, I always go past her.

What she wants me to do ?
Where is she going?
I haven't got a clue. Please tell me why.

One day, she was fixing supper with leaving an arrow piercing her head.


Additional Details

I'm surprised at getting so many answers.

It was probably this spring, she left a dying message "Bonito" and I could get what was supper's menu in that day. I praised her at that dinner as that was very intelligent. However, a clown (Ronald McDonald) was lying down in the next day. She easily gets carried away. It's a hard work for me to help removing her makeup.

It seems she bought a millitary dress at a millitary shop. I warned her not wasting money. Then, she was ate by an crocodile of her own making today.
Spread
This quite nonsense but heartwarming question soon reached many Japanese internet users through many information hubs such as 2channel, mixi, hatena bookmark and twitter. This topic was covered by several online news sites.[2][3]
In addition, What gave further popularity to this question was a Vocaloid song singing this story by comical lyrics. This song was made by the Japanese famous vocaloid creator Hobonichi-P (ほぼ日P) who was inspired by this question. Since after the song was uploaded to the Japanese video sharing service Nico Nico Douga on July 30th, 2010[4], many fan-arts for this song have been uploaded to there.[5]
This song was also covered by many online media.[6][7]
Merchandised
By the popularity of this vocaloid song and many fan-arts, both the original and several fan-arts including singing cover and a hand drawn animated video were packed into vocaloid compilation music albums and movie clip collection which were serially released in 2011.

One of those compilation albums Vocalonexus[8] that include this song and other popular vocaloid songs such as Matryoshka and Pop Heart Sutra from Heart Sutra Remixes got the 1st place in the Japanese daily pop music album sales chart in January of that year.[9]
Furthermore, this question was published as a comic in June 2011. The story of this comic is based not only on the original question, but also on other episodes posted to K.Kajunsky's blog[10] that he launched after this big success.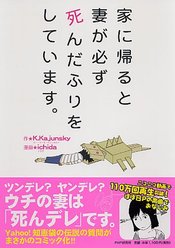 The catch copy of this comic was : Tsundere? Yandere? Nope, my wife is Shindere (Dead-lovey).
Chinese & Taiwanese Fandom
This song also became popular among some Chinese and Taiwanese vocaloid lovers, though they didn't know its background so much. Many of chinese funsub videos have been reuploaded to both YouTube and Chinese online video sharing services.[11] And several Chinese & Taiwanese people also have posted their original hand drawn animated videos to there.
As a result of this popularity, a Taiwanese TV news reported this online phenomena on Chinese-speaking countries in October 2010.
This question has an entry on Baidu Baike[12], the largest Chinese interet encyclopedia.[13] It also describes about Hobonichi-P's song.
Notable Examples
Animated video featuring Kaito and Miku Hatsune[14]


halyosy's vocal mix[15]


Live Action[16]


Chinese & Taiwanese Draw
Natuto


APH Hetalia


Su HuanJen(素還真) and Tan Wuyu(談無慾) from Tiwanese puppet show: Pili Budaixi[17]


Search Interest
External References
Editor's Note: Registration is needed to browse the original videos listed in this section.