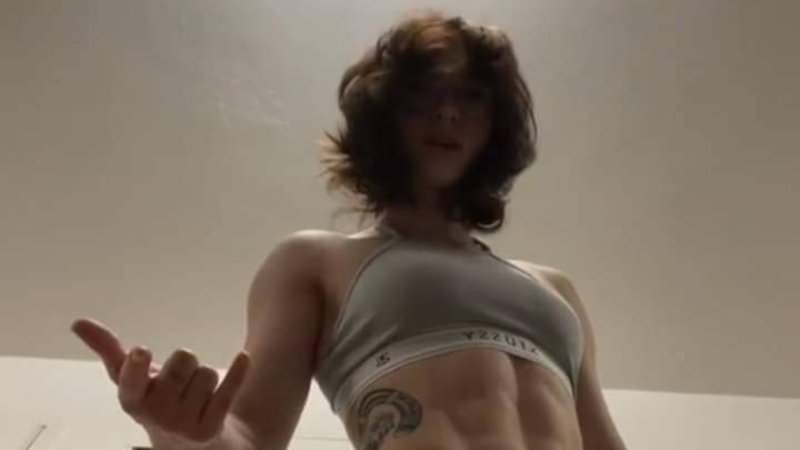 Mildly Muscular Women Think They're Gods / Know Your Place
About
Mildy Muscular Women Think They're Gods, also known as Know Your Place, refers to a viral TikTok of a muscular woman towering over the camera with a comment bubble containing the text "mildy muscular women think they're gods" and the caption "know your place…" A screenshot of the TikTok led to an exploitable redraw image template. The female TikToker in the original video is known as LeanBeefPatty.
Origin
On June 26th 2021, TikTok[1] user @leanbeefpatty replied to user @bruhvanni's comment stating "mildly muscular women think they're gods" with a video in which audio of Sukuna from Jujutsu Kaisen saying "Know your place, fool" is played while she stands, looking down at the camera (shown below). Over 11 months, it gained over 40.8 million views and 324,600 likes.
Spread
On May 26th, 2022, Twitter[2] user @fairydreamys tweeted "thinking about her" with a screenshot of leanbeefpatty's video attached (shown below). In four days, the post received over 474,000 likes and 49,000 retweets.

Following this, artists began drawing various characters in leanbeefpatty's pose from the above tweet. For example, in the replies to @fairydreamys post, Twitter user @skollwernersson[3] posted a picture of their OC in the pose, gaining over 45 likes (shown below, left). On May 29th, user @miiksster[4] posted Demon Slayer character Mitsuri Kanroji in the pose, gaining over 3,500 retweets and 26,000 likes (shown below, right).


Various Examples


Search Interest
Unavailable
External References
Recent Videos
There are no videos currently available.