Oh Mein Gott Zees Is Ein Cave Full Of Blüntsmoken!
About
Oh Mein Gott Zees Is Ein Cave Full Of Blüntsmoken! or No Little German Boy Don't Go To The Weed Cave is a viral text post on Tumblr posted in late October 2021. The post inspired numerous webcomics and memes recreating and referencing it as a catchphrase and was spammed by many Tumblr users as a copypasta. Shortly after it started going viral, Tumblr users boycotted the post as its "bluntsmoken" reply was made by a right-wing, conspiratorial account. The poster's account has since been removed.
Origin
On or around October 23rd, 2021, now-deleted Tumblr user bingobongos made a text post reading "no little german boy dont go to the weed cave." Shortly after, now-deleted Tumblr user repentant-retard-xii responded to the post with, "Oh mein Gott zees is in cave full of blüntsmoken," using fake German words and playing off of a joke that all you need to do to make a word German is add an "en" to the end (shown below).[1] The post gained an unknown number of notes before being deleted.

That day, as the post gained traction, many Tumblr users began denouncing the post as its reply at least was made by a right-wing account with a slur for a username (repentant-retard-xii). The user was deleted shortly after that and has since started a new Tumblr[2] account at repentant-retard-xv. Every time their account is deleted they increase the roman numeral in their username, a trend among right-wing accounts on Tumblr. The post was copy-pasted and recreated by Tumblr[3] users numerous times after to take the limelight away from the right-wing accounts, including by mountaindewfrostbite, whose post was also screenshotted and uploaded to iFunny[4] on October 24th, gaining over 12,000 smiles in two weeks.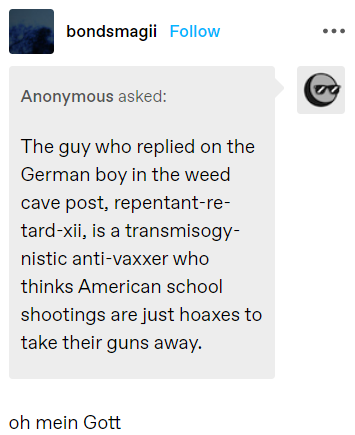 Spread
The post has inspired a number of webcomics and pieces of fan art imagining it visually. On October 29th, 2021, Twitter[5] user NightMargin posted a Deltarune comic referencing the post, also referencing Doobie Ralsei gaining over 38,600 likes and 7,900 retweets in 11 days (shown below).

On October 30th, Twitter[7] user Hellboy484 replied to the post with a video reimagining the post (shown below).
October 30, 2021
On November 8th, Redditor Whimsycottt posted an imagining of the text post based on the anime Bleach to /r/bleach,[6] gaining over 480 upvotes in a day (shown below).

2022 Variations
The original blüntensmoken post inspired a variety of variations, exploiting the same rules to produce mock German out of English words and placing the little German boy in new situations.
On January 24th, 2022, Tumblr user existentialcrisisetcetera made a post placing the little German boy by an electric fence. The post received almost 30,000 notes.[8]

The trend of placing the little German boy in new situations continued with an even more popular post by Tumblr user dxmerons on February 5th, 2022, which received over 54,000 notes and featured the little German boy meeting Perry the Platypus.[9]

A post by Tumblr user pogasm on February 8th, 2022 encouraged the little German boy not to open a Tumblr account, to which user that-one-queer-poc responded with an imagined reply, receiving 81 notes. This post was reposted to Reddit's r/Tumblr, where it received over 8,000 upvotes.[10]

Various Examples




Search Interest
Unavailable.
External References
Recent Videos
There are no videos currently available.