Original vs. Un-Tumblrized
About
Original vs. Un-tumblrized refers to a series of exploitable, photoshopped comparison charts in which one side shows a character, and the other, "un-tumblrized" side shows a sexier artistic interpretation of that character. The word "un-tumblrized" implies that a character was originally designed to appeal to the Tumblr community, which has a reputation for demanding media representation for a diverse array of races, gender expressions and body types. After an image began circulating of a comparison chart between the female character Tank Penny from Fortnite and an "un-tumblrized" version which imagines her skinnier, whiter and in skimpier clothing, people began to create humorous parody versions.
Origin
The original image depicts the character Tank Penny from Fortnite, and an "un-tumblrized" interpretation of the character which makes her white, skinny, and in skimpier clothing (shown below). While it is unclear where it was first posted, the earliest known post of the image was to 4chan's /v/ board on July 31st, 2017.[1]

Spread
The image began circulating online following a post by Twitter user @incantatricks[2] on January 24th, 2018, gaining over 4,800 retweets and 13,000 likes.

The tweet inspired discourse and interpretations that the "un-tumblrized" version was racist, as it gave the character blonde hair, blue eyes, and white skin (traditionally Aryan features) and added a necklace with a cross on it.[3] Others were upset because the "un-tumblrized" version took away many of the unique qualities of the original character. Tumblr user weepycat[4] uploaded a post with the image the same day @incantatricks, saying "imagine being such a limp-dicked weakling that you remove a female character's belly fat, tattoo, dyed hair, skin tone, and half of her lips. and then you add a cross necklace for some goddamn reason." The post gained over 38,000 notes.

In addition to the discourse surrounding the image, internet users also began making humorous variations on the template. Twitter user @milonssecretcat[5] uploaded a variation that gave a video game character unrealistically large breasts and added a Pepe the Frog sticker, gaining over 280 retweets (shown below, left). Twitter user @Naan_Binary_[6] uploaded a variation showing Pikachu designs, gaining over 820 retweets (shown below, right). The spread of the meme was covered by Buzzfeed[7] on January 29th.


Various Examples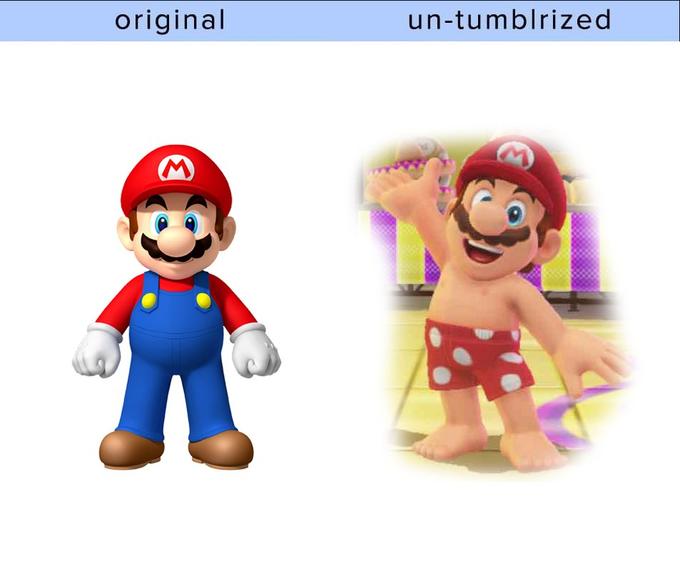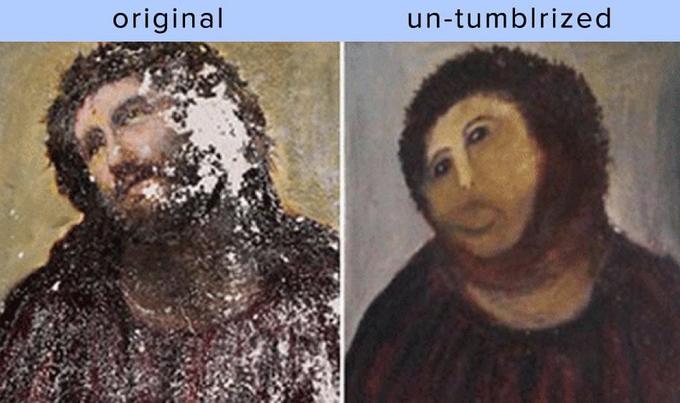 Search Interest
Unavailable
External References
Recent Videos
There are no videos currently available.