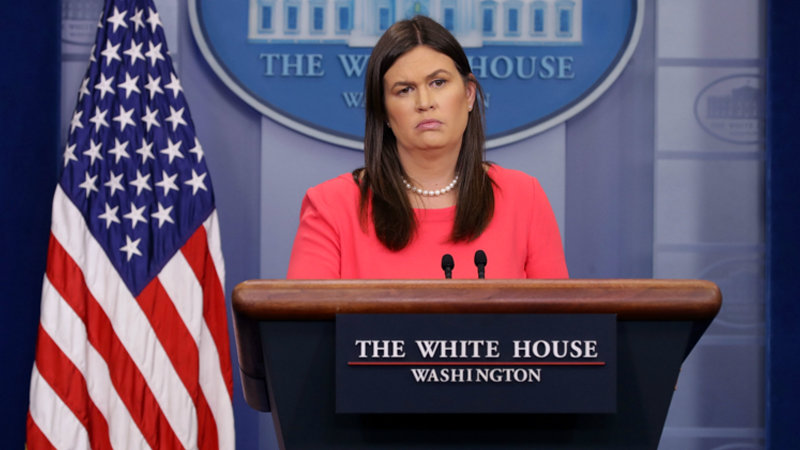 This submission is currently being researched & evaluated!
You can help confirm this entry by contributing facts, media, and other evidence of notability and mutation.
About
Sarah Huckabee Sanders is the former White House Press Secretary to United States President Donald Trump.
Online History
In January 2017, following the inauguration of President Trump, Sarah Huckabee Sanders was appointed to the position of deputy White House press secretary, working under then-White House Press Secretary Sean Spicer. On May 5th, 2017, Huckabee Sanders held her first White House press briefing.[1]
Two months later, following the resignation of Sean Spicer, Sarah Huckabee Sanders was appointed White House press secretary.[2]
Donald Trump's Letter From Pickle
On July 26th, 2017, White House Press Secretary delivered the White House press briefing, reading statements from the administration and answering questions from the media. At the start of the briefing, she decided to read a letter from a 9-year-old boy named Dylan, who goes by the nickname "Pickle".
That day, Sarah Huckabee Sanders posted the letter from Pickle on Twitter.[3] The tweet (shown below, right), which contains an image of a letter that looks like it was written by a child, received more than 870 retweets and 3,400 likes in 24 hours.

The post inspired a number of parodies. One of the most popular, post on July 26th, came from Twitter user @jimpjorps[4] posted a letter that read "Release the piss tapes." The post (shown below, left) received more than 250 retweets and 1,200 likes.
#PieGate
On November 23rd, 2017, Press Secretary Sanders tweeted [5] a picture of a chocolate pecan pie on a white tabletop from a bird's eye perspective. She captioned the post (shown below), "I dont cook much these days, but managed this Chocolate Pecan Pie for Thanksgiving at the family farm!" Within three weeks, the post received more than 2,900 retweets, 22,000 likes and 7,000 comments.

After posting the photograph, many online believed that she had posted a stock photo and claimed it as her own.



Red Hen Controversy
On June 23rd, 2018, an employee from the Lexington, Virginia restaurant posted on Facebook that the owner of the establishment had asked Huckabee Sanders to leave the restaurant. They wrote, "I just served Sarah huckabee sanders for a total of 2 minutes before my owner kicked her out along with 7 of her other family members" (shown below, left).[7]
Soon after the employee clarified, adding "Her family left on their own accord, we didn't actually refuse service or 'kick her out.'"
The following morning, Twitter[8] user @PressSec tweeted, "Last night I was told by the owner of Red Hen in Lexington, VA to leave because I work for @POTUS and I politely left. Her actions say far more about her than about me. I always do my best to treat people, including those I disagree with, respectfully and will continue to do so." The post (shown below, right) received more than 48,000 retweets and 169,000 likes in two days.


That day, the restaurant's owner, Stephanie Wilkinson, told the story to the Washington Post.[9] She said that after discussing the issue with her staff, who felt that the Trump administration's policies were dangerous to their lives and the lives of their friends and family members, she asked to speak to Sanders. She said:
"I said, 'I'm the owner.' I'd like you to come out to the patio with me for a word.'"

"I was babbling a little, but I got my point across in a polite and direct fashion. I explained that the restaurant has certain standards that I feel it has to uphold, such as honesty, and compassion, and cooperation."

"I said, 'I'd like to ask you to leave.'"
That day, an unaffiliated restaurant also named Red Hen tweeted, "Good morning! @PressSec went to the unaffiliated @RedHenLex last night, not to our DC-based restaurant." The Washington D.C. restaraunt contested that it is illegal for any Washington, D.C. restaraunt to refuse service on political grounds because D.C. is a federal district, after receiving numerous tweeted, negative reviews and death threats regarding the controversy.[12]

Following Sanders' tweet, Trump supporters began flooding Red Hen's Yelp page with negative reviews, while Red Hen supporters posted positive ones. The controversy also started a national conversation on civility, i.e. how to disagree with those on the other side of the political isle. The Washington Post[11] editorial board posted an op-ed entitled "Let the Trump team eat in peace," which many found offensive, including a Representative Maxine Waters, who appeared to support the Red Hen owner. She said:
"I have no sympathy for these people that are in this administration who know it is wrong what they're doing on so many fronts but they tend to not want to confront this president. For these members of his cabinet who remain and try to defend him they're not going to be able to go to a restaurant, they're not going to be able to stop at a gas station, they're not going to be able to shop at a department store, the people are going to turn on them, they're going to protest, they're going to absolutely harass them until they decide that they're going to tell the president 'no I can't hang with you, this is wrong this is unconscionable and we can't keep doing this to children."
On June 25th, President Trump tweeted,[10] "The Red Hen Restaurant should focus more on cleaning its filthy canopies, doors and windows (badly needs a paint job) rather than refusing to serve a fine person like Sarah Huckabee Sanders. I always had a rule, if a restaurant is dirty on the outside, it is dirty on the inside!" The post (shown below) received more than 24,000 retweets and 89,000 likes in 24 hours.

Criticism
Sarah Huckabee Sanders has frequently been accused of lying to the American people in service of the Trump administration. On June 4th, 2018, following news about how Trump lawyers contradicted the Trump media team regarding Donald Trump Jr's Trump Tower meeting, Washington Post reporter Josh Dawsey asked, "How can we believe what you're saying from the podium?"
Michelle Wolf's White House Correspondents' Dinner Routine
On April 28th, 2018, Wolf delivered her stand-up routine at the WHCA dinner, during which she made several jokes about President Donald Trump, Vice President Mike Pence and Press Secretary Sarah Huckabee Sanders (shown below).
One of the jokes, which referred to Huckabee Sanders make up received much of the attention. Wolf joke, "She [Sanders] burns facts and she uses that ash to create a perfect smokey eye. Maybe she's born with it. Maybe its lies." Officials within the White House, including President Trump responded to the jokes about Sanders negatively, as did some within the news media.
Sanders responded by saying, "That evening says a whole lot more about her than it does about me. I'm very proud of the fact that I work in this administration for this president… And I hope she can find some of the same happiness that we all have, she may need a little more of that in her life because the rest of us are doing great."[6]
Resignation from White House
On June 13th, 2019, Donald Trump tweeted that Sarah Huckabee Sanders was leaving the White House at the end of the month to return to her home state of Arkansas. He said she hoped she would run for governor of the state, though her plans after her time in the White House are unclear.[12]

Online, Twitter reactions were mostly celebratory and humorous. Many users made joke suggestions about who could replace Sanders and do a better job. User @MarkHarrisNYC[13] posted pictures of a rock, a plant, and a frog, gaining over 100 retweets and 650 likes (shown below, left). User @darth[14] tweeted a picture of all the people who have left the Trump administration so far, now with Sanders, gaining over 170 retweets and 850 likes (shown below, right). Jokes were covered by Uproxx.[15]


Sanders appeared to leave on good terms, and the following day, gave a press conference where she said how much she loved her time at the White House (shown below).
Sarah Sanders: "I've loved every minute, even the hard minutes. I have loved it. I love the President. I love the team that I've had the opportunity to work for. The President is surrounded by some of the most incredible and most talented people you could ever imagine." pic.twitter.com/TY3bMGG7d0

— The Hill (@thehill) June 14, 2019
Personal Life
Sarah Huckabee Sanders is the daughter of former Arkansas Governor Mike Huckabee. She is married to Bryan Sanders with whom she mothered three children.
Related Memes
Trump's Press Briefing Video Message refers to a series of photoshopped images based on President Donald Trump's video pre-recorded video message that was played on two television monitors during a January 2018 White House press briefing.
Search Interest
External References
Recent Videos
There are no videos currently available.