This entry contains content that may be considered sensitive to some viewers.
This submission is currently being researched & evaluated!
You can help confirm this entry by contributing facts, media, and other evidence of notability and mutation.

About
Scott Steiner (real name Scott Carl Rechsteiner) is an American professional wrestler, who has wrestled in several promotions like World Championship Wrestling (WCW), World Wrestling Entertainment (WWE) and Total Nonstop Action (TNA). Online, Steiner has been notorious due his over the top persona "Big Poppa Pump" and his bombastic promotional scenes, which have granted him a fanbase.
Wrestling Career
Steiner debuted in 1986, after being trained under Dr. Jerry Graham Jr., but it wasn't until 1989 that he created a tag team along with his brother Rick, named the Steiner Brothers.[1] During the following years, they wrestled on several promotions like WWF, ECW and WCW. On late 1997, Scott changed his looks (cutting his mullet and growing a goatee) and increased his muscular mass, leaving his brother to start a singles career. On 1998, the physical change got further as he bleached his hair, debuting his Big Poppa Pomp persona, a loudmouthed, hulking gym rat who was an agressive ladies man. This change was in response of Scott's back injuries, which made him slow his pace on the ring and have to rely more on mic work. From 1999 to 2001 he won several championships in WCW, including the World Heavyweight Championship.
In 2002, Steiner returned to WWE under his new persona, followed by a feud with fellow wrestler Triple H, but he got sidelined due injuries and left the company in 2004. In 2006, he debuted on TNA. where he joined several factions like Main Event Mafia and Immortal, being released in 2010. Since then, he's been wrestling in the independent circuit.
Online Relevance
Steiner has been prominently featured in the popular Botchamania series. Aside from becoming a reoccurring joke, Steiner has been the subject of two special Botchmania episodes completely dedicated to him, making him the only individual to have had more than one.
Steiner has a reasonable following online, with 135,000 followers on Twitter (@ScottSteiner).[4] He also has a page on TV Tropes.[5]
Things Often Said In A Scott Steiner Promo
1) Hate For Fat People
2) Hate For People Of All Races (Especially people he calls "White Trash")
3) Hate For Canadians not named Petey Williams. (He calls Canada "Mexico North")
4) Pick Up Lines to Female Interviewers
5) Garbled English and Grammar (Case In Point "I've wrestled a lot of Countries")
6) Inaccurate History
7) Inaccurate Mathematics
8) His Love for his muscles and his fanbase (His Freaks and His Peaks)
Related Memes
Scott Steiner has become somewhat of a legend in the forums of the Internet Wrestling Community (IWC), largely due to his promos, which have also inspired several one-liners and running jokes.
GIMME A FUCKING MIC / Steinerposting
Steiner returned to the WWE at Survivor Series 2002, where he interrupted Matt Hardy and Chris Nowinski after they trashtalked New York. After throwing them from the ring, Steiner yelled "Give me the fucking mic!" to the refereees. Online, this catchphrase has become one of his most famous one-liners, and has often been used as a way to start impersonations of Steiner, featuring posts written in all caps, intentional spelling and grammatical errors, intentional misnaming of people (CN PAUNCH, TANNED HEIHACHI, etc.), insulting wrestler Samoa Joe, using several other one-liners and parodying other promos, mainly the math promo. Replies to these posts often include ambulance emojis, in reference to his theme song.
Every Saturday, r/SquaredCircle, a professional wrestling-centric subreddit, organises the Steiner Saturday, wherein current topics and recent wrestling events are discussed in a way of how Scott Steiner would have said it, heavily featuring Steinerposting.[3]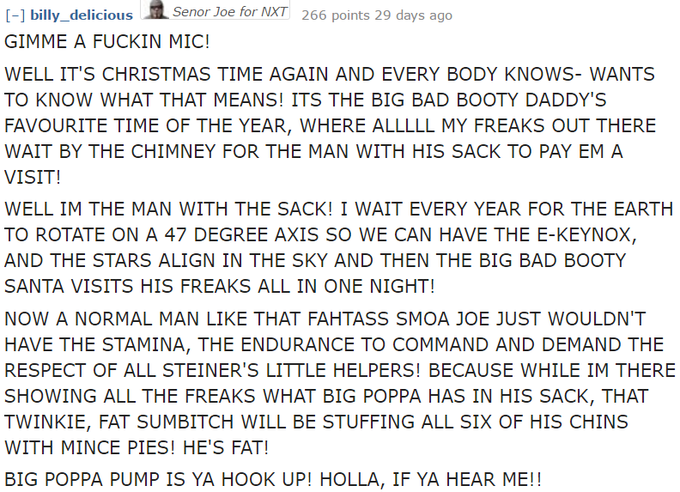 Maths Promo
In May 2008, Steiner made a promo about his upcoming three-way match with Kurt Angle and Samoa Joe on TNA Sacrifice 2008, where he talks about the chances of winning Joe has. The promo is often regarded as Steiner's best work in the mic, and has been heavily parodied in Steinerposting. On January 30th, 2011, Youtuber AJ Minotti uploaded a typography of the promo, which gained over 2.4 million views in the following six years. The scrpit of the promo can also be found on pages like Genius.[2]
You know they say that all men are created equal, but you look at me and you look at Samoa Joe and you can see that statement is not true. See, normally if you go one on one with another wrestler, you got a 50/50 chance of winning. But I'm a genetic freak and I'm not normal! So you got a 25%, AT BEST, at beat me.

Then you add Kurt Angle to the mix, your chances of winning drastic go down. See the 3 way, at Sacrifice, you got a 33 1/3 chance of winning, but I, I got a 66 and 2/3 chance of winning, because Kurt Angle KNOWS he can't beat me and he's not even gonna try!

So Samoa Joe, you take your 33 1/3 chance, minus my 25% chance and you got an 8 1/3 chance of winning at Sacrifice. But then you take my 75% chance of winning, if we was to go one on one, and then add 66 2/3 per cents, I got 141 2/3 chance of winning at Sacrifice. See Joe, the numbers don't lie, and they spell disaster for you at Sacrifice.
HE'S FAT
Scott Steiner is well-known to frequently call other wrestlers out on being overweight, playing into his character of "Big Poppa Pump." On a 2008 episode of TNA Impact, Steiner was partaking in an in-ring segment with the Main Event Mafia, which saw Scott label Samoa Joe, who was feuding with the MEM at the time, a "fat sumba-bitch." After being calmed down by the Mafia's leader, Kurt Angle, Steiner then blasted "HE'S FAT," at the top of his lungs. Both phrases have been used in Steinerposting, with the latter being used commonly to end posts or comments.
FAT ASSES
At TNA Bound For Glory 2007, Scott was teaming with his brother Rick to take on Team 3D (formerly the Dudley Boyz in the WWE) in a Two out of Three Falls Tables Match. Before the match, the Steiner's were being interviewed when suddenly Scott slapped his hand over the interviewers mouth and began berating their opponents, famously stating that Team 3D had "Fat Asses." The promo is often mocked online due to the delivery of Scott saying "Fat asses," and is frequently mentioned in Steinerposting as well being frequently referenced on Botchamania. YouTuber oaml yya uploaded the entire segment on July 14th, 2008, since gaining over 169 thousand views.
Rick and Scott Steiner let me welcome you ba-

Team 3D! You guys are out of your mind coming to Atlanta, Georgia; the place that the Steiner brothers got their start in professional wrestling. You guys are out of your mind making it a table match because tonight we're gonna' beat 'chu at your own game. And after it's all said and done you're gonna' be taking splinters out of your FAT ASSES all night long cause you've got some FAT ASSES.
Search Interest
External References