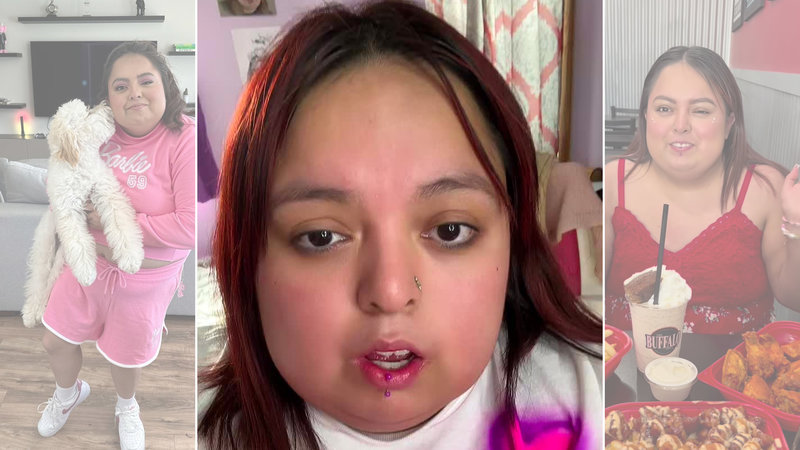 This submission is currently being researched & evaluated!
You can help confirm this entry by contributing facts, media, and other evidence of notability and mutation.
About
Shawty Bae (@shortybaeoffical), also known as Shorty Bae or by her real name Jasmine Orlando, is a TikToker and social media influencer who grew a cult following in the early 2020s, comprising mostly of women, LGBTQ+ and Latina TikTokers. Shawty Bae became known for her funny moments and TikTok Lives, as well as becoming associated with her disability of Bell's Palsy which generated a mostly wholesome fanbase that championed her confidence despite being disabled. Clips from her TikTok videos and TikTok Lives were used in various memes on the platform within FlopTok meme circles, centering on some of her catchphrases like "Oh my gatos," "I'm richness" and "I'm famousness," among others. In early 2023, her popularity spiked when seemingly chaotic videos of her meet-and-greets landed on social media.
Online History
Shawty Bae's online presence started on TikTok in 2016. The first TikTok[1] posted to her account was uploaded on May 13th, 2016, however, this first video didn't feature Shawty Bae and instead featured a little boy, likely her younger brother. The first TikTok[2] on the account to feature Shawty Bae was uploaded two years later, on September 2nd, 2018, gaining roughly 8,000 plays in five years (shown below).
Thereafter, Shawty Bae's account only featured her. On October 13th, 2018, she posted a TikTok[3] that was her first to break 100,000 plays, gaining roughly 113,700 plays and 6,000 likes in five years (shown below, left). On October 18th, 2018, she posted a TikTok[4] duet that gained roughly 584,200 plays and 22,700 likes (shown below, right). Throughout this time period, Shawty Bae's username was @jasmineorlando2.[6]
Going into 2019, Shawty Bae's habit of posting become more frequent as she began to grow a large following on the app. By the end of 2019, she had uploaded various TikToks[4] that highlighted her other social media pages on Instagram and Snapchat. For instance, on November 28th, 2019, she posted a TikTok[4] that showed her then-active Instagram (@shawty_bae_12) with roughly 111,000 followers at the time. In early 2020, she posted evidence to TikTok[5] that her Twitter page (@shortybae121) had roughly 16,000 followers. However, both her aforementioned Instagram and Twitter presences have since been deleted. Around the same time in early 2020, Shawty Bae posted evidence to TikTok[6] that her account had amassed roughly 917,400 followers.
As Shawty Bae's TikTok following grew in late 2019, compilations of her "funny moments" were shared on YouTube. For instance, on October 25th, 2019, YouTuber[7] I'm addicted To Tik Tok posted a compilation, gaining roughly 249,700 views and 3,200 likes in four years (shown below, left). On December 1st, 2019, YouTuber[8] TikTok Queen posted a similar compilation video, gaining roughly 39,100 views and 520 likes (shown below, right).
Continuing into 2023, Shawty Bae's online presence continued to grow. She eventually changed her TikTok username to @shortybaeoffical. Specifically in early 2023, her notoriety became increasingly commonplace, evident in fan-made TikToks[9][10] that earned over 1 million plays. Additionally, the hashtag #shawtybae on TikTok[11] amassed over 996 million views by May 22nd, 2023.
Shawty Bae Fan Meet-and-greets
Starting in May 2023, Shawty Bae started to organize real-life fan meet-and-greets in the United States. She advertised them on her Instagram[12] account in early May 2023, promoting ticket sales. News outlets also covered the meet-and-greets.[13] In May 2023, various videos from her meet-and-greets went viral online, such as a video posted by TikToker[14] @g1rlofyourdreams on May 12th, 2023, that showed Shawty Bae being escorted by security, gaining roughly 18.2 million plays and 1.6 million likes in 10 days (shown below).
Following
By May 22nd, 2023, Shawty Bae had amassed roughly 1.4 million followers on TikTok,[15] roughly 708,300 followers on her second TikTok[16] and roughly 179,000 followers on Instagram.[17]
Various Examples
Search Interest
External References
Recent Images
There are no images currently available.