This submission is currently being researched & evaluated!
You can help confirm this entry by contributing facts, media, and other evidence of notability and mutation.
About
Will Smith is an American actor, producer and recording artist best known for releasing several rap albums in the 1980s and starring as the eponymous character in the 1990s family sitcom The Fresh Prince of Bel-Air, as well as award-winning lead roles in dozens of high-grossing Hollwyood films, most notably Independence Day and the Men in Black film series. According to Forbes, as of 2014, Will Smith is considered the most bankable actor worldwide with his films grossing over $6.6 billion in global box office.
Acting Career
In 1990, Will Smith was cast as the lead in the NBC comedy The Fresh Prince of Bel Air. The show ran for six seasons, ending in 1996. Smith starred in several action films in the late 1990s including Independance Day (1996), Men in Black (1997) and Wild Wild West (1999). In 2002 he was nominated for his first Oscar for his starring role in Ali (2001), and in 2007 he was nominated for a second Oscar for his role in The Pursuit of Happyness (2006).



Online History
Fresh Prince of Bel Air Remixes
Fresh Prince of X is a series of mash-ups based on various songs set to the vocal track from the theme to the American sitcom series The Fresh Prince of Bel-Air, as performed by Will Smith. The remix song series is derived from the bait-and-switch copypasta Bel-Air which initially became widespread through 4chan's /b/ as early as in 2004.
Woll Smoth
Woll Smoth refers to a photoshop technique that involves using the warp tool to drastically shrink the eyes and mouth of a subject in a photograph. The name is taken from an intentional misspelling of Will Smith, whose photo was the first to be photoshopped in this manner on the imageboard 4chan.

"Aw Hell Naw"
Aw Hell Naw is a catchphrase used as a way to react to negative situations that may be unbelievable or highly humorous. One of the earliest pop culture uses of the phrase can be found in the 2004 Smith film I, Robot.
Evolution of Hip-Hop Dancing
On February 17th, 2014, the official YouTube channel for The Tonight Show Starring Jimmy Fallon [6] uploaded a video titled "Evolution of Hip-Hop Dance" which featured Fallon and Smith performing hip-hop dance moves from the different decades such as "The Doogie" and "The Fisheye." The video was covered by several sites including The Hollywood Reporter[7] and TIME. As of September 2014, the video has gained over 19.3 million views.
Will Smith in 2018 YouTube Rewind
Will Smith in YouTube Rewind 2018 refers to jokes made about actor Will Smith's appearance in the 2018 Edition of YouTube Rewind. The appearance spawned two meme templates which grew popular on Reddit: "That's hot," an exploitable snippet from the video in which Will Smith laughs to himself before walking over to a pair of binoculars and looking through them exclaiming "Ah, that's hot! That is hot…", and "It's Rewind Time," a series of reaction image of Smith saying the quote paired with captions about reliving memories.


Sad Will Smith / Entanglement
Sad Will Smith / Entanglement is a reaction image macro series based on a screenshot of actor Will Smith during a discussion about his wife Jada Pinkett Smith's relationship with singer August Alsina on her Facebook talk show "Red Table Talk". Pinkett Smith refers to her relationship with Alsina as her "entanglement," which became the subject of numerous jokes on social media.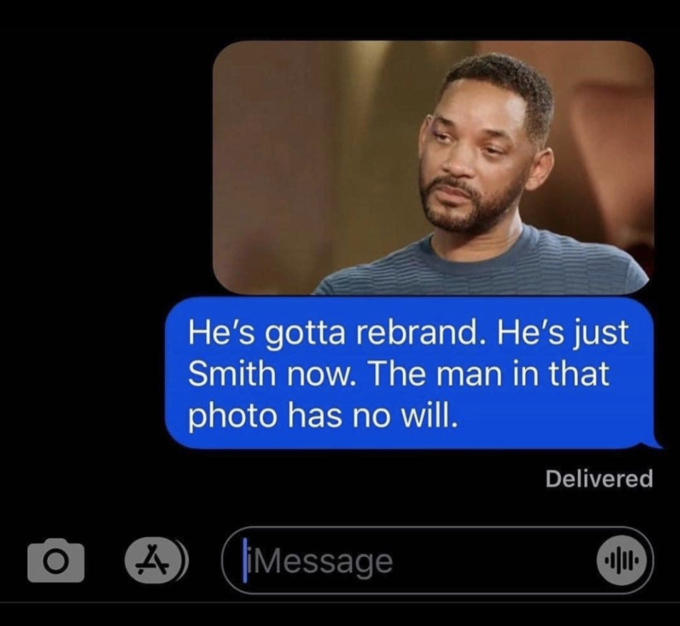 Will Smith Slapping Chris Rock
Will Smith Slapping Chris Rock refers to a moment from the 2022 Oscars, which were held on March 27th, 2022, in which actor and musician Will Smith slapped comedian and actor Chris Rock over a joke about his wife Jada Pinkett Smith. The slap was televised and quickly became an object labeling and an exploitable meme template.



Fandom
As of September 2014, DeviantArt [2] has over 330,000 pieces of fan art tagged Will Smith. Fan run Tumblr blogs dedicated to Smith include gabbyloveswillandjaden[6] and fuckyeahwillsmith.[3] As of September 2014, Smith's Facebook page[4] has gained over 72.6 million likes.



Personal Life
Smith married fellow actress Jada Pinkett Smith in 1997. Smith has three children: Trey Smith, actor Jaden Smith and rapper Willow Smith.
Children
Willow Smith
Willow Smith first rose to fame with her hip-hop song Whip My Hair Back and Forth. The music video for the song was uploaded to her Vevo channel[9] on October 18th 2010, as of September 2014, the video has gained over 100 million views.
Jaden Smith
Jaden Smith[10] made his on screen debut as Reggie on All of Us guest starring for six episodes. He made his film debut in the 2006 film The Pursuit of Happyness, which he starred in with Smith. He also starred with Smith in the 2013 film After Earth.

Search Interest
External References