Will Smith Slapping Chris Rock
About
Will Smith Slapping Chris Rock refers to a moment from the 2022 Oscars (held on March 27th) in which actor and musician Will Smith slapped comedian and actor Chris Rock over a joke he made about his wife Jada Pinkett Smith. The slap was televised and quickly became an object-labeling and an exploitable meme template. The still image of Smith hitting Rock in the face also became a source for redraws where the two were replaced with pop culture figures.
Origin
During the 94th Academy Awards ceremony on March 27th, 2022, comedian Chris Rock was presenting the award for best documentary feature, which eventually went to Summer of Soul. While on stage, Rock made a joke about Jada Pinkett Smith, Will Smith's wife (also known from the Entanglement meme), and how because of her shaved haircut, she could have starred in G.I.Jane. This prompted a mixed reaction from the crowd with Will initially appearing to laugh but Jada visibly upset next to him (shown below).
Moments later, Will stands and walks up the stage to Rock and slaps him across the head, which drew confusion from a crowd unsure if it was real or part of a bit. As Will went back to his seat, continuing to shout at Rock, he appears genuinely angry and yells, "Keep my wife's name out your fucking mouth!" Though it was censored for the American telecast, an uncensored Japanese version was captured and tweeted out by Twitter user @bubbaprog[1] that night (shown below). The clip accumulated over 38.5 million views, 126,500 retweets and 484,500 likes in eight hours.
VIA JAPANESE TELEVISION: The uncensored exchange between Will Smith and Chris Rock pic.twitter.com/j0Z184ZyXa

— Timothy Burke (@bubbaprog) March 28, 2022
- Jada, I love you. G.I. Jane 2, can't wait to see it! Alright? That was a nice one. I'm out here… Uh-oh!
[Will Smith comes on stage and slaps Chris Rock]
– Oh wow! Wow! Will Smith just smacked the shit out of me!
- Keep my wife's name out your fucking mouth!
- Wow, dude! It was a G.I. Jane joke!
- Keep my wife's name out your fucking mouth!!
- I'm going to, okay? That was, uh, the greatest night in the history of television.
Spread
The image of the slap, which was captured from various angles as a highly televised event, quickly had an explosion in memes the night of the 2022 Oscars. For example, Twitter user evanssugarbaby[2] rapidly made and posted a meme on March 27th in which the logo of the Chris Rock-led TV show Everybody Hates Chris was superimposed on the image of him getting slapped (shown below, left). Reddit user Robecuba posted a meme[3] onto the /r/dankmemes subreddit showing Chris Rock with the Minecraft HUD overlaid and text showing him being in danger (shown below, right).


Immediately following the event, an anonymous 4chan[4] user posted an exploitable template of Will Smith punching Chris Rock to the /tv/ board. In the following hours, the thread gained over 235 replies, with multiple users sharing memes and redraws based on the template (examples shown below).



The exploitable is similar to the 2020 redraw trend Lev Punch Edits.
Developments
Chris Rock Does Not Press Charges With LAPD
Although the slap was technically assault, Chris Rock did not press charges against Will Smith following the slap. CNN[5] received a statement from the Los Angeles Police Department following the Oscar's where they stated, "LAPD investigative entities are aware of an incident between two individuals during the Academy Awards program. The incident involved one individual slapping another. The individual involved has declined to file a police report. If the involved party desires a police report at a later date, LAPD will be available to complete an investigative report."
Memes and reactions ensued on Twitter amongst other platforms amid the development. Some online believed that Rock should press charges while others thought it was no big deal, outraged by the outrage levied against Smith.
Will Smith's Apology Letter
On March 28th, Will Smith posted an apology letter to Facebook,[6] directed towards Chris Rock and his fellow Academy members. In less than 24 hours, the letter received roughly 1.9 million reactions (shown below).

SlapChris.com
On March 28th, the website https://www.slapchris.com/ became active, and featured an emoji palm that you can use your mouse to click and drag over to an animated face of Chris Rock. Depending on the speed that you do it, a measurement in KM/H or MPH will appear up top, with slaps over a certain velocity playing the instrumental hook to Gettin Jiggy With It by Will Smith. For April Fools Day 2022 the website changed it so you could slap Will Smith instead, causing many more to take notice of the site.
Will Smith Apology
On July 29th, 2022, Will Smith uploaded an apology / QnA video, four months after the fact, to his main YouTube channel[7], titling it 'It's Been A Minute…' which went on to receive over 3 million views in two days (shown below).
As usual whenever there is some update to a situation like this, the YouTuber and Moist E-Sports creator Cr1tikal uploaded his own video about the matter, where he reacts to the apology and gives his unique brand of insight and weighs in. The Cr1tikal video[8] about Will Smith's video, however, obtained over 3.5 million views, being a rare example of a YouTube Ratio (shown below).
Related Memes
Sad Will Smith / Entanglement
Sad Will Smith / Entanglement is a reaction image macro series based on a screenshot of actor Will Smith during a discussion about his wife Jada Pinkett Smith's relationship with singer August Alsina on her Facebook talk show "Red Table Talk". Pinkett Smith refers to her relationship with Alsina as her "entanglement," which became the subject of numerous jokes on social media.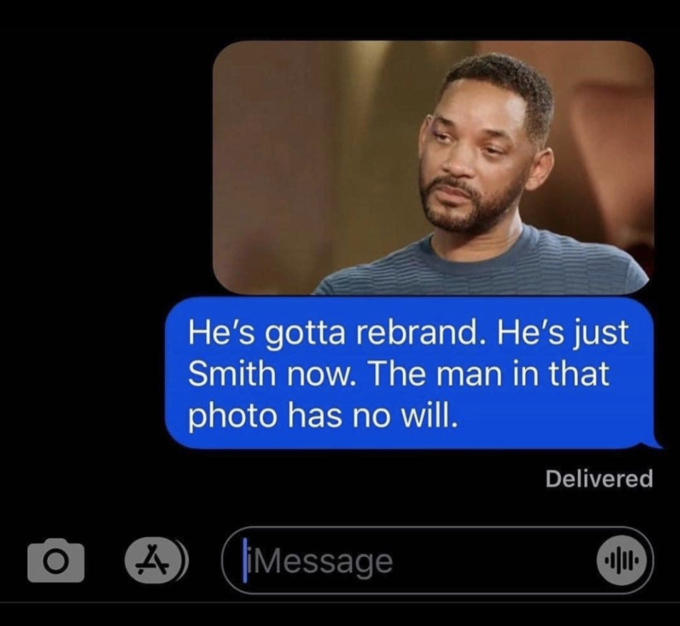 Various Examples









Templates



Search Interest
External References