About
Poor Little Meow Meow is a slang term popular among fandoms, particularly on Tumblr, to sarcastically describe fictional characters with antihero and oftentimes violent characteristics. The nickname "Little Meow Meow" was initially applied to K-pop idol SUGA of BTS before being adopted by other fandoms.
Origin
"Little Meow Meow" was initially a nickname given to Suga (Min Yoongi) of BTS by fans due to how the fandom will commonly compare his looks to that of a cat.[1] It's unclear when this started. A definition for the term appeared on Urban Dictionary on June 2nd, 2018.[4] On August 16th, 2019, YouTuber Yrene posted a video of a BTS fan telling Suga about the nickname at a fan sign (shown below).
In 2020, Suga attracted controversy by including audio of Jonestown cult leader Jim Jones in his song "What Do You Think."[2] On May 31st, amidst the backlash from fans, Twitter user @DEMETERJIN posted an apology to Suga for apparently not defending him well enough, starting with the phrase "My poor little meow meow"[3] (shown below). The tweet was deleted.

Spread
In the summer of 2021, the term began seeing use in fandoms to describe sad, morally grey characters. This appears to have spawned from an April 26th, 2021 tweet by user @brokebackstan[6] that read, "addicted to shows with sad little men with deep-rooted psychological issues and pathetic eyes……if a show gives me a character i can refer to as "my poor little meow meow" i'm hooked for life." The tweet gained over 500 retweets and 3,000 likes (shown below).

From there, the term quickly started seeing use on Tumblr, as users there applied the term to various Tumblr Sexymen and outlined the definition to set it apart from similar terms like "smol bean" and "cinnamon roll." In June of that year, user torturelabyrinth[5] described "poor little meow meow" thusly over two posts:
The thing about a true poor little meow meow is they have to be 1) downtrodden 2) morally questionable at best 3) deeply and pathetically miserable
Some good examples: kendall roy, jin guangyao, loki but only in the first thor movie, dream from sandman, hellboy, robert pattinson the lighthouse, xiaojun, prince zuko, adam sandler uncut gems, ice king, squidward, jughead, ben linus, magneto, jack rackham black sails
On May 24th, Tumblr user captain-lovelace[8] posted an alignment chart that posed "Poor Little Meow Meow" against "stinky bastard man," gaining over 25,000 notes (shown below, left). On August 27th, Twitter user @foulharlequin[7] posted a checklist outlining what made a character a "Poor Little Meow Meow" (shown below, right).


On October 6th, Watcher had Ryan Bergara of Buzzfeed Unsolved fame read a Tumblr post by chatterghosts calling him "little meow meow," much to his confusion, gaining over 950 retweets and 5,500 likes (shown below).
We promised Ryan would read this post if Puppet History trended #1 on @tumblr. And it did. pic.twitter.com/xyXQVfMzBw

— Watcher (@wearewatcher) October 6, 2021
Various Examples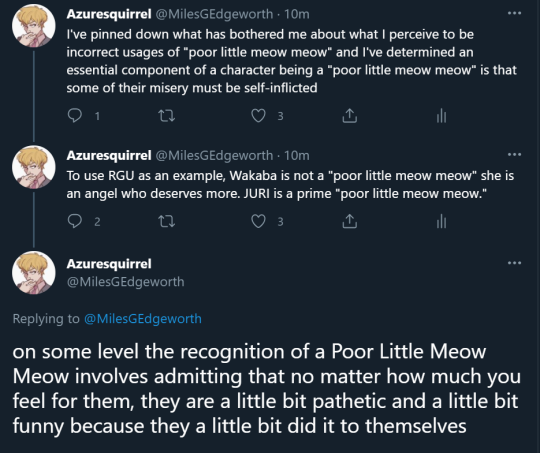 Search Interest
External References
Recent Videos
There are no videos currently available.