This submission is currently being researched & evaluated!
You can help confirm this entry by contributing facts, media, and other evidence of notability and mutation.
About
Pride Reaction is a rainbow flag emoticon introduced as part of Facebook's celebration of LGBTQ Pride Month. Appearing in June 2017, the emoticon could only be unlocked if users liked a specific Facebook Page. A limited-time reaction, Pride React is similar to the Mother's Day-specific Thankful Reaction.
Origin
On June 5th, 2017, Facebook announced the emoticon's release on their Facebook Newsroom blog.[1] They said, "You may see a colorful, limited-edition Pride Reaction during Pride Month. When you choose this temporary rainbow reaction, you'll be expressing your 'Pride' to the post." The emoticon is version of the Pride Flag, the predominate symbol of LGBTQ rights, awareness and movement. Currently, this new reaction has replaced the Thankful Reaction.

Spread
The reaction, however, could only be used after users have liked Facebook's LGBTQ@Facebook group.[2] On June 9th, the group posted a message (shown below) to Facebook regarding how to access the reaction, "We believe in building a platform that supports all communities. So we're celebrating love and diversity this Pride by giving you a special reaction to use during Pride Month. To access the Pride reaction, like this page." The post received more than 1.1 million reactions and 51,000 shares in three days.

The next day, users started posting about using the reaction. Facebook user, Johnny Peñazola posted an image of Salt Bae dropping Pride Reactions with the caption "Me rn w/ the new FB rainbow reaction. The post was later shared by Wholesome Memesr,[3] where it received more than 12,000 reactions and 1,800 shares.
On June 10th, Wholesome Memers posted a That's Where Your Wrong Kiddo variation with the captions: "'you can't just pride flag react to ever single post you see-' 'that's where you're wrong kiddo." The post (shown below, right) received more than 43,000 reactions and 13,000 shares within a day.[5]


Various Examples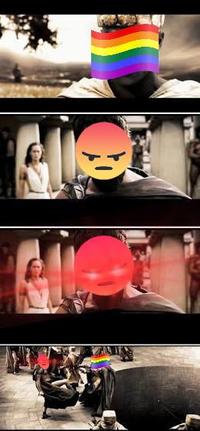 Search Interest
External References
Recent Videos
There are no videos currently available.