This submission is currently being researched & evaluated!
You can help confirm this entry by contributing facts, media, and other evidence of notability and mutation.
About
Roller Coaster Dad, also known as Disney Dad, is an exploitable image macro of a man and his daughter on a roller coaster at Disney World, with the father showing clear signs of distress that his daughter does not share. It became an object-labeling meme on Reddit in late June 2021.
Origin
On June 25th, 2021, Redditor u/Simbaflufball[2] posted a photograph (seen below) of her and her dad on a roller coaster to /r/memes.[1] It received over 2,200 upvotes and 115 comments in five hours. She explained in the comments that it was taken on the Expedition Everest coaster at Disney's Animal Kingdom.

Despite the original post being taken down by the moderators of /r/memes, the message she attached to the meme (seen below) caught on quickly, and soon the subreddit was flooded with memes utilizing the template.
I found this photo of me and my dad at Disney World, and he said if he becomes a meme, he will die happy. Help make his wish come true! I need you to post memes with this
Spread
The first Roller Coaster Dad meme to achieve viral success was posted an hour after the original image was uploaded (seen below). It was created by u/VagariTurtle and again featured on /r/memes,[3] earning over 62,400 upvotes and 531 comments in only five hours.

The meme quickly became the top trending template in the subreddit on June 25th, but few of the new memes grew to the same popularity as the one posted by u/VagariTurle.[4] For example, u/Titus-de-kat posted another meme (seen below), which received 83 upvotes in five hours.

Various Examples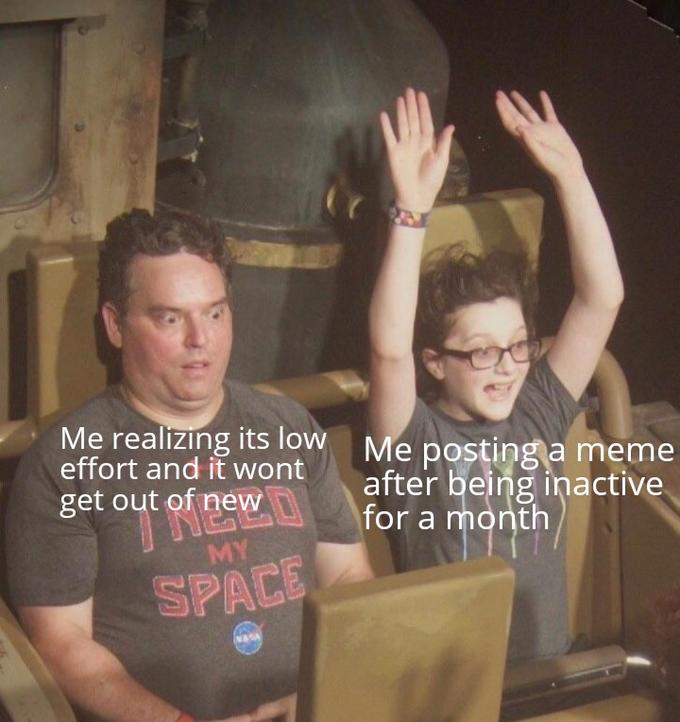 Template

Search Interest
External References
Recent Videos
There are no videos currently available.