Let The Hate Flow Through You

About
Let The Hate Flow Through You is a memorable quote uttered by Emperor Palpatine, the main antagonist of the Star Wars franchise, in the 1983 science fiction film Star Wars Episode VI: Return of The Jedi. In online conversations, the quote is typically used in the form of a reaction image as a bait to further incite anger or aggravate those engaged in flame wars or other arguments of hostile nature.
Origin
In the film, main antagonist Emperor Palpatine attempts to persuade main protagonist Luke Skywalker to join The Dark Side. The Emperor tells Luke that being on the Dark Side is a good way to feel justified for enacting vengeance. "Let the hate flow through you," is a line from this scene.


Spread
On 4chan[5] and Tumblr[6], the quote is most often presented as an image macro featuring a stillshot of Emperor Palpatine from the film. Between late 2011 and early 2012, numerous image macro variants featuring the quote were submitted to MemeGenerator[7][8][9][10]. In addition, the quote has been archived on several movie reference sites and Star Wars fandom communities, including Internet Movie Database[1], Quote.net[2], Quotacle[3] and the Star Wars Wiki[4].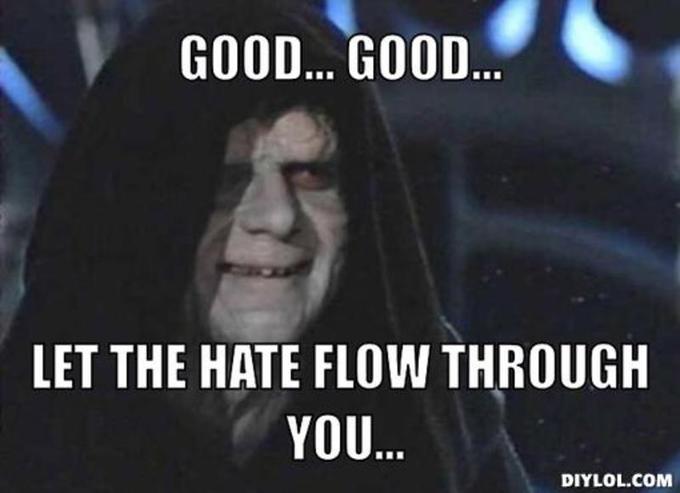 In December 2012, during the onset of Grumpy Cat's online popularity, at least two image macros in which Emperor Palpatine's face is replaced with that of the now famous cat were submitted to 9gag[11] and Imgur[12], with the former instance garnering over 37,000 points[11] and the latter gathering more than 85,000 views (shown below, left and right).


Various Examples






Template

Search Interest
External References