This submission is currently being researched & evaluated!
You can help confirm this entry by contributing facts, media, and other evidence of notability and mutation.
About
RapTV, also known by the handle @rap or @raptvcom, is an online hip-hop news source known for their consistent daily hip-hop news content on Instagram, Twitter and the RapTV website. RapTV has been the subject of memes throughout the 2010s, often in parodies of their style of reporting, including their frequent use of the phrase "Y'all Rockin' With" and the "⁉️" and "‼️" emojis. In 2021, their signature orange-and-white text Instagram posts became the subject of photoshops. In 2022, parody RapTV gimmick accounts appeared en masse on Twitter.
History
At first, RapTV was an Instagram meme account, strictly posting meme content. On December 26th, 2016, RapTV made their first Instagram[1] post, receiving roughly 62,200 likes over the course of five years (shown below). It was a repost of a video from Instagram[2] user hireztherapper who freestyled his McDonald's order to the cashier. Although this is the first accessible post on RapTV's Instagram page, they most likely started posting much sooner because all of their first posts received over 40,000 likes each.
In 2018, RapTV adopted a new style of posting in which they started posting infographics about hip-hop news stories. An early example of this was posted on August 18th, 2018,[3] when they made a watermarked infographic about Florida rapper Kodak Black getting out of jail and going to the studio. The post (shown below, left) received roughly 82,100 likes over the course of four years. In late 2018, they also started posting to Twitter, uploading their first tweet[4] on November 18th, 2018, being a reply to an XXL Magazine tweet about Travis Scott (shown below, right).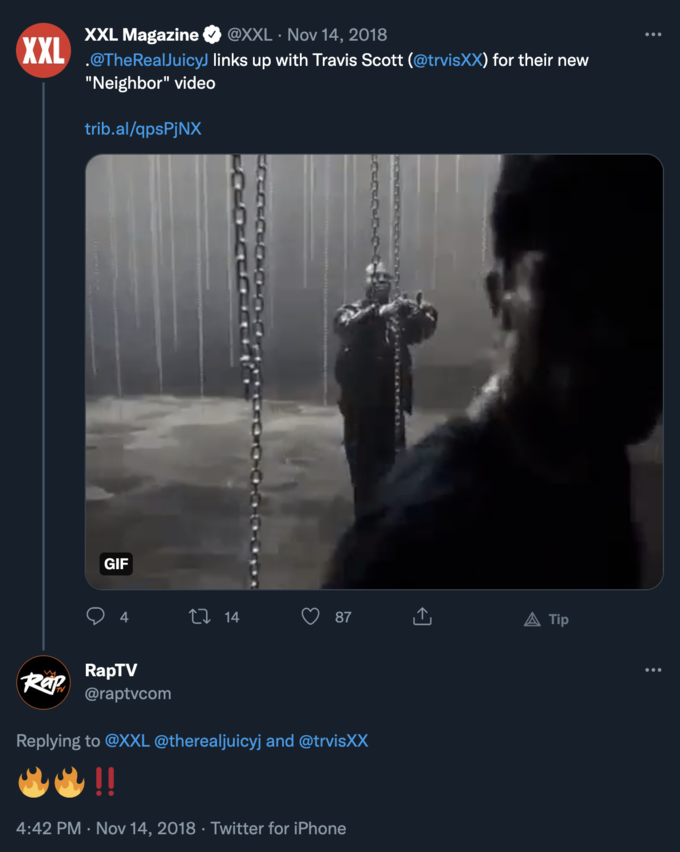 On April 22nd, 2020, RapTV made their first Instagram infographic using orange text,[5] being a post about musician Machine Gun Kelly, wishing him a Happy Birthday. The post (shown below, left) received roughly 102,100 likes over the course of two years. The color scheme of white, black and orange became the site's staple. By May 2020, they committed more heavily to it. This can be seen in a post from May 15th, 2020,[6] about rapper 6ix9ine throwing shade at Snoop Dogg which earned roughly 237,900 likes in two years (shown below, right).


As of March 2022, RapTV has accumulated roughly 9.6 million followers on Instagram,[7] 333,000 followers on Twitter[8] and 8.8 million subscribers on TikTok, [9] among other platforms like YouTube [10] and Facebook. [11]
Related Memes
RapTV Parody Accounts / Gimmick Accounts
As RapTV became more mainstream on Instagram, the account started to warrant parody accounts mimicking their infographic style. The first parody account was Instagram's rapparodyaccount[12] who made their first post[13] on May 26th, 2020, being a meme about rapper Lil Uzi Vert having alien sex slaves, earning over 180 likes in two years (shown below, left). As of March 2022, the account has gained roughly 26,300 followers.
Another notable RapTV parody account is the Instagram page hyperpopdaily, which made their first post[14] on November 25th, 2020, earning 200 likes in two years (shown below, right). As of March 2022, hyperpopdaily has amassed roughly 51,700 followers. Many of their posts are ironic Bladee content: a rapper and musician from Sweden affiliated with Yung Lean and the rap collective Drain Gang.


In early 2022, RapTV gimmick accounts received increased attention on Twitter, the most notable being Twitter page rabtvcom, which had to change its name to rapzonegloballl in March 2022 because of RapTV blocking them.[15] Although the account was created in April 2021, they didn't start posting RapTV parodies until February 2022. Two tweets posted on February 25th[16] and 26th[17] popularized their account most notably with the first receiving roughly 34,400 likes in twelve days (shown below, left) and the latter receiving roughly 82,800 likes in eleven days (shown below, right). One made, a joke about rapper Drake spending $1.2 million on Cinnabon in 2021 and the other satirically reported that rapper Tyga had said Euphoria actress Zendaya would look hotter with one leg.


Y'all Rockin' With ⁉️
Y'all Rockin' With ⁉️ is a base variation of a phrasal template regularly used by RAPTV's social media accounts in posts and comments, always stylized with the red interrobang emoji (⁉️). The phrase and its structure became the subject of memes in early 2021, particularly on Instagram and Twitter, in posts comedically mimicking it.

Search Interest
External References
Recent Videos
There are no videos currently available.