This submission is currently being researched & evaluated!
You can help confirm this entry by contributing facts, media, and other evidence of notability and mutation.
About
Wombo, stylized as WOMBO and also known as Wombo.ai, is a mobile application that generates lip-sync facemorphs based on a provided image using a selection of available songs, including "Chug Jug With You," "Baka Mitai" and "What Is Love?" Launched in January 2021, the app achieved viral popularity in March 2021.
History
In early October 2020, Wombo Studios Inc[1] launched the iOS beta version for its upcoming app WOMBO, a tool for automatically generating facemorphs for uploaded images based on a variety of provided songs. In January 2021, a beta version for Android was launched.[2] During the beta period, social media accounts for the app posted multiple examples of facemorphs generated by the app and its beta users (example shown below).[3][4]
Leaked footage from the @Tesla Q3 Earnings Call 🤫#TopSecret pic.twitter.com/QUHcrhXKM2

— WOMBO (@WOMBO) October 26, 2020
On January 22nd, 2021, WOMBO was officially released on Android,[5][6] with iOS version launching[7][8] on February 3rd, 2021.
Features
WOMBO allows users to create lip-sync facemorphs from photographs and images, similar to Baka Mitai memes, with a variety of popular songs available. As of March 10th, 2021, the song list includes a number of meme-associated tracks, including "Baka Mitai," "Chug Jug With You," "What Is Love?," "Never Gonna Give You Up," "Dame tu Cosita" and "Boom, Boom, Boom, Boom!!" The process is automated and only requires a source image.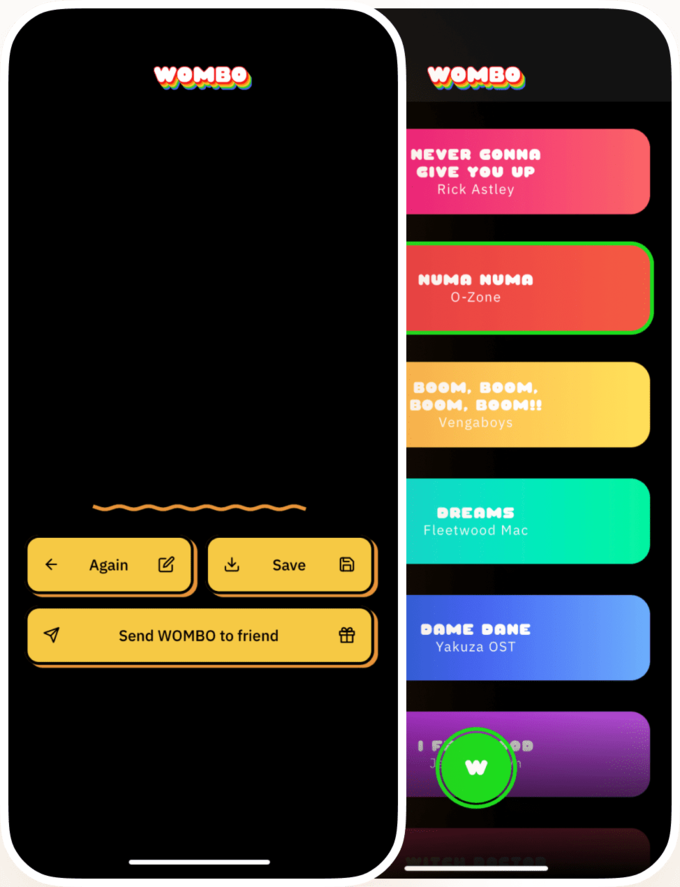 Highlights
In early March 2021, the app achieved viral popularity on Twitter, Instagram and other social media sites, with a number of viral versions being widely circulated. For example, on March 5th, Instagram[9] user bedrock.mp4 posted a "I Feel Good" Counter-Strike facemorph that received over 60,000 views and 7,800 likes in five days (shown below, left). On March 7th, 2021, iFunny[10] user ISIS_chan uploaded a "Boom, Boom, Boom, Boom!!" facemorph based on a mugshot of alt-right streamer GypsyCrusader, with the video gaining over 4,500 smiles in three days.
Traffic
As of March 10th, 2021, WOMBO ranked as the 10th most popular app in the Photo & Video category in the App Store[7] with over 1,400 ratings and a 4.8 average score. On Google Play,[8] WOMBO had over 3,200 ratings with a 4.0 average score.
Search Interest
External References