This submission is currently being researched & evaluated!
You can help confirm this entry by contributing facts, media, and other evidence of notability and mutation.
About
Stacked Safari Tabs is a series of image macros that features a screenshot of several web browser tabs in the cascading layout found on Apple's Safari software, which, when viewed together, create one image.
Origin
Apple introduced the cascading tabs on their Safari web browser with the release of iOS 7 on September 18th, 2013.[1] Shifting from the software's original horizontal layout for mobile browser tabs, the new design for tabs creates a vertical, cascading effect, which lets the user their various tabs in a list (shown below).

On November 16th, 2017, Instagram [12] account @williambottini posted several pictures of Safari tabs, which when shown together form image macros, most notably a cheeseburger. The cheeseburger post (shown below) received more than 60 likes and was reposted by several accounts who spread the image.

Spread
The following day, November 17th, 2017, Twitter [3] user @badvibesforever tweeted the cheeseburger and received more than 40,400 retweets and 39,000 likes in four days. The image was quickly shared on Tumblr [4] (39,000 notes), FunnyJunk, [5] (15,000 views) and 9GAG [6] (12,000 points).
On November 19th, 2017 the image appeared on the /r/meirl subreddit [7]. Following the post, more Redditors began submitting variations to the subreddit (examples below).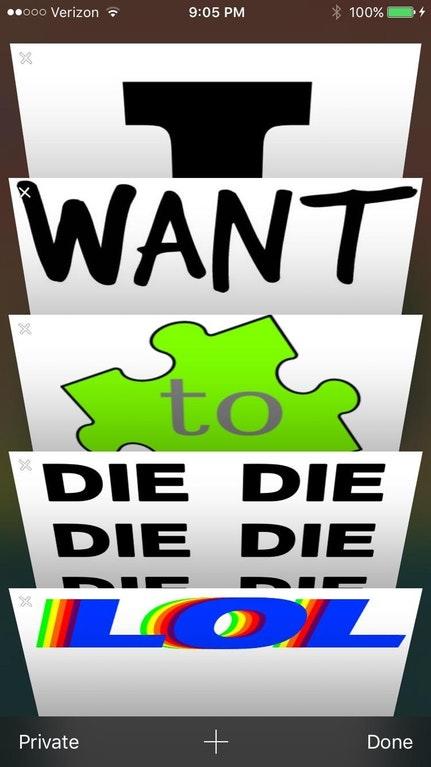 The same day, Instagram [13] account @thefunnyintrovert posted @williambottini's original image with the text, "Have you ever been so broke you just." The post received over 116,000 likes in two days.
The following day, the Facebook [8] account iwjamb posted an image of the Dr. Phil "Green M&M" made through tabs. The post (shown below) received ore than 3,400 reactions, 880 shares and 730 comments in 20 hours.
Additionally, on November 20th, the first of three posts about the meme was posted to the /r/MemeEconomy subreddit.[9][10][11]

Roger Federer Meme
On July 30th, 2018, Twitter[14] user @havinyourbaby tweeted a variation of the meme, which included a photograph of recording artist Harry Styles, You Know I Had To Do It To Em and more. They captioned the tweeted, "i spent a good amount of time on this and i don't regret it." The post (shown below, left) received more than 16,000 retweets and 43,000 likes in about one week.
Over the next several days, the post created a revival of the meme, including a popular one featuring professional tennis player Roger Federer by Twitter[15] user @itscameliaaa. Within a week, the post (shown below, center) received more than 39,000 retweets and 150,000 likes.
On August 1st, Federer responded to the tweet[16] with a clapping emoji. Within one week, the post (shown below, right) received more than 725 retweets and 12,000 likes.
Several media outlets reported on Federer's response, including Mashable, [17] AOL,[18] USA Today[19] and more.



Various Examples






External References
Recent Videos
There are no videos currently available.