About
A Hat in Time is an indie 3D platformer created by Gears For Breakfast inspired by collect-a-thon games from early Nintendo games like Super Mario 64 and Banjo-Kazooie. After its Kickstarter campaign did exceedingly well, the game was released in October 2017 to massive critical and commercial success.
History
A Hat In Time was initially developed solely by developer Jonas Kaerlev in response to a lack of 3D platformers represented in modern gaming.[2] The game's Kickstarter campaign launched on May 29th, 2013 and its $30,000 campaign goal was met in two days.[1] It earned a total of $296,360, far exceeding it's original goal. Though it was planned for release in Q2 2013, it was significantly delayed. It officially released on October 5th, 2017 on Steam.
Gameplay
In the game, the player plays as "Hat Girl," a little girl who is trying to get home through space. After she is accosted by a mafia member on her ship, the mafia member destroys her ship, scattering all of the time pieces which fuel her ship on a planet called Mafia Town. The player then travels around the planet's surface to gather the time pieces. The player is able to travel to four open levels. In each level, the player collects various items, solves puzzles, and fights enemies with an umbrella. Another character, known as "Mustache Girl," also wants to collect the time pieces to fight her enemies.
Reception
A Hat In Time was well received by critics and fans alike. As of October 20th, 2017, the game has a 10/10 "overwhelmingly positive" fan rating on Steam.[3] On Metacritic,[4] the game has an 80/100 rating, as critics praised the game's gameplay, music, and the effectiveness of its homage, though some wondered if a better experience would be had playing the gamed that inspired it. The game was well received by the notoriously negative Zero Punctuation, who admitted to having fun while playing it and looking forward to playing more.[6] In two weeks, the game has sold over 50,000 copies.
Online Presence
The game has a wide online fanbase, contributing to its overall success. It has been played by popular Let's Play channels such as Game Grumps and Vinesauce.
On social media, the game has over 13,000 likes on Facebook[5] and 35,000 followers on its Twitter account.[7]
JonTron Controversy
The game features a cameo from Jontron, which was showed off in an early beta version of the game (shown below).
After incendiary comments made by Jontron that led to his removal from Yooka-Laylee, fans wondered if the team behind A Hat In Time would do the same. As of October 20th, 2017, Jontron's cameo remains in the game and developers have yet to comment on his involvement despite some fans' demands.[8]
Fan Art
The game has spawned active fan art communities on DeviantArt and Tumblr (examples shown below).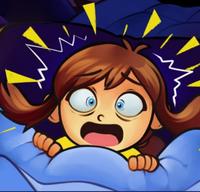 Search Interest
External References