This submission is currently being researched & evaluated!
You can help confirm this entry by contributing facts, media, and other evidence of notability and mutation.
About
GameStop is a video game and electronics retailing store. Since being branded as GameStop in 2004, the store was one of the most of popular retailers for video games until going into decline in the late 2010s.
In January 2021, the activity in /r/WallStreetBets subreddit caused a major surge in GameStop stock, with the occurrence becoming a viral topic on social media.
History
GameStop has its roots in a company called Babbage's, which originated in GrapeVine, Texas and was in existence between 1984 and 1994.[1] Over the course of the following ten years, it went under ownership of various other corporations, before being named GameStop in 2000 under the ownership of Barnes and Noble. In 2005, GameStop acquired Electronics Boutique, kicking off a successful decade for the company. In 2016, amidst the growing popularity of online gaming and digital downloads, GameStop reported a 16% drop in sales. They announced it would close over 150 stores in 2017, and has undergone several CEO changes in 2018. On June 19th, 2018, GameStop announced they were looking for a new buyer.[2]
Related Memes
Fucking Gamestop
Fucking Gamestop is a type of greentext stories posted on 4chan containing fake experiences with the American video game and entertainment software retailer Gamestop, ending with the catchphrase "FUCKING GAMESTOP". These stories commonly involve the intention of buying a videogame, the clerk not willing to follow the customer's demand, or Gamestop's used games policy.
The original post originated from 4chan's /v/ (video games) board and was posted on March 10th, 2010.
>Go to gamestop
>Trade in 2 shitty games
>get GoW3 preorder paid in full
>bro behind counter gives me employee discount cause we always talk when I go in
>leave and go home

FUCKING GAMESTOP
Battletoads Pre-Order
Battletoads Pre-order refers to a prank in which participants call various GameStop retail stores and ask if they can preoder Battletoads, a platformer video game released on the Nintendo Entertainment System (NES) in 1991. According to Encyclopedia Dramatica, 4chan users began prank calling various GameStop locations and asking to preoder Battletoads games in mid-November 2007.
On November 13th, 2007, an entry for "battletoads" was submitted to Urban Dictionary, defining it as a "popular subject of prank calls to electronic stores" (shown below).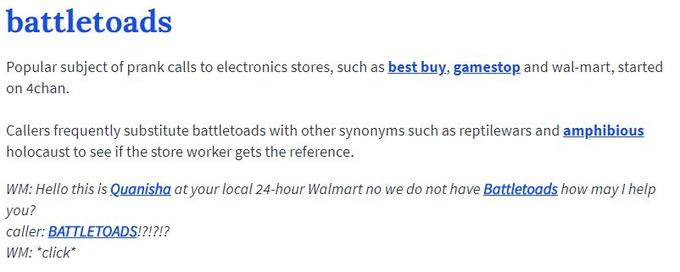 On January 9th, 2017, YouTuber Internet Historian uploaded a video discussing the pranks titled "Gamestop's Battle with Toads" (shown below). Within two years, the video gained over 1.3 million views and 1,200 comments.
Sale Jokes
After news spread that GameStop was being sold, Twitter users celebrated by joking about GameStop's trade-in policy, which was notorious among consumers for being unfair to the customer. Uproxx[3] covered the spread of these jokes.


GameStop Stock Surge
GameStop Stock Surge or GameStop Short Squeeze refers to the massive surge in the price of of GameStop shares in the stock market in January 2021, when it rose from $17 to $76, largely due to a campaign by users in /r/WallStreetBets subreddit. The hype resulted in GameStop (GME) becoming of the most traded stocks on Wall Street that month, and on January 22nd, there were 134 million trades of the stock.
Search Interest
External References