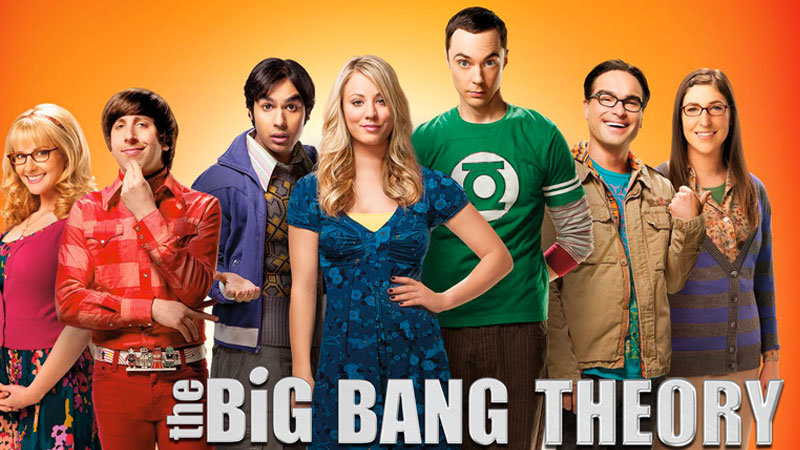 This submission is currently being researched & evaluated!
You can help confirm this entry by contributing facts, media, and other evidence of notability and mutation.
About
The Big Bang Theory is a television sitcom created by Chuck Lorre, Bill Prady, and Steven Malaro. The show is primarily focused on the life of various scientists with geeky hobbies, and their aspiring actress neighbour. As of October 2017, the show has been running for 11 seasons, airing more than 200 episodes.
Premise
The series stars roommates Leonard Hofstadter (played by Johnny Galecki) and Sheldon Cooper (played by Jim Parsons), both physicists; Penny (played by Kaley Couco), a waitress and aspiring actress who lives across the hall; and Leonard and Sheldon's equally geeky and socially awkward friends and co-workers, mechanical engineer Howard Wolowitz (played by Simon Helberg) and astrophysicist Raj Koothrappali (played by Kunal Nayyar). Season four onwards, two more characters were added to series: Bernadette Rostenkowski (played by Melissa Rauch), microbiologist and Howard's wife, and Amy Farrah Fowler (played by Mayim Bialik), neuroscientist and Sheldon's girlfriend.


From left to right: Bernadette Rostenkowski, Howard Wolowitz, Raj Koothrappali, Penny, Sheldon Cooper, Leonard Hofstadter and Amy Farrah Fowler.
History
In 2006, writers Chuck Lorre and Bill Prady produced an unaired pilot for The Big Bang Theory, which was developed for the 2006-07 television season. Warner Bros passed on the pilot, which featured fewer characters and different actors, but allowed Lorre and Prady to re-shoot it with notes. Only Parsons and Galecki appear from the series' cast. Other characters were recast or cut.
Lorre and Prady re-worked the show, adding cast member Kaley Cuoco. On the pilots, Lorre said:
"We did the 'Big Bang Pilot' about two and a half years ago, and it sucked … but there were two remarkable things that worked perfectly, and that was Johnny and Jim. We rewrote the thing entirely and then we were blessed with Kaley and Simon and Kunal." As to whether the world will ever see the original pilot on a future DVD release, Lorre said, "Wow, that would be something. We will see. Show your failures…"
The success of the second pilot led to a 13 episode order.
As of October 2017, the show had been picked up through 2019, bringing the total number of seasons to 12.
Young Sheldon
In 2017, CBS premiered a spin-off prequel to the show entitled Young Sheldon. The series follows the adolescence of the character Sheldon, who enters high school at age 9.
Reception
The series is among the most highly rated on television, receiving more than an average of 18 million viewer per episode since 2012. During the show's ninth season, the average number of viewers peaked at 20 million, the highest for the series to date. The show has been nominated more for more than 40 Emmys, winning nine, including four for Parsons for Outstanding Lead Actor In A Comedy Series.[4]
The show has received a mixed reception from critics. On the review aggregator Metacritic,[1] the show has 57 rating. However, it has a 8.0 from users.
Fandom
The Big Bang Theory has a presence on virtually all social platforms, creating a space to share news about upcoming episodes and behind the scenes content with fans. On September 8th, 2009, the official Big Bang Theory Twitter [2] account launched, garnering more than 4 million followers in eight years. On December 13th, 2011, Redditor [3] launched the /r/BigBangTheory subreddit, and as six years later, generated more than 28,000 readers. As of October 2017, the official Facebook page for The Big Bang Theory has more than 31 millions and 29 million followers.
Related Memes
Bazinga
Bazinga is an interjectory catchphrase associated with Sheldon Cooper, who uses it as a taunt after pulling a practical joke on his friends, similar to the use of "zing" or snap." . Online, the phrase is used in a similar manner by fans of the show. However, the anti-fandom has co-opted the phrase via parody in poorly drawn MS Paint comics (shown bellow).

Pickup Line Scientist
Pickup Line Scientist is an advice animal image macro series featuring a photograph of Howard Wolowitz. The captions typically combine sexual innuendo and puns related to physics, chemistry, biology and other hard sciences



Laugh Tracks
In 2010, a series of viral videos in which the laugh tracks were removed from the show went viral online. While the original has since been removed, the earliest available was posted on May 11th, 2010.
Search Interest
External References