This submission is currently being researched & evaluated!
You can help confirm this entry by contributing facts, media, and other evidence of notability and mutation.
About
True Detective is an American TV crime drama series centered around a series of police investigations led by two homicide detectives. The show is presented as an anthology series with each season featuring a unique cast of characters and self-contained storyline.
History
Named after the long-running American true crime magazine, the episodic TV series was created and written by Nic Pizzolatto and the first season in its entirety was directed by Cary Joji Fukunaga. In April 2012, the premium cable and satellite television network HBO approved the production of True Detective for an eight-episode pilot season. On January 12th, 2014, True Detective premiered on HBO, introducing Rustin Cohle (played by Matthew McConaughey) and Martin Hart (played by Woody Harrelson) as two homicide detectives investigating a case of serial murders in Louisiana over the course of 17 years.
Reception
From the onset of the pilot season, True Detective was met with critical acclaim, with many entertainment review sites praising the lead actors' gravitating performances, as well as the rich dialogue and hauntingly beautiful cinematography provided by Pizzolatto and Fukunaga. The show has favorable ratings of 88% (Certified Fresh) on Rotten Tomatoes and 88/100 on Metacritic.
First Season
The pilot episode "The Long Bright Dark" was watched by 2.3 million viewers, or about 100,000 more than that of Game of Thrones, marking the second biggest debut for an HBO series since the premiere of Boardwalk Empire in 2010. As the story progressed, the show averaged nearly 11 million viewers per week, and by the airing of the season finale on March 10th, 2014, HBO's instant streaming service had been rendered inaccessible due to an excessive influx of traffic.
Online Presence
On April 23rd, 2012, the /r/truedetective[7] subreddit was created for discussions related to the HBO crime drama series. Within the first two years, the subreddit accumulated upwards of 13,900 readers. On May 23rd, 2013, the "True Detective" Facebook[13] page was launched, garnering more than 604,000 likes in the first year. On August 27th, the True Detective Wiki[12] site was created for information regarding episodes, characters and story elements from the series.
Fandom
In early 2014, the Tumblr blogs True Detective Show[9] and True Detective HBO[8] were launched, which highlight captioned animated GIFs from the show. As of February 2014, over 3,800 images have been submitted to DeviantArt under the tag "true detective" (shown below).[10]






Parodies
Throughout the course of the first season, a number of comedy sketches and remixes parodying certain aspects of the show began to surface on YouTube, including the lofty monologues crafted by McConaughey's character, the southern drawl used by the characters and even the opening sequence.
"The Yellow King" Theory
In the days leading up to the season finale on March 9th, 2014, a number of fan-speculated theories about the identity of "The Yellow King" began to emerge from the TV entertainment blogosphere, many of which seemed to offer rather outlandish and facetious explanations as to who this mysterious serial killer might be. Redditor Simplyravishing quipped that "The King in Yellow" is the owner of the Vietnamese restaurant, citing the unlikelihood of a Vietnamese cuisine business operating in the backside of Louisiana as his reason, while The Atlantic's Christopher Orr suspected there is a cross-promotional marketing campaign at play, joking that the "The Yellow King" is actually King Joffrey from yet another popular HBO series Game of Thrones. Meanwhile, YouTuber BigMeeting uploaded an edited montage from the show placing himself into the background as "The Yellow King" with a misleading title.
#TrueDetectiveSeason2
In anticipation of the second season of the show, which will introduce a new story and cast of characters, fans began tweeting photos of their favorite actors to replace McConaughey and Harrelson with the hashtag #TrueDetectiveSeason2 (shown below). According to the Twitter analytics site Topsy,[6] there were over 24,000 tweets containing the #TrueDetectiveSeason2 hashtag on February 19th.
#TrueDetectiveSeason2 Clear winners pic.twitter.com/bxd9tlAO5d

— Giana Mucci (@RatedGiana) February 20, 2014
On February 20th, 2014, actor Joel McHale tweeted two photographs in which he and fellow Community actor Jim Rash are dressed as True Detective characters Rust Cohle and Martin Hart. Many Twitter users began retweeting the images with the #TrueDetectiveSeason2 hashtag.
Here's RashisTVUgly</a> &amp; I shooting a <a href="https://twitter.com/search?q=%23GameOfThrones&amp;src=hash">#GameOfThrones</a> parody for <a href="https://twitter.com/TheSoup">TheSoup…wait… pic.twitter.com/tnuYylJS2G

— Joel McHale (@joelmchale) February 20, 2014
Here's another shot of RashisTVUgly</a> &amp; me for a <a href="https://twitter.com/TheSoup">TheSoup parody of Homeland…I think. Wait… pic.twitter.com/v596EdDehu

— Joel McHale (@joelmchale) February 21, 2014
Related Memes
True Detective Valentines
On February 5th, 2014, the True Detective Valentines[5] single topic blog was launched on Tumblr, highlighting Valentine's Day e-cards with captions containing notable dark quotes from the television series (shown below).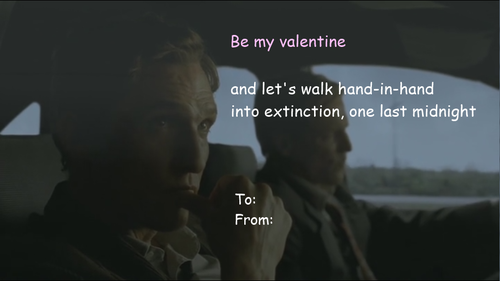 On February 11th, Redditor Qweef posted a Valentine's Day e-card of featuring a screenshot and quote from detective Rustin Cohle to the /r/TrueDetective[11] subreddit (shown below). In the first two weeks, the post gathered more than 450 up votes and 35 comments.

True Detective Conversations
On February 4th, 2014, writer Bobby Finger created the True Detective Conservations[1] Tumblr blog, which features custom 3-pane comics depicting humorous conversations between detective Martin Hart and his nihilistic partner Rustin Cohle (shown below), bearing many similarities to the "We Need to Go Deeper" and "The Rock Driving" comics. That month, several Internet humor sites highlighted notable examples from the blog, including BuzzFeed,[2] The Daily Dot[3] and UpRoxx.[4]



Search Interest
External References