This entry contains content that may be considered sensitive to some viewers.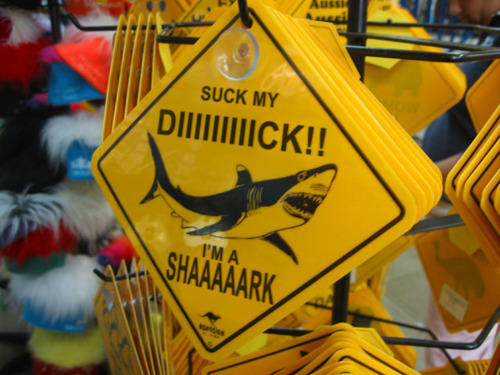 About
The Singing Shark is a 4-pane comic featuring an illustrated shark singing the phrases "I'm a shark! Suck my diiiiick!" The comic inspired an exploitable series, including various animals, people and objects with speech bubbles containing the snowclone "I'm a X" and the phrase "Suck my dick!"
Origin
The earliest known instance of the original comic strip was uploaded to YouTube[9] on December 23rd, 2006 with no mention of its creator. The art is commonly attributed to Chris VanGompel's now-defunct webcomic Hockey Zombie[1], which featured a comic titled "The Singing Shark"[7] on February 20th, 2007, in celebration of Discovery Channel's Shark Week[8], an annual programming event celebrating various species of sharks.

Spread
On February 15th, 2007, five days before "The Singing Shark" was featured on Hockey Zombie, a thread was posted to the eBaum's World forum[3] requesting the comic. On February 23rd, user zlopez replied to the thread with a link to the comic hosted on the image sharing website ImageShack. On March 17th, a flash animation based on the comic was shared on deviantArt.[6] Ten days later, a definition for the phrase "I'm a Shark!"[4] was submitted to Urban Dictionary, citing Hockey Zombie as its origin.

The earliest archived appearance of the phrase on 4chan was posted in a pick-up line thread to the /b/ (random)[5] board on May 7th. On July 14th, the comic managed to earn a "GET" by being the 3,300,000th post submitted to 4chan's /b/ board. Throughout 2008 and 2009, parodies of the comic and accompanying catchphrase appeared on FARK[10], the off-topic forum WTF.com[11], gaming forum Explosm.net[12], the IGN forums[13] and Destructoid.[14] In 2010, a Facebook fan page[15] was created for the phrase "Suck my sick, I'm a shark", which received 1781 likes as of August 22nd, 2011. The phrase is sometimes used as a tag on Tumblr[15] as an insulting retort.
Notable Examples






Search Interest
External References