This submission is currently being researched & evaluated!
You can help confirm this entry by contributing facts, media, and other evidence of notability and mutation.

About
A Shark is a member of one of 500 different species of fish which all have cartilaginous skeletons, gill slits on the side of the head, and pectoral fins fused to the back, instead of the head. Some of the more notable types include the Great White Shark, the Tiger Shark, the Hammerhead Shark, and the Blue Shark.[1] Since they are carnivorous and their mouths contain many rows of sharp, jagged teeth, they are well-known as dangerous predators, and sometimes attack humans who get too close to them. In popular culture, sharks have simultaneously been admired for their strength and hunting prowess and feared for the same, and the fish have substantial fandoms, both online and offline.
Online History
While much media coverage is focused on shark attacks and their victims, often resulting in online discussion, a parallel world of shark fandom exists. Much of the early discussion of sharks on forums like Usenet was related to their conservation and to prevent hunting, as many shark species are endangered and some are hunted for use in a Chinese delicacy called Shark's Fin Soup.[2] Another touchpoint of early internet shark fandom was the iconic 1975 film Jaws, which provided characters, including a vicious, deadly shark, for fantasy scripts[3] and early fanfiction; there are 1,232 results for stories featuring Jaws on Fanfiction.net, and 1,841 results for the search term "shark."[4][5] In addition, there are several shark-related fanclubs, including some for specific species, like the Fanpop.com club for Great White Sharks.[6] DeviantArt returns over 250,000 results for the search term "Shark" as of July 14th, 2015,[7] and the subreddit /r/sharks has over 8,500 readers.[8]



Shark Fan Art on DeviantArt
Shark Week
Shark Week is a block of programming dedicated to the fish and the fear they induce which airs on the Discovery Channel each year in late August. Because of the popularity of sharks online, and its unique singular focus, the programming block has gained a large fanbase, both ironic and unironic, online. Programming features nonfiction shows and specials which offer close up footage of sharks which have evolved as the technology behind video and underwater cameras have evolved. Shark Week has its own fandoms and related memes separate from sharks as a whole, often hinging on the ridiculousness of featuring one creature on television for an entire week.
"Jump the Shark"
To "Jump the Shark" is a term used to describe the moment when a trend or media item has reached its peak popularity, and will only descend in relevancy from that point forward.[9] It was first defined on Urban Dictionary in 2003, but the term is believed to originate from a 1977 episode of the television show Happy Days in which the character Fonzie jumps over a shark while riding waterskis.
According to Google Trends, use of the term "jump the shark" has itself jumped the shark, having previously peaked in 2004 and trended downhill from there.[10]
Related Memes
The Singing Shark
The Singing Shark is a 4-pane comic featuring an illustrated shark singing the phrases "I'm a shark! Suck my diiiiick!" The comic inspired an exploitable series, including various animals, people and objects with speech bubbles containing the snowclone "I'm a X" and the phrase "Suck my dick!"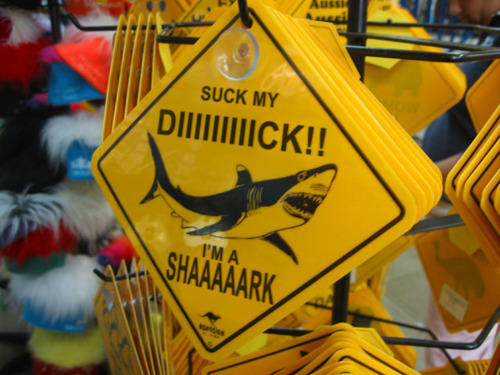 Bearsharktopus
Bearsharktopus is a fictional hybrid monster consisting of shark's head, a bear's body and octopus tentacles which first became popular on Reddit in 2009.

Super Bowl XLIX Halftime Shark
The Left Shark, also known as the Super Bowl Halftime Shark, is a nickname given to one of the stage dancers dressed in a shark costume during Katy Perry's halftime performance at the Super Bowl XLIX on February 1st, 2015.

Tsundere Sharks
Tsundere Shark is a photoshop meme in which photographs and illustrations of sharks are embellished with pink blushes and glowing anime eyes in the typical fashion of how tsundere characters are portrayed in animes.

Jaws Poster Parodies
Jaws Poster Parodies are recreations of the iconic poster for the 1975 thriller film Jaws, featuring a giant shark attacking a lone woman in the ocean. Many of the parodies replace the shark or woman with different characters from a variety of contexts.

Critters Posting on 4Chan
Critters Posting on 4chan is a two-pane image series comprised of a screenshot of a 4chan post written in defense of a particular species in the animal kingdom and an illustration anthropomorphically portraying the aforementioned creature as the original poster. One of the first examples was of a shark giving his defense.

Search Interest
External References