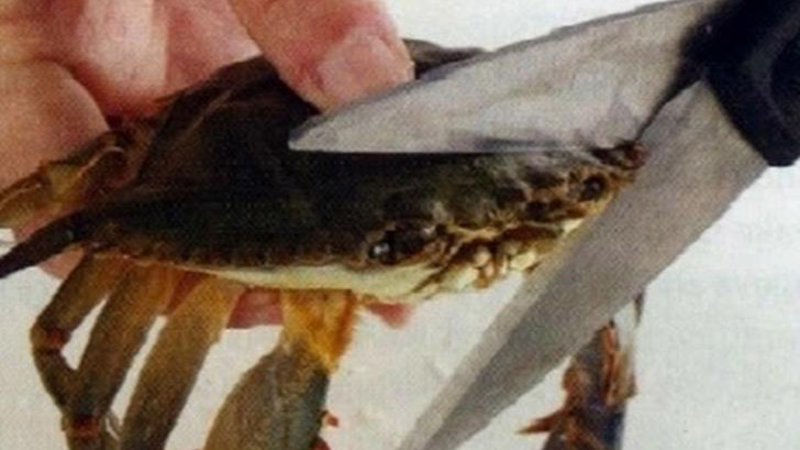 About
Sad Crab (a.k.a Okay Crab, Optimistic Crab or "This Kills The Crab") is an image macro series centered around a picture of a soft-shell crab facing imminent death by scissors. Originally found in a cooking recipe article published in March 2010, the photograph has been paired up with various one-liners, many of them in the viewpoint of crab trying to accept its death and others simply indicating the obvious that the act of cutting "kills the crab."
Origin
The original photograph of the crab comes from the March 2010 issue of Fine Cooking in a recipe article on how to prepare a live soft-shell crab[1]. The blog article was posted on March 1st, 2010.

Spread
The image was soon reblogged by Tumblr blog Certified Bullshit Technician[2] and internet humor blog Woosk[3] on March 16th, 2010. Later that year, the image resurged via FunnyJunk[4] and Reddit[5] between November 13th and 14th, spawning over 400 comments in the Reddit thread alone.
In early April 2011, the image scan of crab appeared again on 4chan's cooking board /ck/[6], spawning a lengthy thread with over 200 comments and 68 image derivatives. From there, it quickly spread across other sites including Bodybuilding Forums[7], FunnyJunk[8], Reddit[9] and MemeGenerator[10].
Notable Examples






Derivative: This Kills X
!https://i.kym-cdn.com/photos/images/small
/000/115/990/8bd.jpg!


Search Interest
External References