Violence Is Never the Answer
About
Violence Is Never the Answer refers to a Things I Don't Like Exploitable Webcomic in which a man attempts to break up a fight with the titular phrase. One of the combatants replies with something that causes the first man to punch him in the face.
Origin
The comic was originally posted by webcomic artist Pandyland.[1] While the active page for the comic does not list a date of publication, an old URL of the comic features the date "2015-03-15," making March 15th, 2015 the likely publication date.[2]

Spread
Shortly after the comic was posted it was translated into Spanish and was popular on Twitter. A Spanish translation of the comic posted to Twitter on March 18th, 2015 by user @PapaBizarro[3] gained over 1,200 retweets and 980 likes (shown below).

Many of the exploitable variations spread with Spanish text (examples shown below).


The comic did not becoming an exploitable until roughly a year later. One of the earliest exploitable edits was posted on April 14th, 2016 by Facebook page God Emperor Trump, referencing Donald Trump's presidential campaign, gaining 200 likes and reactions (shown below).

The comic began seeing more popular use as an exploitable in March of 2018. In late March of 2018, two edits were posted to /r/MemeEconomy, gaining over 250[4] and 20[5] upvotes, respectively.
Various Examples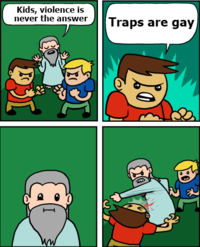 Search Interest
Unavailable
External References
Recent Videos
There are no videos currently available.