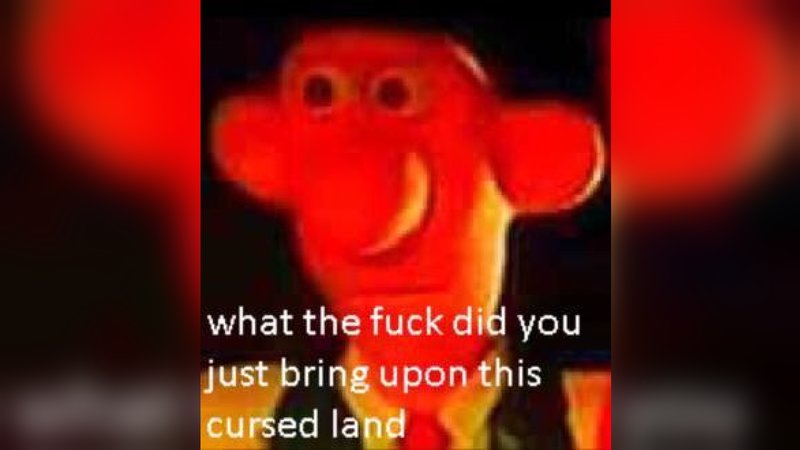 What the Fuck Did You Just Bring Upon This Cursed Land
About
What the Fuck Did You Just Bring Upon This Cursed Land refers to a blurred image of character Wallace from the British clay animation comedy series Wallace and Gromit, captioned with the line. Online, the image has been circulated as a reaction to disturbing content and as an image macro.
Origin
On November 4th, 1989, the Wallace and Gromit cartoon A Grand Day Out premiered in the United Kingdom.[8] In one scene of the short, character Wallace leaves the spaceship during the pre-launch sequence to get crackers, giving his dog Gromit a concerned look before leaving.
On May 9th, 2018, an unknown Redditor posted the earliest caption meme based on the still image, with the post (shown below, left) gaining over 240 upvotes in the /r/JoinSquad[9] subreddit in six months. On September 18th, 2018, Twitter[1] user @unkiled_pl posted a fried version of the image as a reaction to an anime meme. The cropped, blurred, red-tinted still from A Grand Day Out features the character Wallace with bulging eyes, paired with the caption "what the fuck did you just bring upon this cursed land".


Spread
Through 2018 and 2019, the image has been circulated on Twitter as a reaction image. Highly-retweeted examples include a reply by user @2112_austin[2] to the announcement of Sonic the Hedgehog film on December 10th, 2018, and a reply by user @jaspercat122[3] to January 4th, 2019, Pottermore tweet expanding the lore of Harry Potter bathroom practices.


Starting in October 2018, the image started appearing on various 4chan boards, with the earliest known post submitted by an anonymous user to /b/ board on Octover 11th, 2018.[4]

On Reddit, the image saw the initial spread in use in early November 2018, with numerous captioned posts appearing in /r/dankmemes and other subreddits.[5][6]


On February 2nd, Redditor[7] MrFlapJackxs posted an Airport Security vs. Water meme utilizing the macro to /r/dankmemes subreddit. The post gained over 78,900 upvotes in ten days.

Following the MrFlapJackxs' post, the macro saw a surge in popularity on Reddit and other online platforms.
Various Examples






Search Interest
External References
Recent Videos
There are no videos currently available.