What The Hell Happened Here
This submission is currently being researched & evaluated!
You can help confirm this entry by contributing facts, media, and other evidence of notability and mutation.
About
"What the Hell Happened Here?" is a memorable quote uttered by the character Scott Lang, also known as Ant-Man, in the 2019 superhero film Avengers: Endgame. Online, a screenshot of Hawkeye saying the line has been used as a reaction image macro.
Origin
On April 26th, 2019, the film Avengers: Endgame was released in theaters in the United States.[1] In the film, which takes mostly takes place five years after the events of Avengers: Infinity War, the character Scott Lang (portrayed by Paul Rudd) learns that half of all life has disappeared. He responds to the news, "What the hell happened here?" (clip below).
Spread
The earliest known available usage of the moment as a reaction image was used on Imgur [2] on June 25th, 2019 by user ApexLegend117. The image responds to a Reddit thread in which every comment was deleted. The post received more than 78,000 views and 1,900 points in less than one year (shown below, left).
Months later, on August 4th, the post appeared on the /r/dankmemes[3] subreddit, where it received more than 400 points (92% upvoted) in less than one year.
Less than a week later, on August 8th, Redditor[4] Lumachino shared a version on the /r/me_irl subreddit. Within one year, the post received more than 26,000 points (96% upvoted) and 320 comments (shown below, center).
Weeks later, the meme, again, appeared on /r/dankmemes, responding to the /r/TheLegoMovie subreddit being banned from Reddit. The post received more than 40,000 points (99% upvoted) and 400 comments in less than one year (shown below, right).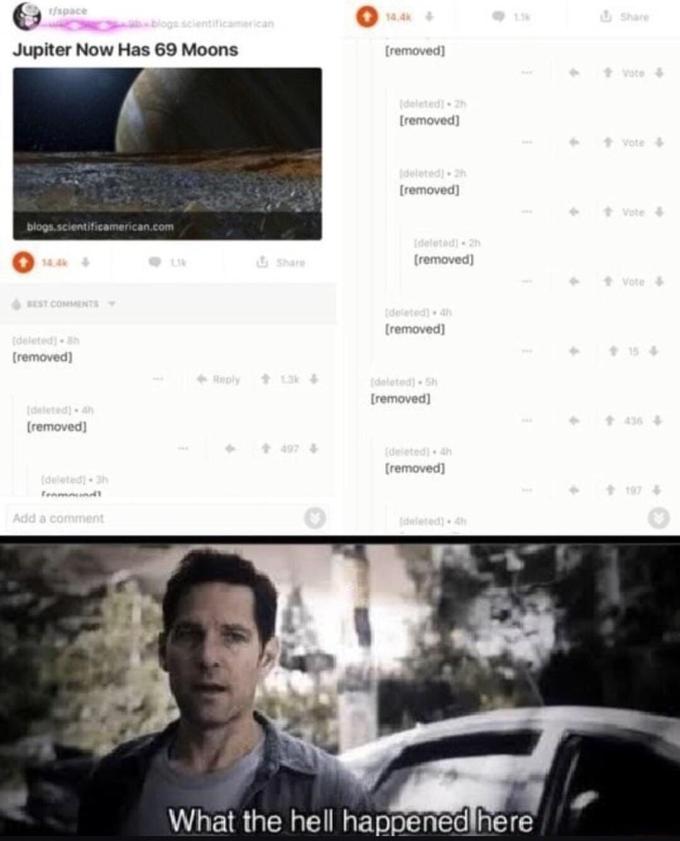 Various Examples






Templates


Search Interest
External References
Recent Videos
There are no videos currently available.