PROTIP: Press 'i' to view the image gallery, 'v' to view the video gallery, or 'r' to view a random entry.
This submission is currently being researched & evaluated!
You can help confirm this entry by contributing facts, media, and other evidence of notability and mutation.
About
Kim Jong Un is the supreme leader of North Korea who assumed the position in December 2011 following the death of his father, Kim Jong-Il.
Online History
While it is widely assumed that Kim has little presence on the state-controlled and heavily censored Internet, a lot of discussions surrounding North Korea's latest head of state began circulating in the South Korean and Western social media following the death of his father Kim Jong Il and during his subsequent rise to power in December 2012.
Kim Jong Un Looking at Things
On December 18th, a parody blog titled Kim Jong Un Looking at Things[1] launched. It was inspired by a similar blog utilizing state propaganda photos of his father, Kim Jong Il Looking At Things, which launched in October 2010. As of November 2012, the blog is still active.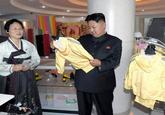 Hungry Kim Jong Un
The day after Kim Jong Un Looking at Things launched, on December 19th, Redditor GunnieGraves submitted a photo to the Funny subreddit[2] depicting Kimg Jong Un pointing at something with the caption "Ok so…can I eat this?" (shown below, left). The same day, a Quickmeme[3] titled Hungry Kim Jong Un was established, with an instance (shown below, right) reaching the front page the same day. As of November 2012, it has more than 220 submissions. Four days after the first Reddit post, a single topic Tumblr titled Kim Jong Un is Hungry[4] launched, using other photos of the leader with similar food-related captions.
TIME

Person of the Year Campaign

On November 26th, 2012, users on 4chan's /b/ (random) message board began to organize a way to fix Time Magazine's annual Person of the Year voting event [9] so Kim Jong Un would take the top place in the poll. Over the next 24 hours, multiple threads were posted to the forum with links to Pastebin[5] documents of a VBS script as well as a downloadable Java-based program[6] to help users vote in bulk.



An IRC channel was also set up with the name #OpFuckMorsy[7], as a reference to Egyptian President Mohamed Morsi[8] who stayed in the lead of the poll throughout November 26th. Later that same day, 4chan's latest poll scheme was featured on Betabeat[10], the Daily Dot[11]and Reddit[12], where a screenshot of one of the threads earned more than 9182 upvotes and 2148 points overall. On December 3rd, The Daily Dot[25] published a follow-up article, which reported that Jong-un had passed Egyptian president Mohamed Morsi for the top spot with 2.9 million votes (shown below).
Spelling Out "
KJU

Gas Chamber"

The article also reported that 4chan users aimed to spell the word "KJU Gas Chambers" with the first letter of the top 14 candidate's names in the poll, alluding to North Korea's gulag Camp 22 which has been accused of human rights violations from the international community. The same day, both ABC News[27] and Gawker[30] reported on the poll results. On December 4th, a new version of a script called "NKVoter"[28] was released (shown below), which allows users to automate vote spamming. That same day, Jong-un's votes reached 3.38 million.



On December 8th, Redditor DrHuxleyy submitted a post to the /r/4chan[31] subreddit announcing that 4chan users managed to spell out "KJUGASCHAMBERS" in the Time poll and included a screenshot of the results (shown below). Within 48 hours, the post received over 13,200 up votes and 490 comments. The following day, Facepunch[32] forums member koeniginator posted the same screenshot in a thread titled "4chan Does it again."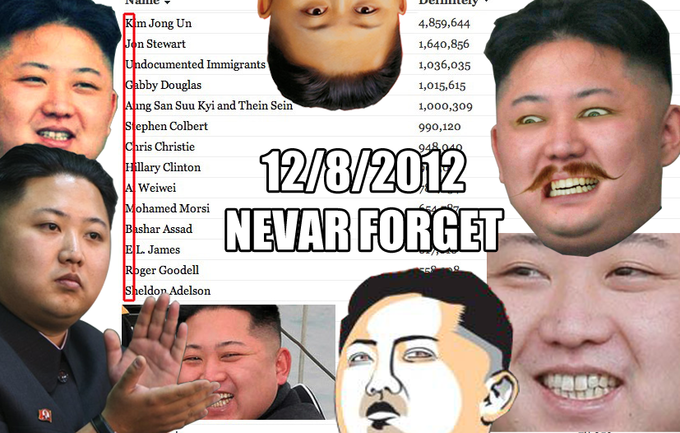 On December 10th, The Daily Dot[33] published an article titled "'KJUGASCHAMBERS': How hackers stole Person of the Year poll," which included a statement by IRC user _js5, who created a java script automating the voting process:
"There really is nothing too exciting about the meaning, sorry to say. We chose it because it was clever, had semi-subtle offensive overtones, and wasn't as childish as our second choice of KFCBUTTSEX."
The Onion: Sexiest Man Alive for 2012
On November 14th, 2012, satirical news site The Onion[13] posted an article naming Kim Jong Un as the site's Sexiest Man Alive for 2012. Five days later, Korean newspaper the Korean Times[17] published an article on the Onion story. They noted in the Korean version that the Onion article was meant to be satirical, but left that out of the English translation. On November 27th, the official newspaper for the community party of China, the People's Daily[14], reported on the story, complete with a 55 photo slideshow of the North Korean leader.
The North Korean newspaper's misreporting of the Onion article was featured on the Los Angeles Times[15], the Atlantic[16], the Guardian[18], BBC News[19] and Mashable.[20] A news article on the subject from the Associated Press was submitted to the World News subreddit[21]where it earned 13,686 upvotes and 2862 points overall. Following the news coverage, the Onion amended[22] their article, linking to the "exemplary reportage" provided by the People's Daily.
Hoax: Kim Fed His Uncle to 120 Hungry Dogs
On December 13th, 2013, it was reported that Kim executed his own uncle Jang Song Thaek, a key figure in the North Korean regime widely considered to be the second most powerful man, following his arrest and expulsion from the post on charges of "anti-party and counter-revolutionary activities." Upon execution, North Korea's state-run Korean Central News Agency ran a 2700-word article detailing Jang's crimes.
That same day, Hong Kong's daily newspaper Wen Wei Po reported that Jang was executed by being stripped naked and fed alive to 120 hungry dogs, citing an account posted on the Chinese social media site Weibo. Although the story was largely ignored by the news outlets in China and South Korea, the sensational report was picked up by the Singaporean Strait Times on December 24th, eventually reaching the U.S. media and news blogs on December 26th.
Hoax: Kim Mandates His Hairstyle For Students
On March 25th, 2014, Washington D.C.-based North Korean news outlet Radio Free Asia[39] (RFA) published a report about a recently-enacted mandate that allegedly requires all North Korean university students to sport the signature hairstyles worn by the leader Kim Jong Un and his wife Ri Sol Ju. Citing unnamed local sources in the Southern Hamgyung region of the hermit nation, RFA added that, while the policy is said to have been treated more like a recommendation rather than a strictly enforced order, many students have reportedly expressed resentment towards the mandate since it went into effect in mid-March 2014.
The unconfirmed report was instantly picked up by several South Korean news publications[40][41] and soon translated into English by The Korea Times[47], which gave further boost to the story's viral momentum to spread across the English-language news outlets. That same day, numerous U.S. news outlets[42][43][44][45] and blogs ran similar reports with headlines like "Every Man in North Korea Now Has to Get a Kim Jong-Un Haircut" (Gawker), "North Korea: Students required to get Kim Jong-un haircut" (BBC) and "North Korea mandates Kim Jong-un haircut for all men" (Washington Times). However, by the next day, the authenticity of the RFA report had come into question after the Associated Press[46] skeptically reported that no such change in hairstyle has been noticed among the student population, citing numerous accounts of American tourists who have recently visited the country.
Personal Life
Not much is known about Kim Jong Un's personal life, including his birthday which may have been in either 1983 or 1984.[23] He attended boarding school in Switzerland under a fake name, where he was said to have had poor grades[25], but enjoyed skiing, the American NBA and actor Jean Claude Van Damme.[24] Kim Jong Un married a North Korean woman named Ri Sol-ju in 2009, but this information was not made public until July 2012.[26]
Search Interest
External References
Facebook Comments