PROTIP: Press 'i' to view the image gallery, 'v' to view the video gallery, or 'r' to view a random entry.

About
Vladimir Putin is a Russian politician who served as the second president of the Russian Federation (2000 – 2008) and its prime minister (2008 – 2012).[1] With his victory in the 2012 Russian presidential election, Putin became the first Russian politician to serve three terms of presidency in the Kremlin. A former KGB officer, he has had a longstanding cult of personality in Russia, and has been garnering reputation as a "badass" on the Internet.
Online History
Editor's note: This section is incomplete. Request editorship to add more information.
Vladimir Putin became the acting president of the Russian Federation on December 31st, 1999 after Boris Yeltsin's unexpected resignation from the office. Immediately after taking office in January 2000, Putin signed a law into effect which granted various security agencies like FSB and Foreign Intelligence Agency direct access to all online transactions.[2] Following the presidential election held in March 2000, Putin was formally inaugurated president.

Interviews
Having entered power at a time when Internet usage was rapidly growing across the nation, Putin put extensive efforts towards promoting his image as a web-savvy leader. On March 6th, 2001, Putin hosted an online press conference through three major Russian websites Strana.ru, Gazeta.ru and the British news site BBC News Online, during which he answered 20 pre-selected questions out of 24,000 queries submitted by Russian and European Internet users in real time.[3] Months later on November 15th, 2001, Putin participated in an NPR radio and web simulcast event to answer questions directly from American audiences.[5]


2011 Russian Protests
Shortly after Putin reentered the office of presidency for the third time in May 2012, Anonymous hackers temporarily took down Putin's website in keeping their promise to disrupt Russian governmental websites in protest against his questionable victory in the 2012 presidential election.[6]
Siberian Fish Kiss
On July 20th, 2013, the Kremlin released footage of Putin catching a 46-pound pike while on a fishing trip in Siberia, including numerous photographs and videos of the Russian president holding up the fish and kissing it on the head. As the photos began to circulate on Russian news and sites and social media, some commenters suggested that the fish had been planted there for a photo op while other commenters disputed the weight of Putin's catch by sharing photos of their pike catches that appear larger yet weighted less. [11] A UK fishery management consultant told the Independent[12] that a pike would need to be at least 48-50 inches long to weigh 46 pounds.
Meanwhile, other skeptic Russian bloggers raised doubts over whether Putin was even in Siberia at the time the photos were allegedly taken, as he had been 6,000 miles away in Moscow for a meeting the day before, according to his official schedule.[13] In the following days, Russian netizens' negative online reaction to the footage was covered by Time Newsfeed[14], the Huffington Post[15], Yahoo! News[16], the Los Angeles Times[17] and The Age.[18]
Reputation
As illustrated by the graph (shown below), Putin's approval ratings have stayed consistently at least above 60%, climbing up to nearly 90% at its peak. In the fall of 2008, nine out of 10 Russians approved of Putin's performance.[19] In January 2013, Russian polling agency Levada reported[20] that his rating had reached an all-time low, but this observation was later disputed by Forbes[21] in July.

Masculinity
Many Russian internet users have portrayed him in threads, conversations, and image macros as either incredibly masculine or ruthless. Putin has his own category on Pundit Kitchen called Vladurday, reminiscent of Caturday, in which his badassery is constantly celebrated with simple image macros. Encyclopedia Dramatica has its own entry for Putin, extensive in image macros and descriptions of his manly exploits. Memegenerator has 15 separate Putin-related macros, including Advice Putin. Imageboard threads relating to Putin are very common, particularly when related to politics or international culture. In October 2011, Funny or Die published a slideshow article titled "50 Pictures of Vladimir Putin Looking Like a Complete Badass."[7]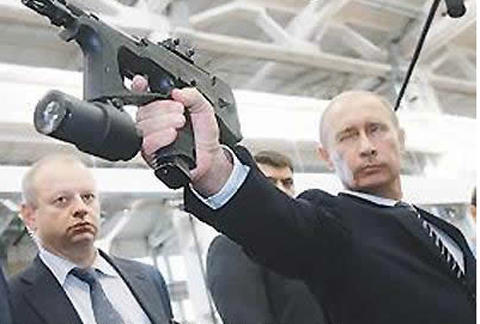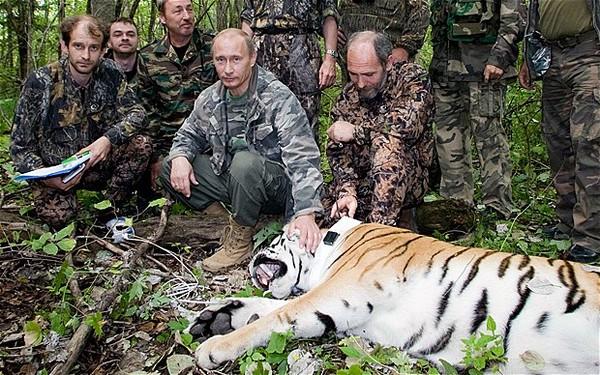 Putin's Army
In July 2011, an online campaign was launched by a group of women declaring themselves "Putin's Army" (Russian: Armia Putina) who urged other female supporters of Putin to take their tops off in vouching their support for the third-time presidential candidate.[8] As part of the campaign, the group released a video of a blonde student named Diana undressing herself while scrawling "I will tear my clothes off for Putin!" The video received more than 2.2 million views in less than a year since the upload.
Pussy Riot
Pussy Riot is a Russian feminist punk rock / riot grrrl band best known for staging and filming unauthorized guerrilla performances in public locations and sharing the footage online in protest against Vladimir Putin. In February 2012 the group staged a guerrilla performance at the Cathedral of Christ the Savior, for which three of the band members were arrested, convicted and sentenced to prison terms on charges of hooliganism. The arrest of the band members quickly drew attention from the local activists, foreign press and human rights advocacy groups, as well as offers of support and collaboration from dozens of international artists and musicians.

Related Memes
Single Topic Blogs
A number of single topic blogs dedicated to Putin have sprung up on Tumblr since 2010. On October 16th, 2010, the blog What is Vladimir Putin Doing Today?[22] was created, giving an often humorous spin to what was going on in Russian news. Two days later, Uncomfortable Moments with Putin[23] launched, showcasing photos of Putin with community members and other state leaders (shown below), while providing captions conjecturing why the people in the photo would be uneasy around him.



On September 7th, 2011, Animals and Putin[24] launched, dedicated to photos and fan art of the politician posing with domesticated pets, sea creatures and farm animals. Vladimir Putin with Animals[25] was created that December, incorporating fan art of the politician posing with dinosaurs or bears in addition to the actual photographs. Later in December, Vladimir Putin Doing Things[26] launched, as a tribute to the blog Kim Jong Il Looking at Things following Kim Jong Il's death.
140% Election Turnout
In early December 2011, legislative elections were held across Russia, with four major political parties racing for the 450 seats in the State Duma (the lower house of Federal Assembly): The Communist Party, The Liberal Democratic Party, A Just Russia and the ruling United Russia led by Vladimir Putin. The election results were reported as a victory for Vladimir Putin's United Russia with a 49.32% of votes and an absolute majority of Duma seats. However, numerous irregularity reports by foreign observers and watchdog groups led to speculations of foul by Russian bloggers and journalists. While Russia's state-run media remained silent on the issue, news stories about rigged votes quickly spread across Russia's Facebook, Twitter and Livejournal. Image macro jokes in both Russian and English flooded various Internet humor forums and Facebook pages, including English-language sites Memebase, Memegenerator and 9gag. For more information, KYMdb – 2011 Russian Protests.






Fake "Putin in Jail" News Video
In February 2012, a mock newscast video was uploaded onto YouTube which showed Putin sitting behind bars with a voiceover narrating his charges of terrorism and theft.[9] Later on it was revealed that the video was created as a collage of actual footage shot during the trial of Putin's political opponent Mikahil Khodorkovksy, who was tried for tax evasion and then convicted of fraud in 2010. As of May 2012, the video has accumulated more than 6.6 million views on YouTube
Give That Man a Cookie!
"Give That Man a Cookie" is a reaction image used to express gratitude or approval to another poster. Based on an official photograph of Putin pointing a pen towards an audience during one of his annual Q&A conferences, the image became quite popular on Facebook and other forums beginning in June 2013.

Search Interest
External References
Facebook Comments