PROTIP: Press 'i' to view the image gallery, 'v' to view the video gallery, or 'r' to view a random entry.
This submission is currently being researched & evaluated!
You can help confirm this entry by contributing facts, media, and other evidence of notability and mutation.
Warning: This entry contains major spoilers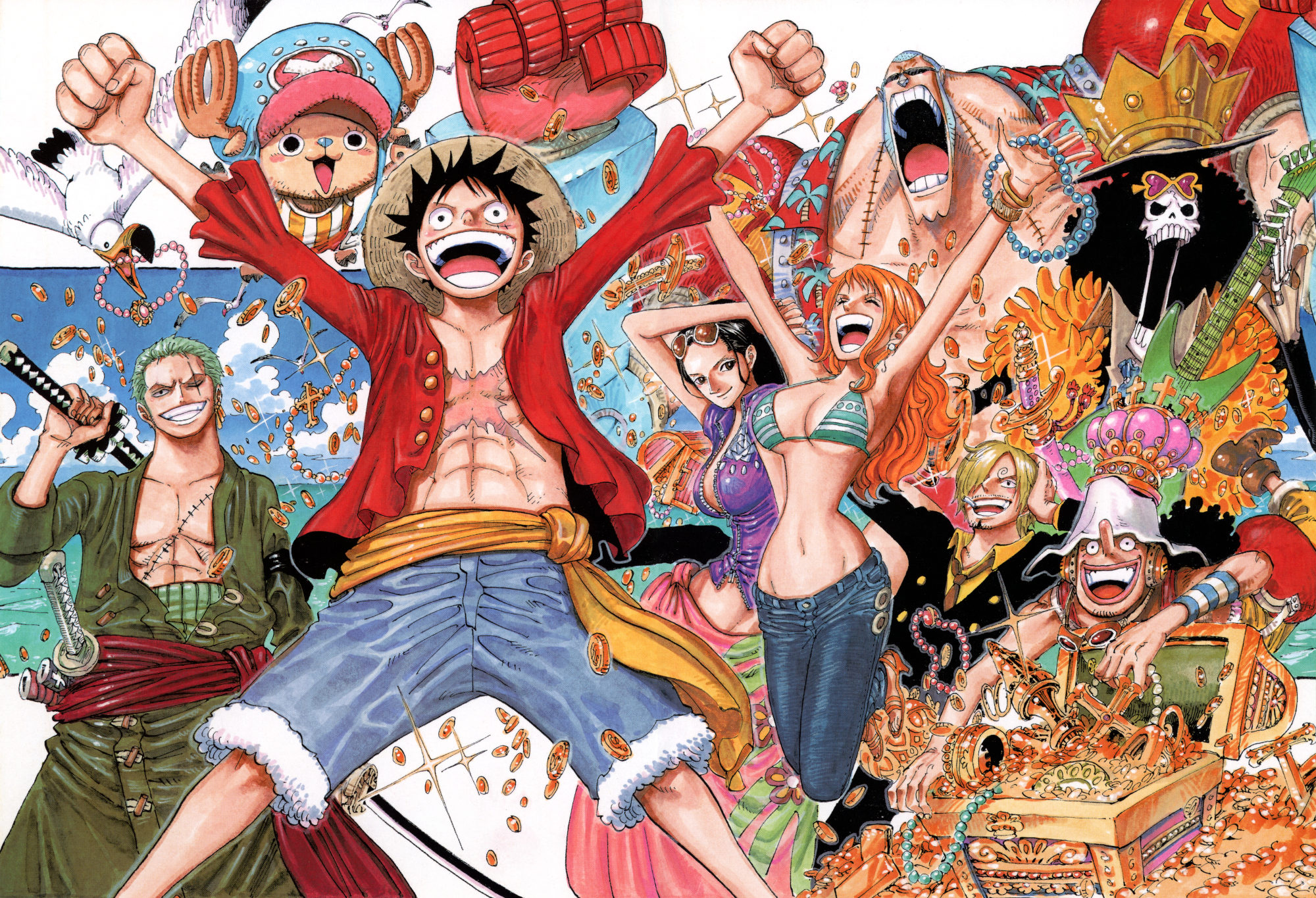 About
One Piece (Japanese: ワンピース Wan Pīsu) is a Japanese manga and anime series by Eiichiro Oda. The series, which portray a young pirate Monkey D. Luffy's and his crews' adventures have become extremely popular both in Japan and worldwide.
History
The first versions of One Piece, oneshots Romance Dawn (ロマンス ドーン Romansu Dōn) and Romance Dawn, Ver. 2 were published August 4, 1996 in Shōnen Jump summer special and September 23, 1996 in Weekly Jump respectively.[2][3] They already had the concept of a young boy named Monkey D. Luffy with rubber pirates sailing the seas in the quest to become a famous pirate. Oda started writing the actual series to Weekly Shonen Jump magazine in August 4, 1997. Originally the series were supposed to last five years, but the story became longer than Oda expected, and has continued to this day.[1] The first episode of anime was broadcasted in October 20, 1999.[4]
Plot
One Piece takes place in a parallel universe, and follows the adventures of the Straw Hat pirates. Their captain and main protagonist is Monkey D. Luffy, also known as "Straw-Hat Luffy", who has eaten a devil fruit called the Gomu Gomu-fruit, making him a rubber man. The Devil Fruits all grant strange abilities, but also make their user incapable to swim. Luffy's dream is to find a great treasure called One Piece left by executed Pirate King Gold Roger, and proclaim himself as the new Pirate King. All of Luffy's crew-mates have their own dreams they wish to achieve by sailing with him. As they travel in the strange world covered mostly by sea, they encounter many enemies and allies, including other pirates and the Marines, who enforce the will of tyrannical World Government, and the seven warlords, pirates who Government has pardoned in exchange of their loyalty.
Reception
One Piece is one of the most successful manga series of all time, being the highest selling manga series in Japan[1] and being extremely popular worldwide, among all age- and gender groups.
Related memes
No One Dies in One Piece
One Piece is noted of it's very low death toll outside of flashbacks, with almost no named characters dying at all and often miraculously surviving from the most fatal situations. Two most notable examples are Pell from Alabasta arc somehow surviving a bomb that was supposed to wipe out the whole city, and Pagagya from Skypiea arc who "only lost consciousness" after getting hit by a lightning storm that eradicated the ground below him. The Marineford arc, which is halfway trough the series, marked the first two deaths of main characters with Luffy's adopted brother Portgas D. Ace and his captain Edward "Whitebeard" Newgate.
X is Sabo
After the death of Ace is a flashback arc about how he and Luffy first met and and became adopted brothers along with Ace's friend Sabo. In the end of the flashback Sabo is apparently killed, which launched a series of theories about him being alive and one of the known characters. They would often go to absurd lengths and became popular a subject of humor and parodies among fans.
Ultimately all the theories were crushed as Sabo showed up alive in chapter 744, as a member of the revolutionary army.
Search Interest
External References
Facebook Comments