Warning: This page contains material that may be considered not safe for work.
About
14 Words is a code term to the white supremacist slogan "We must secure the existence of our people and a future for white children." Since their first appearance, the numbers 14 and 88, have had great symbolic importance to white supremacist groups. 1488 is a combination of the 14 words and 88, a numerical code for "HH" or "Heil Hitler," because "H" is the eighth letter in the English alphabet.
Origin
The "14 Words" were coined by David Lane, a white nationalist, Ku Klux Klan-member and the founder of the white-supremacy group, The Order. While serving 190 years for the assassination of Jewish radio host Alan Berg and other crimes with The Order, Lane wrote the articles "88 Precepts" and "14 Words." "14 Words" were adopted as the de facto mission statement for the white supremacy movement.[1] The "14 Words" are: "We must secure the existence of our people and a future for white children."
White supremacists consider the numbers 14 and 88--sometimes combined as 1488--as significant amongst their cause. "88," referencing the eighth letter of the alphabet, "H." Together, 88 is code for "HH," or "Heil Hitler."
Spread
During Lane's prison sentence in 1994, Lane married Katja Lane. The two founded 14 Word Press the following year as a means for publishing Lane's writings.
On August 4th, 2006, Urban Dictionary user Alana Dawn[6] posted a definition of "14/88." She writes, "a term recognized by white supremists. 14 representing 14 words written by David Lane, 'We must secure the existance of our people and a future for white children.' 88 representing David Lane's 88 precepts, or sometimes the eighth letter in the alphabet (H), to represent Heil Hitler." The post (shown below) received more than 2,400 positive votes.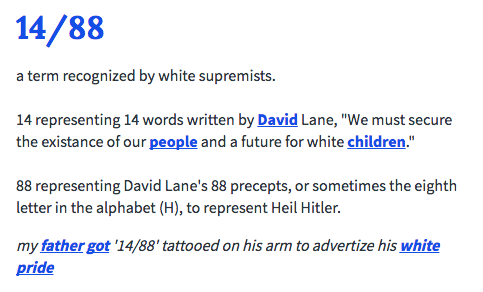 In October 2008, Law enforcement in Tennessee arrested two white supremacists who planned to assassinate Barack Obama days before his first presidential election win.[2] The New York Times reported that the men also planned on "killing 88 people and beheading 14 African-Americans."[3]
Ann Coulter's "14!" Tweet
On January 5th, 2017, writer and conservative political commentator Ann Coulter tweeted the number "14!" (shown below). Immediately after, Twitter user Mikel Jollett replied to the tweet with a screenshot of the Wikipedia page for "Fourteen Words."[4] As of July 2017, the tweet has received more than 1,400 retweets and 3,800 likes.

However, others pointed out at the time of posting it would be 14 days until Barack Obama would leave office, citing other tweets Coulter previously posted counting down the last days of Obama's presidency (shown below).[5]


Later that day, Coulter revealed that she was counting down the days using the Obama Countdown Clock (shown below).[6]

Sarah Palin's "14 Words" Tweet
On July 7th, 2017, the former Governor of Alaska Sarah Palin shared a video of President Donald Trump's July 2017 speech in Poland from the website YoungCons.com on Twitter. Along with the video, she captioned the tweet "Trump Gives Speech to the People of Poland, Says 14 Words That Leave Americans Stunned." The post received more than 1,000 retweets and 2,600 likes on Twitter[7]

Shortly after Palin's tweet, people began commenting on the meaning of "14 words" (shown below). Additionally, several news outlets also began covering the tweet, including The Daily Beast[9] and Business Insider,[10] specifically whether or not Palin was using "dogwhistle" tactics.


As many pointed out, Palin did not explicitly write the caption as it appeared on Twitter. Palin's Twitter account is linked to her Facebook[8] page (shown below, left), so anything posted to Facebook automatically posts to Twitter. Twitter user @johnkirrane[11] posted the code from the article, which shows that when one shares the article to Twitter, the reference to "14 Words" automatically populates (shown below, right).


DHS Press Release
On February 15th, 2018, the Department of Homeland Security[12] released a statement entitled "We Must Secure The Border And Build The Wall To Make America Safe Again."

Months later, on June 28th, Twitter[13] user @seldo accused the DHS statement of being a dogwhistle to the 14 words. He wrote, "This is an actual story on an official government website with a 14-word headline starting with 'we must secure'. This is not an accident. There are actual Nazis-who-call-themselves-Nazis at DHS." The post (shown below, left) received more than 6,600 retweets and 8,500 likes in 24 hours. That day, Journalist Luke O'Neil also noticed a connection between the DHS statement and the 14 words and tweeted, "Look at the DHS with a fun little update on the 14 words very cool." The post (shown below, center) received more than 265 retweets and 800 likes in 24 hours.
Throughout the day, people continued to post about the statement on social media (example below, right).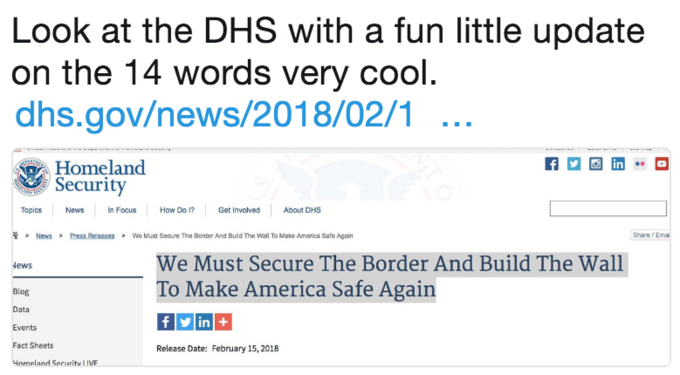 O'Neil reached out to DHS, who dismissed the claims as a "Twitter troll conspiracy theory that on its face is beneath any credible media outlet." They said, "Doing a little digging, it is pretty clear that 'We must secure our borders' is a pretty common political phrase used by all politicians." O'Neil tweeted[14] the full statement, in which they point out other politicians using the phrase (shown below).

Search Interest
External References
Recent Videos
There are no videos currently available.