About
America Invading For Oil, also called the America Oil Meme is a meme mainly found on Reddit that involves photoshopped American troops operating to secure normal household items that contain anything oily. The meme also includes image macros of troops, or otherwise armed individuals, with captions implying the show-of-force is for the purpose of capturing more oil.
Origin
While the exact origin of the meme is unclear, Reddit posts joking on America invading places for oil began appearing seeing an increase March of 2018. One of the earliest posts of this kind appeared on /r/dankmemes[1] on March 6th, 2018, and featured Mr. Krabs from Spongebob Squarepants, gaining over 2,000 upvotes (shown below).

Spread
Over the following several days, various iterations appeared on Tumblr and Reddit and evolved to feature American soldiers on household surfaces considered "oily." For example, one of the most popular pictures featured American soldiers on a pan that required oil for cooking. It was shared on /r/dankmemes,[3] where it gained over 12,000 upvotes, and several Facebook meme pages, including Liberty Memes,[2] where it gained over 2,100 liked and reactions (shown below, left). The same day, Tumblr user distinguishedbaloney[4] posted a variation which gained over 1,100 notes (shown below, right).


On March 16th, a post about the trending memes to /r/MemeEconomy gained over 23,000 upvotes (shown below, left). Another post on /r/dankmemes from the 18th gained over 2,000 upvotes (shown below, right).


Various Examples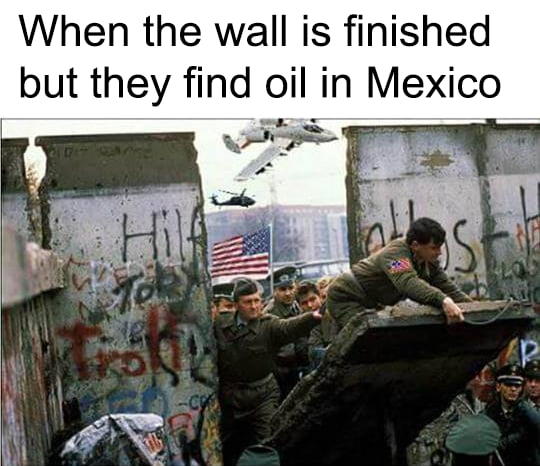 Search Interest
Unavailable
External References