About
Italian Military Jokes are quips aimed at mocking the effectiveness or prowess of the Italian military, often consisting of stereotypes that Italian soldiers are cowardly and depictions of the Italian Navy as floating pizza.
Origin
According to a blog post on Strange History,[6] the Italian military became widely mocked among Allied powers in the early 1940s due to the country's various military failures. In 1943, the World War II historical drama film Five Graves to Cairo was released, which features the music-loving, but ineffective, Italian General Sebastiano.
Spread
On January 25th, 2014, the Italian Armyball Facebook[2] page was launched, highlighting depictions of the Italian military as various Polandball-style illustrations. On October 14th, 2014, The New York Times[7] published an op-ed, which commented on the stereotype that "Italian soldiers are spineless."

On March 15th, 2015, Redditor SapSal submitted a PolandBall comic titled "Italian Military" to /r/polandball,[4] garnering upwards of 470 points (96% upvoted) and 70 comments prior to being archived (shown below).

On June 24th, 2016, the PolandBall Facebook[3] page posted a military tier list pacing Italy at the very bottom (shown below). Within seven months, the post gained over 6,500 reactions and 1,500 shares. On April 21st, Imgur user TheExistentialDreadKickedIn uploaded a GIF of a pizza floating in the ocean titled "Italian Navy."[1]

On January 10th, 2017, Redditor x2K284 submitted a screenshot of Google Image Search results for "Italian Navy," featuring pizzas and pizza-shaped flotation devices floated in water (shown below, left). On January 18th, Redditor SirJilliumz submitted a Fake History image macro mocking the Italian Navy to /r/MemeEconomy[5] (shown below, right).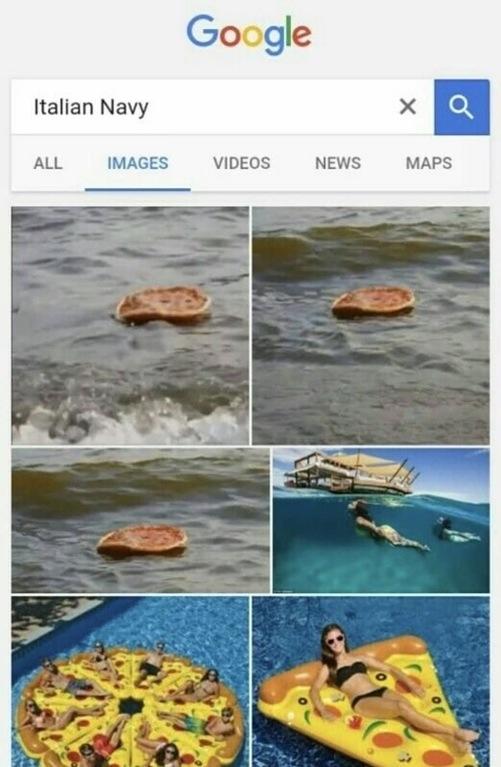 Search Interest
Not available.
External References
Recent Videos
There are no videos currently available.