About
Broke / Woke is a phrasal template used to express the fading cultural significance of one trend in favor of a newer one (similar to Shot, Chaser and Tired / Wired). The trend is based on the slang term Woke, which means to have a perceived enlightened, generally left-leaning political belief.
Origin
The earliest known usage of the format was posted by Twitter [1] user @CanadaNRx on June 25th, 2016. They wrote, "Broke: European Union / Woke: Holy Roman Empire." The post received more than 10 likes (shown below).

Spread
Over the next two years, the phrase and format grew in popularity online. On December 11th, 2016, Twitter[2] user @tangemess tweeted, "Broke: Tupac has been resurrected as a hologram / Woke: Tupac was always a hologram / Awakened: we are all holograms." The tweet received more than 15 retweets and 30 likes in two years (shown below, left). The trend continued throughout 2018 (example below, center).
On November 18th, 2018, Redditor [4] jansre16 posted a tweet mashup of Bernie Sanders and dril. They captioned the post "Broke: Free market. Woke." The post received more than 1,500 points (99% upvoted) in one month.



On December 17th, Twitter[3] user @jaboukie tweeted, "broke: ppl are faking mental illness / woke: mental illness is real /
whoke: destigmatize mental illness / whoakuh: late capitalism has commodified our lives to the point that even gestures of kindness feel transactional which only worsens feelings of isolation / w œ k e: i go brazy." The tweet received more than 4,800 retweets and 32,000 likes in 24 hours (shown below).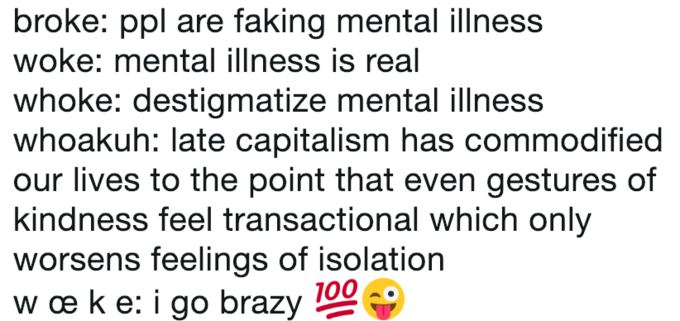 That day, Redditor[5] p5mall asked about the format in the /r/OutOfTheLoop subreddit. In the thread, Redditor Telineye explained another usage of the phrase, "Get woke, go broke." They wrote:
"'Get woke, go broke' is a phrase used by the anti-SJW crowd to signify the occurrence where a game/television show/comic/etc. sees lower-than-expected sales after adding social justice elements to their product.

"Anti-SJW people believe that there is a correlation between these two events, so the company "got woke" adding the social justice elements to their product, and then "went broke" after the community rejected that product.

"In many cases, there is no way to actually determine the cause of a product not meeting its expectations, but the phrase is used none the less."
Various Examples






Search Interest
External References
Recent Videos
There are no videos currently available.