I Want to See It Grow Up Healthy
This submission is currently being researched & evaluated!
You can help confirm this entry by contributing facts, media, and other evidence of notability and mutation.

About
I Want to See It Grow up Healthy refers to images where the creator pairs a character with a survey in which answers like "I want to see it grow up healthy" and "I will protect it" are marked "Strongly Agree." Other versions of the meme exist were the survey's choices are listed differently depending on the character.
Origin
On March 15, 2014 the New York City Department of Parks & Recreation[1] released a presentation/document showing the results of different surveys about the Public Reactions to New Street Tree Planting, on those surveys the organization asked the question "How do you feel about your new tree?" followed by five multiple-choice questions "I want to see it grow up healthy", "I want to tell my friends and neighbors about it", "I love having a new street tree", "I will protect it", and "I am not satisfied with my tree". A year later on March 12, 2015 Tumblr user iwontallowit[2] uploaded a screenshot of the general question and the first four multiple choice questions (shown below left). One of the earliest examples to use the survey to humorously comment on a character was uploaded by novaprime84[3] to Tumblr on May 19th, 2016 showing Steven Universe character Lapis Lazuli alongside an image of the first 3 question of the survey (shown below right).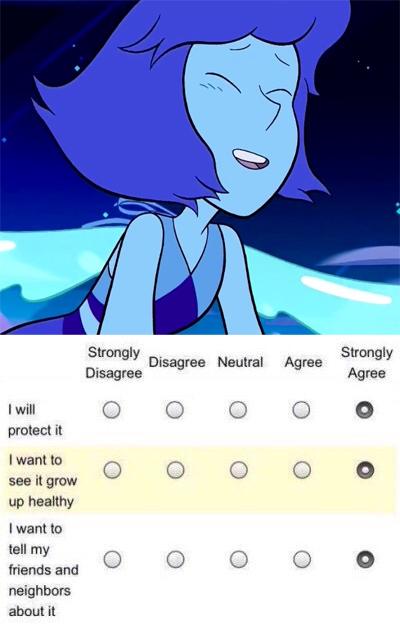 Spread
On the coming years, variations showing different characters began to appear in Tumblr, Facebook, Twitter and Reddit. On August 18th, 2016 Tumblr user knife-red[4] uploaded an image showing the character Bastion from Overwatch (From the short "The Last Bastion") which got 8,500 notes (shown below left). On June 13th, 2018 Reddit user WoomyLuma[5] a version showing the character Kirby using the inkling hat from Super Smash Brothers Ultimate (shown below, right). The image gained 4,600 points.


The format was particularly popular in /r/animemes. For example, on June 13th, Reddit user DusklyRefrain[6] uploaded a version portraying the character Kaoruko Moeta from the anime Comic Girls (shown below left), gaining 970 points. An edit featuring one of the main characters from Goblin Slayer gained over 300 points (shown below, right)


Various Examples






Search Interest
Template

External References
Recent Videos
There are no videos currently available.