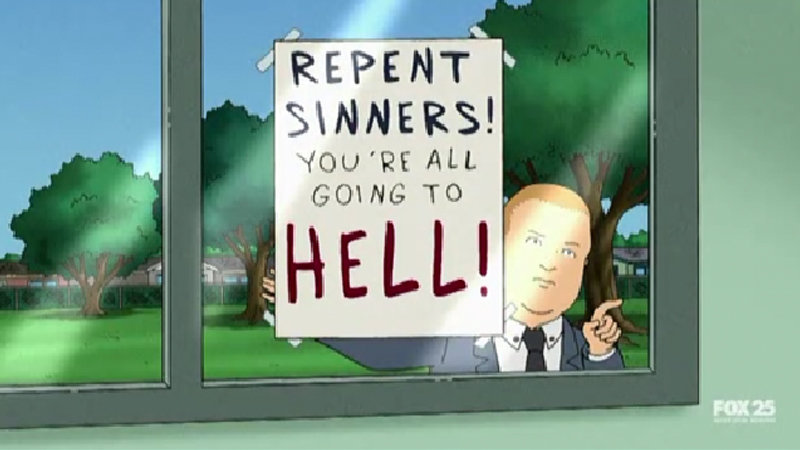 If Those Kids Could Read They'd Be Very Upset
About
"If Those Kids Could Read, They'd Be Very Upset" is a memorable quote uttered by the character Principal Moss on the American animated sitcom King of the Hill. Online, screenshots of Moss saying the line has been used in an exploitable image macro series to mock the intelligence of the audience because of their beliefs (similar to That Sign Can't Stop Me Because I Can't Read).
Origin
On April 14th, 2009, the episode of King of the Hill entitled "Born Again on the Fourth of July" aired in the United States.[1] In the episode, the character Bobby (voiced by Pamela Adlon) becomes a devout follower of a new church. When preaching this new gospel, he protests a local school, where a group of non-English-speaking children are learning English by holding up a sign that reads, "Repent sinner you're all going to hell!" Principal Moss (voiced by Dennis Burkley), who is teaching the class, confronts Bobby and says, "If those kids could read, they'd be very upset (clip below at 10:22, left).

Spread
The earliest known usage of the image as an exploitable was published by Facebook [2] user EnlistedNineFightCompany on May 7th, 2020. They replaced Bobby's writing on the sign with the phrase, "The Army exists because even Marines need heroes." The post received more than 9,900 shares, 4,600 reactions, and 800 comments in less than one month (shown below, left).
The following day, Redditor [3] Lone12WoLf shared a variation with the text "TikToks" aren't funny." The post received more than 30,000 points (87% upvoted) and 325 comments in less than one month (shown below, center).
Over the next month, the meme continued to spread. On May 12th, Facebook[4] user MEMES.of.the.NFL shared a variation about the professional football team the Green Bay Packers. Within one month, the post received more than 20,000 reactions, 10,000 shares and 5,400 comments (shown below, right).



Various Examples






Template

Search Interest
External References
Recent Videos
There are no videos currently available.