About
Naruto Handshake, also known as Madara and Hashirama Handshake, is an exploitable image macro series depicting animated characters Madara Uchiha and Hashirama Senju shaking hands from the anime Naruto Shippuden. The format is typically used by assigning various object labels to each character in the top panel, with the bottom panel featuring a closeup of the handshake with another label that acts as the punchline, similar to a Venn diagram showing the joining of two things.
Origin
The original clip that the meme is pulled from is seen during season 17, episode 369 titled "My True Dream," released on July 24th, 2014, specifically the clip where Madara and Hashirama shake hands. During the scene (featured below), Madara Uchiha and Hashirama Senju shake hands as a display of peace between the two warring clans, known as the Senju Uchiha alliance.
On June 6th, 2020, Redditor gaudinator[1] created the meme template with the red closeup handshake and posted it on the MemeTemplatesOfficial subreddit, receiving over 8,000 upvotes.

Spread
The first spread appears online as early as 2018. One such example was used in a reply by Twitter[2] user tre_slatt on September 26th, 2018. In the meme (shown below), the bottom frame that features a closeup of the handshake is absent in the earlier iterations, but both of the characters feature object labels representing PlayStation and Xbox, which received over 1,200 likes and 140 retweets in two years.

The format continued to spread in the following years, appearing primarily on Reddit in a number of subreddits. On June 19th, 2020, Redditor[3] Nalulo posted a version featuring the bottom frame of the closeup handshake to the /r/PewdiepieSubmissions sub (seen below, left), receiving over 6,600 upvotes and 162 comments in three months. On July 5th, Redditor[4] yeetplatinum posted another example to the /r/dankmemes sub (seen below, right), receiving over 32,100 upvotes, 134 comments and two Reddit awards in two months.


On June 20th, 2020, Redditor[5] George2110 posted a variant to the /r/memes sub (shown below, left), receiving over 47,400 upvotes and 267 comments in roughly two months. On September 18th, Redditor[6] EUIV_ETS2 posted another version to the /r/dankmemes sub referencing the game Among Us (shown below, right), receiving over 8,400 upvotes, 32 comments and several Reddit awards in eight hours.


Various Examples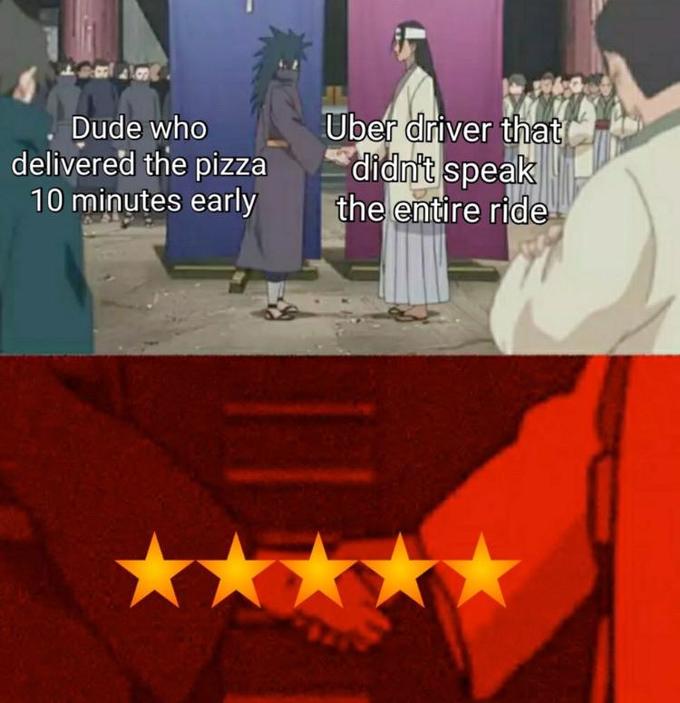 Template

Search Interest
External References