This submission is currently being researched & evaluated!
You can help confirm this entry by contributing facts, media, and other evidence of notability and mutation.
About
Candace Owens is an American conservative political activist and pundit. Following several years working for left-wing political causes, she began working to further the message of the Republican party with Turning Point USA, a political outreach non-profit aimed at college students. As her notoriety increased, Owens' methods and opinions have been the subject of frequent criticism and scrutiny.
History
Early Career
Degree180
Owens began her political work in 2015 as the CEO of Degree180, a marketing agency whose blog, staffed predominately of college students, offered lifestyle tips, personal and political essays and other forms of viral content (video below, left).[1][2] The website held a left-wing bias and frequently criticized then-candidate Donald Trump, publishing at least one article on the size of his penis (screenshot below, right). Another article, written by Owens, "News Update: The Republican Tea Party Is Led By The Mad Hatter"[3] reads, "Yes, we can confirm that our beloved Republican Tea Party is being led by the Mad Hatter and us millennials have been thrust into their wonderland. The good news is, they will eventually die off (peacefully in their sleep, we hope), and then we can get right on with the OBVIOUS social change that needs to happy, IMMEDIATELY."

Social Autopsy
In 2016, Owens launched Social Autopsy, a website designed to track the digital footprint of online bullies, trolls and harassers, and post their personal information online. The website became the subject of scrutiny due to privacy concerns.[5]
Its Kickstarter [4] for the site failed to reach its $75,000 goal, earning $4,200 before funding was suspended.
Pivot to Conservatism
Turning Point
Following the fallout of the Social Autopsy project, which she blamed on anti-GamerGate progressives, she began working with conservative political activists like Milo Yiannolopulos and Mike Cernovich.
In November 2017, Charlie Kirk, the founder of Turning Point USA, hired her as the organization's director of urban development. She would later become the Director of Communications, before leaving the Turning Point. [6]
Blexit
On February 23rd, 2018, Owens first tweeted about Blexit, a movement to encourage African Americans to leave the Democratic Party (tweet below, left).
The movement won the endorsement of rapper Kanye West, who would later design Blexit merchandise (shown below, right).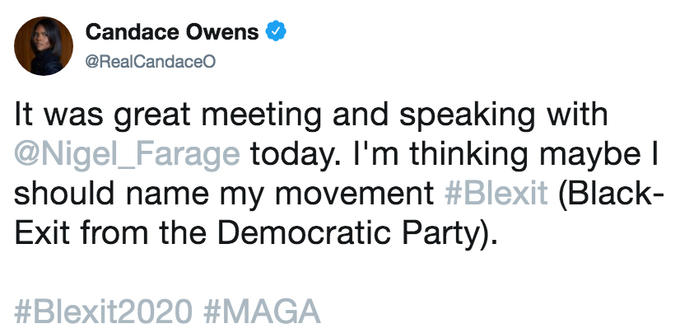 Criticism
Candace Owens "Hitler Was a Nationalist" Controversy
Candace Owens "Hitler Was a Nationalist" Controversy refers to a series of remarks made by conservative activist and Turning Point Director of Communications Candace Owens about nationalism in regards to actions of Nazi leader Adolf Hitler. When the comments resurfaced in February 2019, they sparked online outrage against Owens, particularly due to the interpretation that her words that "Hitler just wanted to make Germany great and have things run well, OK, fine."
Here is video of Candace Owens' full answer on nationalism and Hitler pic.twitter.com/NfBvoH8vQg

— John Whitehouse (@existentialfish) February 8, 2019
Whole Foods EVERY DAY Controversy
On April 14th, 2020, Owens tweeted[7] that she had been approached by police at a Washington, D.C. Whole Foods for not wearing a mask to prevent the spread of the coronavirus. Washington, D.C. Mayor Muriel Bowser announced earlier that masks were required in public spaces as a precautionary measure. Owens tweeted, "WOW. Just had a police officer called over to me and my husband at Whole Foods bc we were not wearing masks. We come to this @WholeFoods EVERY DAY. Apparently beginning yesterday, it is now illegal to come in without a mask. Total deaths in D.C from Covid? 69. WTF if going on?" The tweet received more than 73,000 likes, 24,000 comments and 19,000 retweets in less than two days (shown below).

The tweet became the subject of widespread criticism on Twitter (example below, left and center).
The following day, Business Insider[8] published a report on Owens entitled "Conservative commentator Candace Owens is using stunts and controversy to boost coronavirus conspiracy theories." Owens called the piece a hit job and published the author's phone number in a since-deleted tweet. She later wrote,[9] "Okay @rach_greenspan, I've edited out your phone # to make sure you don't get harassed. For all to see-- this reporter sent an email to a PR agency that does NOT represent me at 12:28. Went to press on a lie an hour later, claiming I could not be reached. Journalistic scum."



Personal Life
Harassment Settlement
In high school, Owens was the victim of racist phone calls. The calls were traced to a car in which the son of the mayor of Stamford, Connecticut, was present. Owens received a $37,500 settlement.
Search Interest
External References
Recent Videos
There are no videos currently available.