This submission is currently being researched & evaluated!
You can help confirm this entry by contributing facts, media, and other evidence of notability and mutation.

About
Chris Hadfield is a retired Canadian astronaut who is best known for his active social media presence while serving as the commander of the International Space Station (ISS) from December 2012 through May 2013. In addition to his online recognition, Hadfield has received numerous awards and honors during his career over the last two decades.
Online History
In September 2010, the Canadian Space Agency appointed[1] Chris Hadfield as the commander for the 2012 ISS mission known as Expedition 35, becoming the first Canadian ever to command the space station. During his training and leading up to his flight, his sons helped him set up Facebook[2] and Twitter[3] accounts to document his experiences and answer followers' questions about space. On April 9th, 2011, Hadfield participated in his first Reddit Ask Me Anything (AMA) thread[8], moderated by one of his sons. In May 2012, The Daily Mail[4] published an article about Hadfield's Twitter interactions, highlighting several personal photos he had shared during his training including physical preparations (shown below, left) and technology he was working with (shown below, right).


World Tour Photo Challenge
In June 2012, he launched the Chris Hadfield World Tour Photo Challenge[5], asking his followers and fans across the web to either photograph themselves with a printed 2D effigy of Hadfield or photoshop his likeness into digital images of their choice. The contest ran through Hadfield's return to Earth on May 13th, 2013, during which 866 pictures were submitted by his fans around the world. The winning photo (shown below) was submitted by J.J. Curling Elementary School in Newfoundland Canada and received more than 11,000 viewer votes.

2012 ISS Mission
On December 12th, 2012, Hadfield launched a YouTube channel[6] where he uploaded several videos from his training. The following day, he completed his second Reddit AMA thread[7], which gained more than 23,000 upvotes, 4,100 points overall and 3,300 comments prior to being archived. Days later, on December 19th, 2012, Hadfield boarded the Soyuz ship with his two crew mates Roman Romanenko and Thomas Marshburn for their trip to the ISS.
At the time of his departure from Earth in late December, Hadfield had a modest 20,000 Twitter followers. By January 2013, his follower count had shot up to nearly 200,000, as he began tweeting photos from space and continued to interact with fans and celebrities[9], even launching a Tumblr[14] on January 15th as another outlet for his photography. The astronaut also began to upload YouTube videos to the Canadian Space Agency channel[19] explaining how certain activities, like washing one's hands or clipping one's nails, were done in space.[10]Additionally, Hadfield recorded space sounds and uploaded them to his SoundCloud page.[18] In early 2013, his photos were featured on Maclean's[11], Space.com[12] and TIME NewsFeed.[13]
On May 10th, 2014, Redditor pandaconda73 submitted a /r/photoshopbattle post featuring a photoshopped rendition of Michelle Obama's sign which read "don't hold up signs on the Internet, bad people will change what they say." The thread soon snowballed into a series of photoshopped parodies, yielding a total of 51 submissions prior to its archival.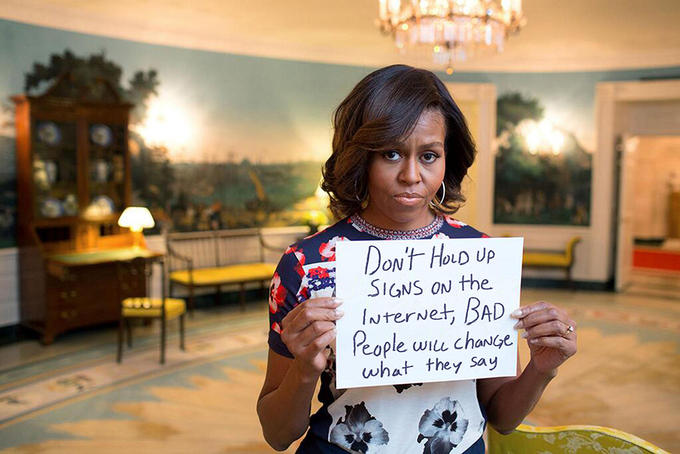 Ask Me Anything (AMA) on Reddit
On February 17th, 2013, Hadfield took part in a third Reddit AMA,[15] which gained more than 46,000 upvotes, 5,100 points overall and 7,600 comments prior to being archived, making it the 11th most popular AMA of all time as of June 2013. Following the AMA, his Twitter follower account had risen to more than 420,000.[16]

Musical Collaboration: "Is Somebody Singing"
In February 2012, Hadfield participated in the first Earth-to-space musical collaboration with Canadian pop group the Barenaked Ladies and the children's choir, The Wexford Gleeks. The performance consisted of an original song titled "I.S.S. (Is Somebody Singing), celebrating music education in Canada.
"Space Oddity" Tribute
On May 12th, 2013, the day before his trip back to Earth, Hadfield shared a music video of himself covering David Bowie's 1969 pop hit "Space Oddity" onboard the ISS (shown below). Within the first year of its YouTube premiere, the music video garnered more than 22 million views.

Note: This is the YouTube video mentioned below, not the original.
On May 13th, 2014, Hadfield tweeted a link to the YouTube video and notified his followers that the music video will be taken offline today, following the expiration of the year-long license that was acquired. Soon after, Hadfield created a Reddit discussion of the video and its takedown,[20] and linked to an article in The Economist detailing the copyright issues that it had been caught up in.[21] In the Reddit discussion, the user GraharG observed that "ColChrisHadfield just did the best thing possible to keep it in circulation, he told us that its about to get taken down…"
Bowie's last day – we had permission for a year, so our Space Oddity video comes down today. One last look: http://t.co/z6umXHoPCk

— Chris Hadfield (@Cmdr_Hadfield) May 13, 2014
Retirement
On June 10th, 2013, Hadfield announced his retirement from the Canadian Space Agency after 35 years of government service, effective July 3rd. Initially revealed with a tweet[17] about saying goodbye to his coworkers, his official announcement was uploaded to YouTube (shown below) on June 12th.
Personal Life
Chris Hadfield was born on August 29th, 1959 in Sarnia, Ontario. He became interested in space when he was nine years old, after seeing the Apollo moon landing on television. After graduating high school, Hadfield joined the Canadian Armed Forces, during which he received a bachelor's degree in mechanical engineering. After excelling in flight training, he served as a tactical fighter pilot, flying intercept missions for the North American Aerospace Defense Command (NORAD). After serving as an exchange officer with the U.S. Navy, he was selected as one of four Canadians to join the Canadian Space Agency from a field of 5,330 applicants. He worked at Houston's NASA Johnson Space Center, Russia's Yuri Gagarin Cosmonauts Training Center, and the Aquarius underwater laboratory prior to becoming commander of the ISS. Though he has announced his retirement, he continues to be active on Facebook[2] and Twitter[3], where he has more than 389,000 fans and 1 million followers respectively.
Search Interest
External References